Fredy Argir Band & Sarah Burton – Silver Bay Music In The Park Concert
Date: August 19, 2022
Time: 7:30 pm - 9:30 pm
Location: Silver Bay Shopping Center
Event Description
Join us for a FREE outdoor concert at City Center Park featuring TWO FROM TEXAS!
Fredy Argir hails from Dripping Springs, TX and Sarah Burton from Terlingua, TX. Get ready to rock to these traveling troubadours!
FREDY ARGIR AND HIS BAND
Fredy Argir was born and raised in Hibbing, Minnesota, and for most of his life he has lived in and worked out of Austin, Texas.
When Argir got out of school, he traveled for decades, wrote folk songs, toured on the college coffeehouse circuit, and lived and worked in New York, San Francisco, Austin and Northern Minnesota. During that time, he drifted around for many years as a solo performer and had a few bands.
By his own reckoning Argir has cut twenty-five albums and released a dozen of them. Several of his recordings, including Thistledew from the 1970's and One-Man Dancing from 2001, surface in interesting ways every so often. Argir's music recording career spans from his first album 'Not Yet Home' in 1968, to the latest 'Southwest' which is due out later this year – and he'll have some along for you to purchase!
Fredy, who is returning to Silver Bay for the third time, will be accompanied by Texas vocalist Donna Baily and other fine musicians.
SARAH BURTON
Burton's career started in 2006 with a broken heart, a broken-down van, and a haphazard tour across Canada in a van named Lucky. This set the tone for an artist life driven by adventure, spontaneity, and a desire to connect with people from all walks of life. 3 Minivans, and several greyhound trips later, Sarah has played on average, 150 shows a year, released 5 albums and played many festivals across North America, finding and sharing the inspiration for hundreds of songs. Rooted in folk, and skirting pop, rock and country – Sarah's music is a collage of her own adventures, and the people she meets along the way. Her songs have made their way to the big screen, earned college radio charting in US and Canada and commercial radio play in Canada and Europe.
Burton is no stranger to Silver Bay as this will be her fifth visit our community.
Additional Info
Categories: No Categories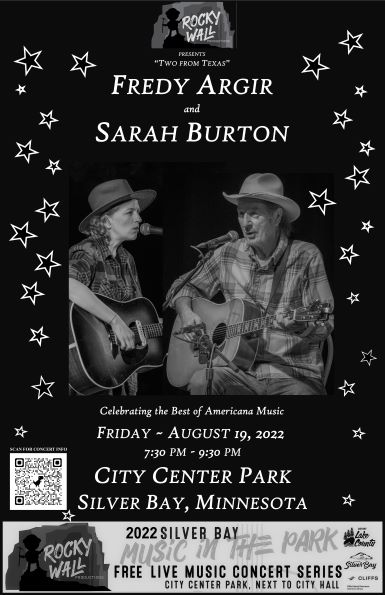 Location