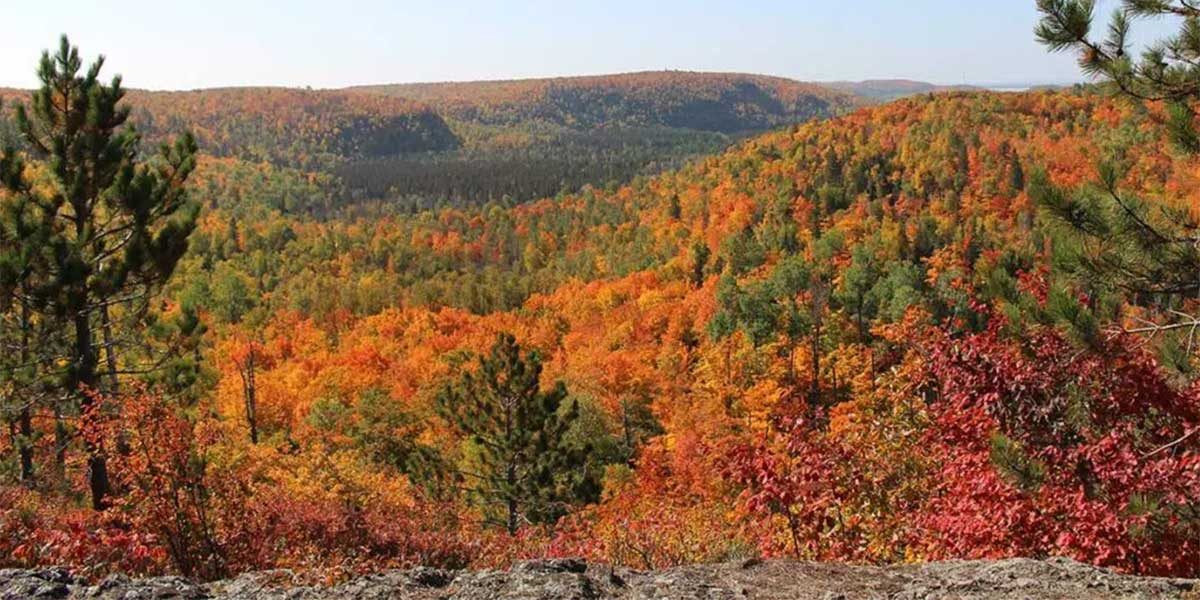 peak fall colors north shore mn
2023 Duluth and North Shore peak fall color forecast and updated fall color report. We tell you what to expect and the best drives and trails. Autumn on the North Shore comes early, stays late and leaves lasting impressions. Colors start with a leaf, a streak of red, or an occasional tree, isolated and orange. This is the season of the maple in the valleys behind the headlands rising out of Lake Superior. From ridgelines, colors wash down the hillsides, surrounding deep green-black stands of pine.
Maple hillsides are found from around Beaver Bay northeast to the US-Canada border and inland a few miles from Highway 61.
As temps cool closer to the big lake, the second color season takes place. Poplars, birch and tamarack turn yellow and the entire Highway 61 corridor is lovely. Rainfall and temps affect both when the colors occur and how long they last, so it is variable each year.
When are peak fall colors on the north shore?
Typically maples begin to turn around Labor Day and are at peak from about September 21 through October 10. Depending on weather – especially wind – the maples last another few weeks. 
In early October, the birch and poplar closer to Lake Superior start to run yellow and the second season starts. The yellow season runs into the start of November.
Starting Labor Day, We are providing weekly [or more frequently] fall color reports with suggested routes for the best viewing.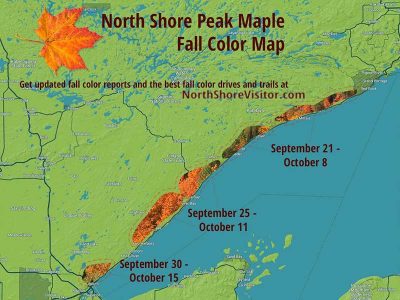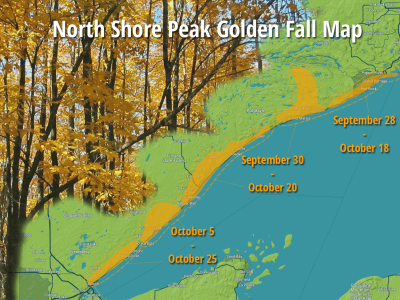 2023 Fall Color Report
Lutsen is at Peak Maple Colors!
29 September
Lutsen inland hillsides are ablaze with color! Recent rain and wind means the top of the ridges are beginning to show bare trees.
Tettegouche has been socked in by fog and mist. That said, I think inland at Tettegouche will continue to move toward peak by next week. 
Maple ridges inland from Grand Marais are both colorful and losing leaves – this the same for inland from Tofte.  Spots up the Gunflint Trail are gold, gold, gold!
Along the Highway 61 corridor we are starting to see color. The further you travel up the shore, the trees and underbrush have turned. The big color is still inland.
Best color right now
maple hillsides a mile or so inland in Lutsen, second best in same distance at Tettegouche and Grand Marais 
What you will see
Lutsen area hillsides are covered with deep red and orange maples 
This Season's Photos
(bottom of the page) a slideshow of the 2023 fall color season from early autumn flowers to magnificent maples to the bronzes of late October
This week's recommended fall color tours
It's early season so head inland for a drive and try some hikes a bit away from Lake Superior. Photos at the bottom of the page are from our recommended tours.
A 230-foot climb in under a quarter mile brings views of Caribou Lake, and the thick maple forests surrounding it.
While this is the trail to hike during autumn's early season of maple colors, it is fantastic spring, summer, and winter, too.
Waterfalls, woods, wide-open vistas and an optional tram ride make this hike rather spectacular.
Tips:
Keep the sun at your back for the best viewing, (look west  in the morning and east all afternoon). Don't worry if it is overcast, sometimes the colors look best when they contrast against a grey day. Download a North Shore map. After fall color touring, see something new
The Trout Lake Road / County Rd 60 loop is a lovely drive, with beautiful sugar maple-lined sections of the road, often with their canopies meeting overhead.
Make this fall color tour drive number one your list. It is breathtaking. The short drive leads you down one of the prettiest maple canopied drives along Minnesota's North Shore.
Historical, picturesque church and cemetery that is especially pretty during fall colors.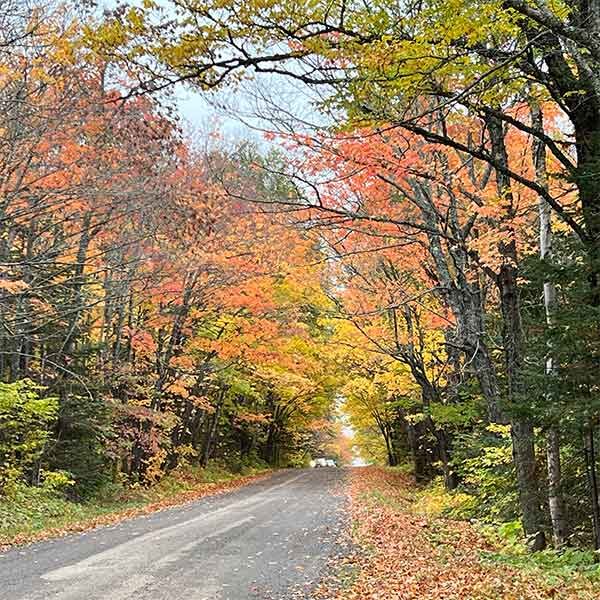 One of my favorite medium hikes! The Tettegouche Lake loop is part of a trail system accessed on the back side of Tettegouche State Park. It begins with an old road bed climbing 285-feet over three-quarters of a mile, includes four overlooks and a dip down to the historic Tettegouche Camp [where cabins are available for rent]. I like to go counter clockwise from the junction and see the overlooks, then take a little break at the Camp where I decide if I am going to add on more loops or head back. In the autumn, consider the 'circling the lakes' as the valleys are filled with colorful maples!
Length: 3.5 miles
Difficulty: moderate to difficult due to hills
Driving directions can be funky: from Highway 61, drive north on MN 1 for 4.3 miles, turn left on Lax Lake Rd for 3.1 miles, parking will be on left.