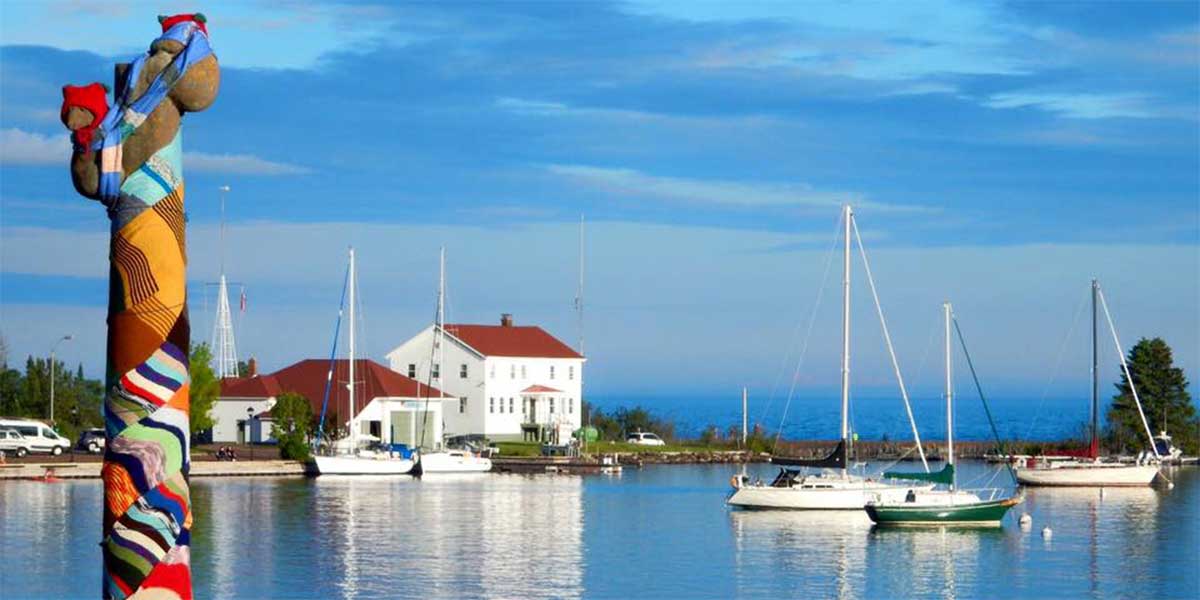 the arts along the north shore
Throughout the ages the North Shore has inspired a diverse group of artists. Remnants of Dakota and Ojibwe beadwork, weavings and pictographs reveal age-old interpretations of living with this land. Ethnic songs, dances, and rituals were and are imparted to each new generation.
It is the receptiveness of each generation that has allowed the continuation and growth of arts. Explore the galleries, studios, shops, performances and events offered by North Shore artisans.
Museums, art galleries, studios and performing art centers are noted below and can be sorted by community.
Click to see upcoming courses, workshops, exhibits and performances.
Mother Nature's contribution to our amazing piece of property lies in the "Thomsonite gemstone" embedded in our shoreline. Unique in its presence and beauty, we hope it will encourage lasting memories of your time spent relaxing on our shoreline, listening to the waves, breathing in the fresh air of the North Shore, sitting by a campfire, watching the sun rise or sun set over the Sawtooth Mountain range. Or a visit to our Thomsonite Gemstone/Jewelry and gift shop, located in our office, will allow you to find the perfect souvenir.
2920 W Highway 61 | Grand Marais
218-387-1532
Joy & Co. is the largest independently owned art supply store from Winnipeg to the Cities, located in the historic Lind Chevrolet building in the heart of downtown Grand Marais. In our 4000 sq.ft. of fun, we feature over 100 local and regional artists and also carry a large selection of vintage items, rocks and minerals. You'll be amazed!
The mission of Joy is to give you permission to Create-Connect-Collaborate. Come visit us today and get inspired.
Thursday Night art demos weekly 4-6 / public and  E-parking directly behind our store.
16 1st Ave W | Grand Marais
218-387-1004
We are a small family-based printmaking operation. We make woodblock prints by hand, pictures of recognizable scenes mostly from the northwoods. Many of these appear as illustrations in books for children and adults. The printmaking studio and gallery is housed in a historic church, selling the current editions of hand-printed woodcuts, as well as the work of local and regional artists.
301 1st Ave W | Grand Marais
218-387-1992
47 degrees is the average temperature and the latitude of Knife River, MN. Locally made gifts and art including Lake Superior beach stone jewelry, paintings, photography, and more. Hours :: Friday , Saturday & Sunday from 10-5
243 Riverview St | Knife River
218-590-4532
First time visitors are often surprised when they enter the gallery.  From the outside you see a very rustic, board-and-batten barn with a blue metal roof.  Inside, however, you are greeted with light walls, a timber frame, and elegant pieces of art throughout. Seasonal hours :: Summer,  Thursday - Monday,  1-5pm Spring & Fall,  Friday - Sunday, 1-5pm Winter, by appointment
443 Scenic Drive | Two Harbors
218-834-5183
Located in a Norwegian Stabbur building, this unique gift shop specializes in Scandinavian and European imports plus silver jewelry designed and created by Brad E. Nelson.
583 North Shore Scenic Drive | Two Harbors
218-834-4188
A quilt shop! Selling fabric, notions, and gifts. Featuring consignment quilted and sewn items, too!
620 1st Ave | Two Harbors
218-834-2775
Known for being "In and around the lake," Dalbec specializes in wave and water photography as well as drone work. Website is always active. Home studio is open by request. Follow along on Facebook: Christian Dalbec Photography
302 South Ave | Two Harbors
218-391-7560
High quality plaques and custom tables in solid domestic hardwoods. Custom-made, hand-routed, no lake is too big or too small.
130 South Avenue | Two Harbors
218-590-6081
The pots I make are sturdy, bold, and reflect the processes of making them. Simple decoration enhances the rich surface created by long wood fires. The traces of the artist's hand is both an antidote and protest to increasing uniformity. Impressions made in the soft clay reveal my tie to the work and to the landscape where it is made. Showroom is open daily, 10am - 5pm.
2046 Fors Road | Two Harbors
218-834-5242
High quality, reasonably priced, handmade woodcrafts! Scott and Troy are experienced Craftsmen whom take pride in the making of their wood products. We offer the best in Laser Etched Signs, Birch Bark Furniture and many other projects. We are happy to do custom projects and give free consultations and/or estimates. C
2777 Highway 61 | Two Harbors
218-830-8735
Locally Handmade Arts & Crafts We display and sell the products of over 55 area artisans who take pride in the quality and originality of their handmade art & craft.  As our membership increases, so does the diversity of our inventory.  The majority of our members are talented senior citizens!
2821 Minnesota 61 | Two Harbors
218-834-4175
Fabrics, books, patterns, supplies and gorgeous handmade quilts. Gifts, too.
1009 Main Street | Beaver Bay
218-226-6406
Handcrafted baskets made at the shop. NEW! Baskets and jewelry featuring Lake Superior rocks and driftwood. Unique gifts made 'on the shore.' Lake Superior rock and beach glass buttons.  Now Offering - basket and weaving classes.
7197 Co Rd 29 | Tofte
218-663-7557
Offering diverse coursework ranging from sausage making to timber framing. Handcrafted, unique gift items including hand woven birch bark baskets, traditional rosemaling, nalbound hats and mittens. Get inspired by our large collection of craft books. Campus tours offered on weekends.
500 W Highway 61 | Grand Marais
888-387-9762
Non-profit art center offering year-round art classes, studio access, and events for all skill levels from novice to professional artist. Visit Studio 21 at 21 W Highway 61 to check out our exhibits. Contact us for a tour of printmaking, ceramics and 2D art studios.
120 3rd Ave W | Grand Marais
218-387-2737
Non-profit art center offering exhibits, and studio space for artists.
120 3rd Ave W | Grand Marais
218-387-2737
Sivertson Gallery is a destination for art on the North Shore, exhibiting the work of over 60 regional artists in addition to Canadian Inuit and Alaskan Native Art. The gallery focuses on Art of the North inspired 2D, 3D and jewelry that reflects the distinct character of Lake Superior.
14 W Wisconsin St | Grand Marais
218-387-2491
Find a wide variety of wall art, ceramics, jewelry gifts, crafts and books that all reflect the beauty, culture, and allure of the North Shore of Lake Superior. From locally made ceramic mugs, amusing prints of feisty forest animals, books ideal for north woods children, and striking gemstone jewelry, we promise to have something for everyone.
12 First Ave West | Grand Marais
The Arrowhead Center for the Arts celebrates and promotes the arts, artists, and the uniquely creative culture of Minnesota's North Shore and Arrowhead regions. The Arrowhead Center for the Arts is a managed by the school. The Center serves the community and visitors with theatre, music, and an eclectic array of year-round cultural events.
51 West 5th Street | Grand Maris
218-387-1284
The North Shore Music Association is a non-profit organization dedicated to presenting and supporting musical arts and musicians in northeast Minnesota with a focus on entertainment, education and cultural enrichment.
51 West 5th Street | Grand Marais
218-387-1272
The Grand Marais Playhouse is a non-profit community theater dedicated to offering high quality theater and educational opportunities. We value artistic challenge, diversity, community and collaboration. We believe that theater arts enrich the lives of our citizens, enhance the education of our children, strengthen the economic stability of our community and make Cook County a better place to live.
51 West 5th Street | Grand Marais
218-387-1284
8 N Broadway | Grand Marais
Handmade pottery for the table, made with love, and made in Grand Marais. Mike Smieja will be throwing and selling pottery on his wheel every Thursday and Friday, 9am-5pm,  at Broadway Art Park, the green space between the Beaver House and The Sweetwater Company. Occasional "Paint Your OwnPottery' programs offered.
429 E 5th St | Grand Marais
612-558-1501
103 Store Road | Grand Portage
218-475-2146