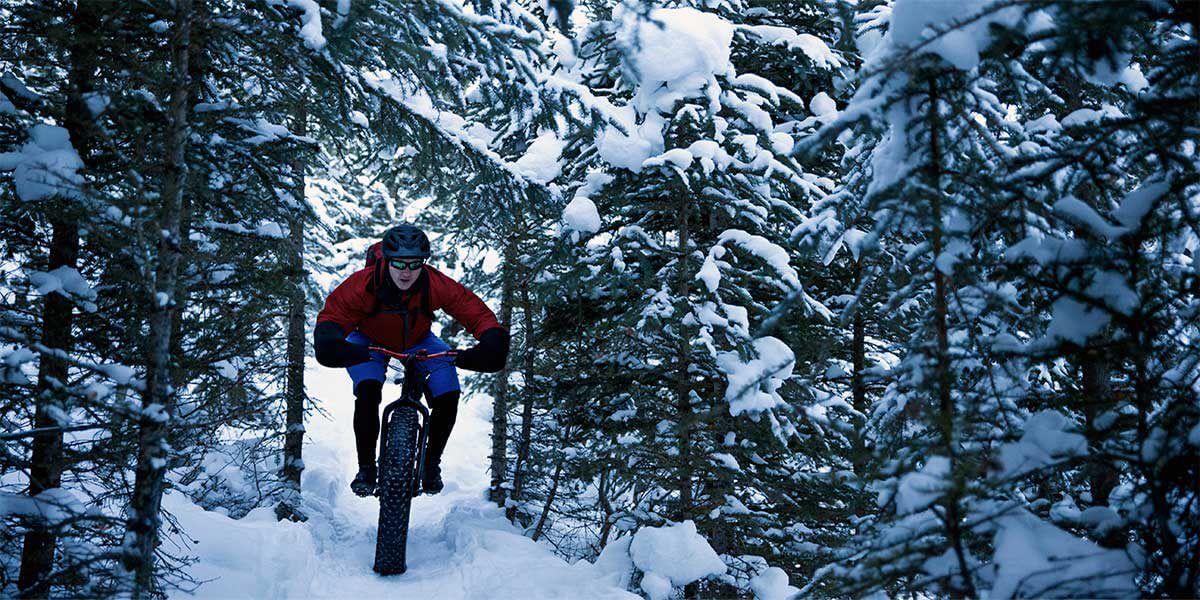 north shore fat bike trails
Here is a list of fat bike trails from Duluth along the North Shore, including rentals.
The North Shore is an excellent place to bike ride with gorgeous forests, elevation, and wide open vistas of Lake Superior. Fat bikes mean winter riding – the lower air pressure and fat tires allow you to float over snowy trails where other tires would sink. Local bike riders are introducing the sport and opening trails along the shore. 
Do not ride on groomed snowmobile trails or cross-country trails unless trail is designated multi-use.
This popular 15-kilometer trail – including the easy 4K loop through the Lester River Golf Course – is groomed for skate and classic. Climb the access trail to an inner loop – bonus: In early morning and evening, 4 kilometers are lighted. Excellent system with good trail variety, amenities plus mature woods, the Lester River , and waterfalls.
Amenities can be found at the Lester/Amity Chalet, operated by the Duluth Cross-Country Ski Club, and open daily throughout the season.
Tentative hours once there is skiable snow:    Monday-Friday, 3-8pm; Saturdays & Sundays, 9am-4pm
Multi-Use Trail
Four all-season bike/hiking trails [3 groomed in the winter] traverse over 400 wooded acres and connect to a portion of the Superior Hiking Trail. and the North Shore State Trail [motorized]. Two of the trails incorporate part of the gravel Britton Pit Road. Good novice trail system.
Fat bike, snowshoe and/or cross-country ski
Length: 8 miles
Amenities: restrooms, a shelter and an information kiosk located near the parking area
Multi-Use Trail
The 8.7-miles of trail at Split Rock Lighthouse State Park are groomed for multi-use trail with a set of classic tracks on one side and a rolled side for ski-skating, fat bikes, snowshoeing, and hiking on the other side.Skiers and bikers/'shoers can now all share the same trail – woo hoo!
Fees: MN Ski Pass required and if you park in the State Park, a Park Permit is required; both sold at office
Hours: Daily 9am – 4pm, with the office manned Friday-Sunday; weekdays, the lone employee can be found in the office, plowing, shoveling, trimming trails, and so on.
Difficulty: more & most difficult
Amenities: trail center open daily with restrooms and a fireplace; Split Rock Lighthouse center open afternoons throughout the winter
Cross-Country Skiing
Enjoy remote, quiet cross country ski trails winding through 2,000 acres of Superior National Forest. The trails are groomed for classical skiing and offer an "off the beaten path" alternative to many of the trail systems found in other areas. Moderate elevation changes allow skiers of all ages and skill levels to enjoy the big pines of the "Isabella Pine Belt". Ski over the Little Isabella River on picturesque wooden footbridges. The area is off limits to snowmobiles so skiers can truly experience the quiet beauty of this remote area.
Fat Bike Riding
An 8k trail; nice open trails with wide packed area through the pines. Great for a relaxing winter bike ride.
Driving directions – turn north at the Knotted Pine Inn & Tavern on to the Mitawan Lake Rd for 0.8 miles to the access road [limited parking]; note – the Mitawan Lake Rd also connects with MN Hwy 1  0.75 miles to the east, so be careful.
Length: 30K of groomed single-tracked trails
Fees: MN Ski Pass required
Difficulty: easy, more & most difficult trails
Amenities: outhouse & trail shelter
cross country skiing
The trails wind through mature maple forests, mixed evergreens, and in the midst of wildlife.  A number of the trails have spectacular view of Lake Superior and connect up to the Cascade River State Park Trails. From the north trailhead [earlier and later season snow] ski Deeryard Loop to the old Cascade Fire Tower; you can connect to the Pioneer Loop and work your way all the way down to Highway 61 at the Cascade River making this an excellent 2-car ski. Trails then connect to Cascade River State Park Trails and continue west on a connector trrail to the Hall Massie Loops
Click above for the main trail map and here for the Hall-Massie/Connecter trail map
snowshoeing
Follow the there-and-back trail along the east side of the Jonvick Creek for a nice wooded walk with some elevations.
fat bike trails
Ride a trail paralleling Highway 61 then riding near the west side of Cascade River; return and continue another 3.6 miles to the 1.0 mile Whitesides and Deer Track Loops.
Length: 65.3K ski trails, about 6 miles Fat bike Trails and 1 mile snowshoe trrail
Fees: MN Ski Pass required
Difficulty: easy, more & most difficult
Hiking, biking, skiing and snowshoeing making Pincushion Mountain trails the Grand Marais trail system.
cross country skiing
25K single-tracked with a skating lane; excellent trail design and variety with great grooming; two easy 1K and 1.3K loops at trailhead or ski 1K access to more difficult loops including the very popular 6.8K Pincushion Mountain Loop; the 7K expert trails include loops from 1K to 4K; the entire system is set in a birch forest featuring the Devil Track River Valley and Pincushion Mountain. The West Overlook trail and the Stadium area are lit, providing night skiing until 8:30 Sun – Thu and until 10 on Fri – Sat.
snowshoeing
On designated trail only; the trailhead is at the east end of the parking lot [opposite of entry], not by the mid-lot sign kiosk. Please be careful at intersections, yielding to skiers and bikers, and not stepping on set ski tracks.
fat bike trails
Portions of the single track mountain bike loops are groomed for fat bike riding once enough snow falls. Groomed trails vary. The trailhead is at the kiosk just north of the parking lot. Pincushion Fat Bike Trail Map
Length: 25K ski, varied for snowshoe and miles of fat bike trails
Fees: MN Ski Pass required
Difficulty: easy, more & most difficult
Amenities: public warming house [open ~ 7am-10pm] at overlook trailhead; 24/7 outhouse near parking lot
cross country skiing
47K of intertwined series of loops provides plenty of skiing variety in a wonderful near wilderness setting. The easiest trails are near the lodges, which also offer short, lit loops; lots of easy to intermediate trails across the Gunflint Trail, through moose yards and the surrounding forested hills; more experienced skiers will like the South Rim trail and Highlands trail with Wipeout Hill, a big S-curve descending 120 feet to the Cross River.
snowshoeing
One of the best trail networks on the entire shore! The there-and-back 1-mile Lonely Lake trail is easy leading to the shores of the lake and offers an easy 0.7-mile spur to a loop overlook of Gunflint and Magnetic Lakes. The Hidden Trail is a moderate there-and-back [but a loop once everything freezes up] trail and for those looking for a challenge can follow the Lost Cliffs trail [yes, cliffs, think steep] which connects to the High Cliffs trail which climbs almost 400-feet in 0.75 miles ton overlook of Gunflint and Magnetic Lakes; ** note modern snowshoes with crampons/traction devices and poles are highly recommended.
fat bike trails
Ride trails, make your own and ride on the frozen lake. Gunflint Lodge even rents electric fat bikes, which makes for a fun ride. Try it out
Length: 47K
Fees: $15 per day adults & $8 per day ages to 12 yrs old, available at lodges
Difficulty: easy, more & most difficult
Amenities: lodges offer various amenities from restrooms to full restaurants and gift shops and rentals
gunflint mile 43.7 + 0.6 miles from Gunflint Trail
143 South Gunflint Lake | Grand Marais
800-328-3325