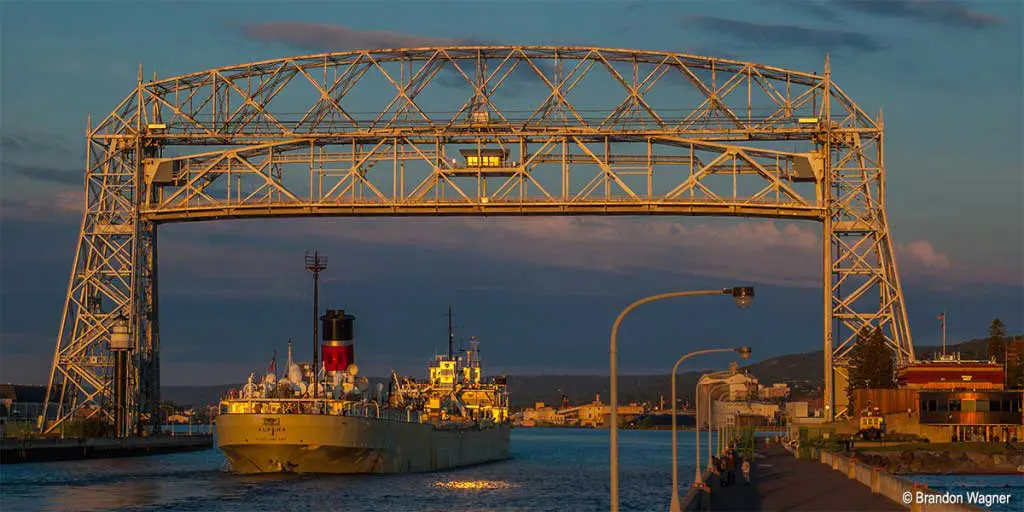 mile by mile things to do guide for the north shore mn
Here is a catch-all of things to do on the north shore. Mile-by-mile recommendations along the North Shore Scenic Drive, an All-American Road, from Canal Park in Duluth, along the shore, through the burgs and woodlands, to the international border at Grand Portage with a taste of what to expect in Canada. This is just a sampling, get out and make your own discoveries! Note the mileage is indicated by the green mile marker signs posted every mile along Highway 61.
The gargantuan counterweights slowly descend, raising the 900-ton span of the Aerial Lift Bridge nearly 140 feet in the air to allow 1000-footers [ore boats carrying taconite pellets] and salties [ocean-bound ships] to pass into the harbor. The canal was excavated in 1871 and is a deceptive 300 feet wide and 1,650 feet long. The first aerial transfer was erected in 1905 and modernized in 1929 to what you see today. It can rise to its full height in 55 seconds.
The Lake Superior Maritime Museum houses actual-size replicas of a ship cabin, pilothouse, and massive steam engine. Exhibits and displays include several scale ship models. They list and announce all ship arrivals and departures, too. It's free!
Part of Kitchi-Gami park; Brighton Beach is is perfect for skipping stones, agate-hunting, ship-watching, wading, picnicking and lollygagging. Features summer-use restrooms, picnic tables and grills. Brighton Beach starts just past the  little blue tourist info center and runs 0.8 miles to Scenic 61/Congdon Blvd.
Note North Shore beaches are pebble or cobblestone; for sand, head to Park Point In Duluth.
Brighton Beach Road is closed to traffic as improvements to the park and shoreline are underway; to access, park at the visitor center parking near the the mouth of the Lester River or a small parking area on Scenic 61.
McQuade Harbor Rest Area is a spanky little safe harbor with a boat launch, kayak ramp, restrooms, interpretive panels, shelter and paved walkway with tunnel to the east breakwall which includes three fishing platforms. Nice spot for a picnic, shore casting, or a little leg-stretcher.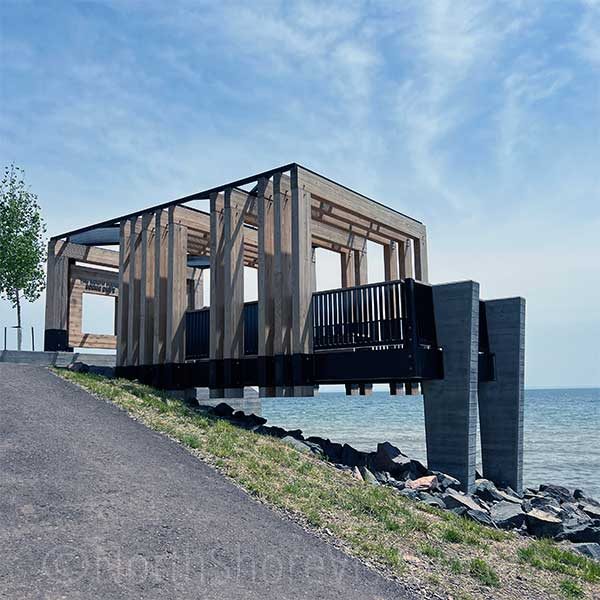 French River Wayside Rest Area
The NEW [2022] interpretive panels at French River Wayside Rest give a snapshot of the creation of Scenic 61/Congdon Boulevard and commercial fishing on Lake Superior. The site has an easy walk down to to a gravel swimming beach [no fishing!] making it an ideal place to cool down on those 12 hot days of the year.
A fish sanctuary from the mouth of the French River to the four-lane freeway is in place as the MN Department of Natural Resources traps adult rainbow trout sometimes referred to as steelhead. The big steelhead run happens from late October into November with a smaller spring run in April. Eggs are removed and sent to a Minnesota hatchery where offspring are raised and returned to Lake Superior. The hatchery fish have their adipose fin [the one on the back between the dorsal fin and tail] clipped. Unclipped fish are native and have naturally reproduced.
Steelhead, Rainbow, Kamloops Trout – what's the difference?
Rainbow trout and steelhead are the same species but steelhead live in saltwater and spawn in freshwater streams, while rainbows live in freshwater. Pacific steelhead fish were introduced to Lake Superior in the 1890s. Rainbows raised in a hatchery and released are also known as Kamloops or 'Loopers. Unclipped/native fish can never be harvested when fishing.
Stop at the old Blue Bird Landing beach on Lake Superior and cast for trout and coho [salmon]. Keep an eye out for freshwater whales, too.
You can also fish the 10.8 Talmadge and 15.7 Sucker Rivers. License required.