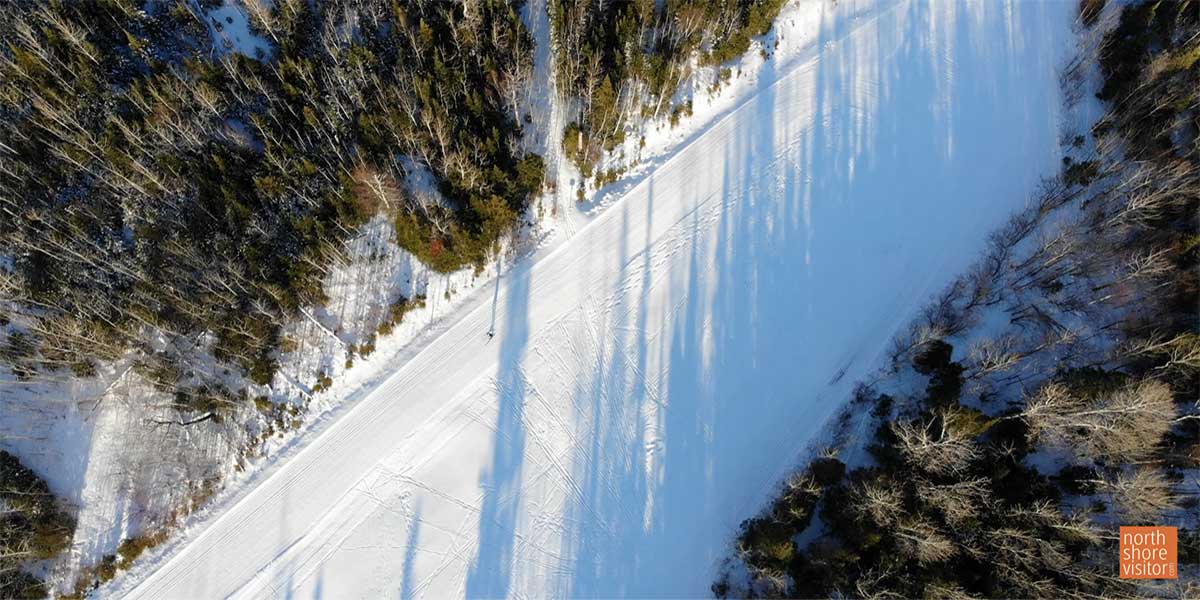 North Shore Cross Country Ski Trails
The North Shore is a cross-country skier's nirvana. Hundreds of kilometers of North Shore cross country skiing trails traverse hillsides, lakeshores, river valley ridges, pine plantations, deciduous forests, and alongside beaver dams. Options are unlimited. You can choose trails based on their length, the type of terrain they cover, your level of ability, and whether you want classic (parallel tracks) or skating stride.
A Minnesota Ski Pass is required on all trails unless otherwise noted. Daily, annual, and three-year passes are offered. An daily pass currently costs $10, annual passes are $25 and 3-year passes are $70 and are required for everyone 16 and older. You can purchase passes at trail centers and businesses, by mail or online.
Easy Trails
relatively level, with few hills, and relatively short in length
More Difficult Trails
often have rolling hills throughout and be quite lengthy
Most Difficult Trails
incorporate sharp turns and steep grades as well as extended lengths
keep in mind
Do not ski alone or let let someone know your route and expected return time. Carry a map of the system. Know your limitations – skiers can overdo it for the conditions, so you may wish to ski several short loops rather than one "most difficult" trail.
dogs and bikes and snowshoes and boots
All of the above are welcome on trails marked 'okay' for their use. Otherwise, choose a non-cross-country ski trail. Check trail maps for details.
skijoring
Ski-joring or skiing with dogs is allowed on  the Summit View and Upland Trails of Sugarbush and the East Overlook Trail at Pincushion and on the George Washington Trail.
North Shore & Gunflint Cross Country Ski Trails
Offers a 4K intermediate and 6+K advanced loop through some rolling hills behind a Lake Superior ridgeline; a very pretty ski through the woods; trail system maintained by volunteers. Donations accepted and appreciated.
218-525-7326
Length: 11k single-track classic
Fees: donations
Difficulty: more and most difficult
Amenities: Warming shack, open hours vary.
4.5K easy to more difficult Outside Loop with a 1K expert loop and a 2.6K intermediate Inside Loop; trails run through the rolling hills of the golf course and a forest of paper birch, aspen, spruce, fir and cedar; plus a 3K lit trail.
Length: 10K diagonal & skating lane
Fees: MN Ski Pass required; buy online
Difficulty: easy to more difficult
Amenities: Shelters along the trail
Cross Country Skiing
The 3.3K easy Lakeshore Loop winds through the campground area giving pleasant views of Lake Superior (a great trail for taking kids). The remainder of trails depart at the Visitor Center heading north under Highway 61 and are more difficult with most difficult portions,. These trails parallel the Gooseberry River past frozen waterfalls, skirt white pine ridges and allow exploration of the Park's backcountry with a handful of interconnecting loops. ski .This is a superb system with trail diversity and scenic beauty.
Snowshoeing
The 2-mile Fifth Falls Trail climbs up through the woods twith excellent falls views. Explore the Gooseberry River and Lake Superior on the 2.5-mile Gitvh Gummi trail.
Length: 22K double tracked
Fees: MN Ski Pass required, self-pay at Visitor Center
Hours:  open daily 9am-4pm
Amenities: Visitor center has restrooms, lobby with a fireplace, a gift shop, theater and exhibits
Multi-Use Trail
The 8.7-miles of trail at Split Rock Lighthouse State Park are groomed for multi-use trail with a set of classic tracks on one side and a rolled side for ski-skating, fat bikes, snowshoeing, and hiking on the other side.Skiers and bikers/'shoers can now all share the same trail – woo hoo!
Fees: MN Ski Pass required and if you park in the State Park, a Park Permit is required; both sold at office
Hours: Daily 9am – 4pm, with the office manned Friday-Sunday; weekdays, the lone employee can be found in the office, plowing, shoveling, trimming trails, and so on.
Difficulty: more & most difficult
Amenities: trail center open daily with restrooms and a fireplace; Split Rock Lighthouse center open afternoons throughout the winter
Interconnecting loops provide several route options, most include a good amount of terrain. The scenic single track trails are groomed for classic only and include wooded trails and the popular Birch-Poplar-Spruce Loop and Bean Lake Spur for the views of these lakes.
Length: 28K of groomed trails
Fees: MN Ski Pass required
Difficulty: more & most difficult
Cross-Country Skiing
25K single tracked with skating lane on 7.5K
Trails have many ups and down, traveling through both birch, aspen and conifer forests. There are lakes and overlooks through out the trail. 7.5K Lower Loop which slowly climbs up from the lake to a great picnic spot at Nipisquit Lake and a downhill return; the Lakes & Hills Trail skirts Papasay Ridge past Nipisquit and Mic Mac Lakes to the 6K connector to Northwoods Trails or on out to the Lax Lake Rd (CR 4); it includes a 2.6K expert run to Mount Baldy
Snowshoeing
Anywhere in the park except groomed trails. If there is enough snow right next to the lake, head northeast toward Shovel Point on the hiking trail. Pakring near the campground and falling the inland wooded trail to Cascade Falls is scenic, fun and not too long.
Fees: MN Ski Pass required; and if you park within the State Park, a Park Permit is required; both sold at state park office
Hours: open 10am-4pm weekends and sporadically during week
Difficulty: more & most difficult
Amenities: visitor center has restrooms open 24 hours a day, winter camping and cabins are available
Cross-Country Skiing
Enjoy remote, quiet cross country ski trails winding through 2,000 acres of Superior National Forest. The trails are groomed for classical skiing and offer an "off the beaten path" alternative to many of the trail systems found in other areas. Moderate elevation changes allow skiers of all ages and skill levels to enjoy the big pines of the "Isabella Pine Belt". Ski over the Little Isabella River on picturesque wooden footbridges. The area is off limits to snowmobiles so skiers can truly experience the quiet beauty of this remote area.
Fat Bike Riding
An 8k trail; nice open trails with wide packed area through the pines. Great for a relaxing winter bike ride.
Driving directions – turn north at the Knotted Pine Inn & Tavern on to the Mitawan Lake Rd for 0.8 miles to the access road [limited parking]; note – the Mitawan Lake Rd also connects with MN Hwy 1  0.75 miles to the east, so be careful.
Length: 30K of groomed single-tracked trails
Fees: MN Ski Pass required
Difficulty: easy, more & most difficult trails
Amenities: outhouse & trail shelter
This is the quiet North Shore State Park, 14 miles from Highway 61 and the bustle of the lake shore. You will find deep woods and the Manitou River's craggy valley. Snowshoe along hiking trails or make your own path. This is are is perfect for introverts, privacy-lovers and nature-lovers.
The Sugarbush Trail Association maintains 65 kilometers of cross country ski trails through beautiful and remote Forest Service land in the Lutsen-Tofte area. Features 2.9K easy Inner Loops (great for kids), and intermediate loops through rolling maple covered hills and hogback ridges; the intermediate 3.1K Hogback Trail is a slow climb up and long descent back; 1.7K Bridge Run is a less challenging intermediate that leads to the 7.3K Homestead Loop (actually a 12K total ski from Sawbill trailhead)
Includes
the 25K Picnic Loop for the advanced skier
4K connector trail to Leveaux / Onion River Road trail system to the east
intermediate 2.2K trail to the summit of Carlton Peak which intersects with the intermediate 3K downhill run to Bluefin Bay
skijoring is allowed on the Carlton Peak and Upland Loops trails
Length: 65K total
Fees: MN Ski Pass required
Difficulty: easy, more & most difficult
Amenities: shelters along trail
Cross-Country Skiing
Cascade State Park is criss-crossed with 27K of cross-country ski trails ranging from easy to difficult. I like skiing up the east side of the river and connecting to the inland loops. It offers terrain, gorgeous cedar stands and wildlife sightings.
A few options – make it a two-car ski and start at the Upper Cascade River, skiing riverside then through forest downhill to Highway 61. And, if the ice is thick and you know what you're doing, you can ski on the river from the Upper Cascade parking area to above the waterfalls.
Snowshoeing
Cascade State Park is criss-crossed with cross-country ski trails which are off limits to snowshoers. That leaves tons of acreage for you to roam. Follow the hiking trail [poles are helpful for inclines and slippery spots] for views of the cascades and falls, then meander away. My favorite – the Lookout Mountain trail; you climb through dense forest, see rivers, and make a final ascent though a sparse birch forest before reaching the top. There's even a little camp shelter to sit a spell and have a snack before a fun descent.
Length: varies
Fees: MN Ski Pass required
Difficulty: easy, more & most difficult
Amenities: restrooms in State Park; the main trail shelter in the park may be heated by wood stove as needed; unheated rustic shelters are located at backpack campsites along the trail; and, Cascade Lodge Restaurant & Pub is at the trailhead of the east side system
cross country skiing
The trails wind through mature maple forests, mixed evergreens, and in the midst of wildlife.  A number of the trails have spectacular view of Lake Superior and connect up to the Cascade River State Park Trails. From the north trailhead [earlier and later season snow] ski Deeryard Loop to the old Cascade Fire Tower; you can connect to the Pioneer Loop and work your way all the way down to Highway 61 at the Cascade River making this an excellent 2-car ski. Trails then connect to Cascade River State Park Trails and continue west on a connector trrail to the Hall Massie Loops
Click above for the main trail map and here for the Hall-Massie/Connecter trail map
snowshoeing
Follow the there-and-back trail along the east side of the Jonvick Creek for a nice wooded walk with some elevations.
fat bike trails
Ride a trail paralleling Highway 61 then riding near the west side of Cascade River; return and continue another 3.6 miles to the 1.0 mile Whitesides and Deer Track Loops.
Length: 65.3K ski trails, about 6 miles Fat bike Trails and 1 mile snowshoe trrail
Fees: MN Ski Pass required
Difficulty: easy, more & most difficult
Cross Country Skiing
Often the first and last skiable trails of the season! Trails are maintained very well; uncrowded wilderness skiing features longer loops (ideal for intermediate skiers) with rest shelters and trails that skirt the edge of the Boundary Waters Canoe Area Wilderness, lead over spruce-covered hills and across frozen lakes; beginners will want to ski the North side of Flour Lake (3.5K part of Logging Camp Trail), 5K Summer Home, the 5.2K Ox Cart Trail and both of the lit trails; experts will enjoy the 8K Bear Cub World Cup loop, and the 3.4K Red Pine Trail which climbs to 1940 feet (what you go up you have to come down)
25% Beginner, 50%  Intermediate and 25% Advanced
The majority of the trail system is tracked for both skating and classic skiing. Only two loops are tracked for classic only.
Snowshoeing
Golden Eagle Lodge maintains 2 snowshoe trails
Length: 70K with single or double track, and 58K of skating lanes
Fees: $8/day for 7-13 and $18/day 14+ daily, inquire about 1/2-day, 3-day & season passes available from either Golden Eagle Lodge or Bearskin Resort
Difficulty: easy, more & most difficult
Amenities: waxing room, ski rentals & 1.5K Wolf Point Loop lit 2 nights/week
The System consists of the 27 kilometer Banadad trail, a single tracked intimate trail through the Boundary Waters Wilderness, and another 12.3 kilometers of trails taking off from the Banadad's eastern end. All the trails are single tracked.
The eastern end of the Banadad connects with the Central Gunflint Trails and at the western end skiers can ski into the Upper Gunflint Trail System. Trail access for the Eastern Trailhead is located along the Little Ollie Road. The Western Trailhead is off the Gunflint Trail, 1/4 mile south of the Loon Lake Public Landing at the Swamp, Lizz and Mead Lake Portages.
Length: 38K
Fees: MN Ski Pass required
Difficulty: more & most difficult
Hiking, biking, skiing and snowshoeing making Pincushion Mountain trails the Grand Marais trail system.
cross country skiing
25K single-tracked with a skating lane; excellent trail design and variety with great grooming; two easy 1K and 1.3K loops at trailhead or ski 1K access to more difficult loops including the very popular 6.8K Pincushion Mountain Loop; the 7K expert trails include loops from 1K to 4K; the entire system is set in a birch forest featuring the Devil Track River Valley and Pincushion Mountain. The West Overlook trail and the Stadium area are lit, providing night skiing until 8:30 Sun – Thu and until 10 on Fri – Sat.
snowshoeing
On designated trail only; the trailhead is at the east end of the parking lot [opposite of entry], not by the mid-lot sign kiosk. Please be careful at intersections, yielding to skiers and bikers, and not stepping on set ski tracks.
fat bike trails
Portions of the single track mountain bike loops are groomed for fat bike riding once enough snow falls. Groomed trails vary. The trailhead is at the kiosk just north of the parking lot. Pincushion Fat Bike Trail Map
Length: 25K ski, varied for snowshoe and miles of fat bike trails
Fees: MN Ski Pass required
Difficulty: easy, more & most difficult
Amenities: public warming house [open ~ 7am-10pm] at overlook trailhead; 24/7 outhouse near parking lot
See really old virgin white pine at George Washington Pines. You can drive right by along the Gunflint Trail, or take advantage of the flat trail through cedar stands, near the shores of the Elbow River, and under gorgeous pines. Ideal for anyone who wants Grand Marais snowshoeing in a safe comfortable way – the trail is easy to get to, well-marked, and pretty. It is an un-/sometimes-groomed cross-country ski, ski-joring and snowshoe trail in the winter, too. The trail is a short spur into a loop, you choose which direction.
Length: 2.25 miles
Difficulty: easy
cross country skiing
47K of intertwined series of loops provides plenty of skiing variety in a wonderful near wilderness setting. The easiest trails are near the lodges, which also offer short, lit loops; lots of easy to intermediate trails across the Gunflint Trail, through moose yards and the surrounding forested hills; more experienced skiers will like the South Rim trail and Highlands trail with Wipeout Hill, a big S-curve descending 120 feet to the Cross River.
snowshoeing
One of the best trail networks on the entire shore! The there-and-back 1-mile Lonely Lake trail is easy leading to the shores of the lake and offers an easy 0.7-mile spur to a loop overlook of Gunflint and Magnetic Lakes. The Hidden Trail is a moderate there-and-back [but a loop once everything freezes up] trail and for those looking for a challenge can follow the Lost Cliffs trail [yes, cliffs, think steep] which connects to the High Cliffs trail which climbs almost 400-feet in 0.75 miles ton overlook of Gunflint and Magnetic Lakes; ** note modern snowshoes with crampons/traction devices and poles are highly recommended.
fat bike trails
Ride trails, make your own and ride on the frozen lake. Gunflint Lodge even rents electric fat bikes, which makes for a fun ride. Try it out
Length: 47K
Fees: $15 per day adults & $8 per day ages to 12 yrs old, available at lodges
Difficulty: easy, more & most difficult
Amenities: lodges offer various amenities from restrooms to full restaurants and gift shops and rentals
You will find cross-country ski rental on the northeast end of the North Shore and up the Gunflint Trail. If you are skiing the other end of the shore, consider renting skis in Duluth.
Continental Ski & Bike
(218) 728-4466
gunflint mile 3.0 + 2.7 miles
922 Gunflint Trail | Grand Marais
218-387-3373
gunflint mile 43.7 + 0.6 miles from Gunflint Trail
143 South Gunflint Lake | Grand Marais
800-328-3325
gunflint mile 27.4 + 3.2 miles from the Gunflint Trail
468 Clearwater Rd | Grand Marais
(218) 388-2203