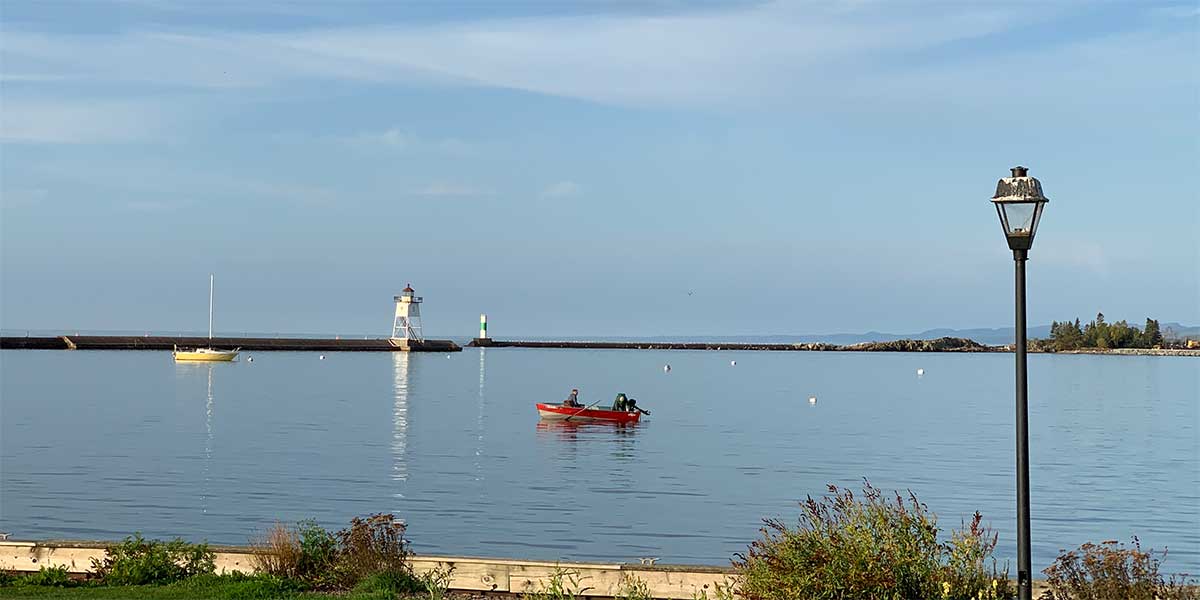 The charm of Grand Marais is that it is a village with a lot to do, but you can do nothing at all. Grand Marais is home to a deep and varied arts community, a multi-generation group of locals who still log and fish and provide services, and all the restaurants, shops, lodging and attractions visitors' desire. With the big lake at its doorstep and Superior National Forest for a backyard, outdoor opportunities abound.
Milage starts at the Duluth Lift Bridge
Heading northeast, just past Thomsonite Beach, Highway 61 curves left, revealing picturesque Good Harbor Bay, Seagull Rock, and, in the distance, Grand Marais. Use the pull of to admire the view and take photos. A quarter mile farther is Cut Face Creek Wayside, a nice spot for a picnic, an agate search, and skipping stones.
The 35-foot fishing tug Neegee, or "friend" in Ojibwe, was completed in 1936 and used in Grand Marais through the 1950s. To learn about commercial fishing in that era, take the self-guided tour of the boat and fish house.
Grand Marais is a very walkable town. Park out on Artist Point, follow the beach around the harbor, then take the covered bridge into the campground, wind your way through, skirting Lake Superior and conclude with a climb to Sweetheart's Bluff. After an invigorating downhill return, you can walk the 3-mile round-trip paved Gitchi Gami trail west out of town to the cemetery and distant lake views before returning the same route.
North House Folk School engages in promoting and preserving the knowledge, skills, crafts and stories of the past and present. Classes, courses and programs are student-based and range from blacksmithing to woodworking, bread baking to weaving, timber-framing to basketry.
The campus offers a gift store, weekly tours, many events and programs and a complete catalog of courses. All on the shores of Lake Superior.
The Gunflint Trail climbs 600 feet in the first few miles to a maple ridge line. At the top is Pincushion Mountain Overlook, a parking area with 180° views of Lake Superior. For the full circle view, make the 4-mile roundtrip hike to the top of Pincushion. This recreation area is criss-crossed with single track bike trails, hiking trails, cross-country and snowshoe trails. It is conveniently located three mile from Grand Marais.
Skip stones, gaze, look for an agate, bliss out, watch for a flock of seagulls and see if it is following a local commercial fisherman into the docks.
Artists and creative seekers of all levels come from across the country to learn from renowned instructors, create art, and engage together in artistic inquiry. The Grand Marais Art Colony presents short entry points, artist talks, and exhibitions and courses and mentorships for advanced to novice artists. Adult, youth, and private group classes offered.
Clay, literary arts, photography, mixed media, painting, drawing, printmaking, book arts, sculpture, and jewelry, and mentor series.
At the Grand Marais Public Library visitors can enjoy a a paperback exchange, choose a book from Library Friends Sale rack, and use free WiFi, computers, reference sources and data bases, and the quiet reading room, and participate in special events. Open Monday through Saturday.
Pose in front of the original entrance to the Gunflint Trail, located on the north side of the highway near the library.  The Gunflint Trail is a 55-mile paved two-lane county road that ends at Saganaga Lake, on the U.S. – Canada border. You will find hiking, lakes to canoe-kayak-fish, resorts, and a cluster of shops and restaurants, especially at the mid-Trail point.
The Cook County Community YMCA  has a lap pool with a zero depth play area, water slide, whirlpool, sauna, weight and cardio rooms. Youth, adult and family day passes offered. Visitors welcome!
The Grand Marais Playhouse offers a Summer Repertory Festival each July through August as well as two Community youth plays held in December and April. In any given year, the Playhouse produces one-act plays, workshops, internships and fundraisers. Events are performed at the Arrowhead Center for the Arts.
The Johnson Heritage Post Art Gallery, a replica of the original late 1800s Johnson Trading Post, hosts local, regional, and national artists in revolving exhibits. The west wing is a permanent collection of original art by Anna C. Johnson, an early 1900s artist whose works capture the scenes from that era along the Gunflint Trail and along the North Shore.
Each year the North Shore Music Association sponsors and produces concerts, dances and workshops featuring artists as varied as Guy Davis and Shemekia Copeland, Rose Flores, Phil Heywood, Harpeth Rising, McInnis' Kitchen and the Minetti Quartet. All events take place at the Arrowhead Center for the Arts.
Artist's Point is the island and tombolo, spit of land, that makes up the east side of the harbor including the east breakwall and lighthouse; a drop of wilderness in the lake. So inspiring! Find picnic tables along the East Bay's cobblestone beaches.
Those who have traveled and lived along the North Shore have been reliant on Lake Superior for food and – for many years – for transportation. In the late 1800s and early 1900s, lighthouses were built to mark treacherous reefs and to mark spots of refuge, like the Grand Marais Harbor. The lighthouse was built in 1884 and the Lightkeeper's residence in 1896. Now home to the Cook County Historical Society, it is a museum with exhibits and archival storage.
Downtown Grand Marais is a three-block long strip centered around Harbor Park, a breezy sitting and gathering area leading to the cobblestone beach of the harbor. Shops, restaurants, museums, and galleries are clustered along Wisconsin Street and the side avenues stretching to and just inland from Highway 61.
St. Francis Xavier Church in Chippewa City is a beautiful reminder of a thriving village that was home to more than 100 families in the 1880s and 1890s. Famous artist, George Morrison, was born and raised here. The descendants of Chippewa City residents continue to honor their heritage and support the Historical Society in sharing the story of this village.
St. Francis Xavier Catholic Church, known locally as the "Chippewa City Church" is one of the last physical remnants of a once vibrant community.
No, but keep looking! Enjoy the wide-open vistas at Five Mile Rock, a landmark for early travelers. Listen to the waves lap, pick rocks,  see if anyone is fishing around the rock.(That's five miles from Grand Marais, not five miles out in the lake).