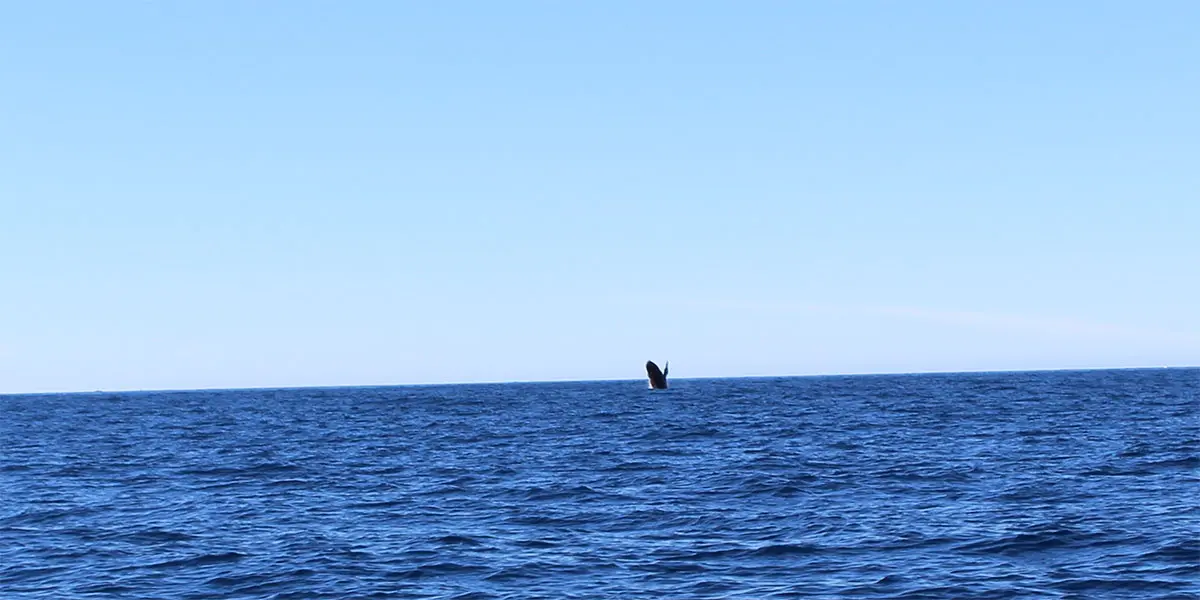 Each year we report the movements of the whales on Lake Superior. The reports are sightings sent by residents and visitors along the North Shore of Lake Superior. If you spot whale activity, let us know by filling out the form on the right! We accept photos, too! Confused? see the right hand column [desktop] bottom of page [mobile].
Check out this whale action from April 2023, then explore all the North Shore Activities
Holy cow! A new sighting in Lake Superior!
At Grand Marais Harbor, April 1  😉
Are there really whales in Lake Superior
Get the answer in
these articles
from the Duluth News-Tribune and Seiche (MN Sea Grant Newsletter).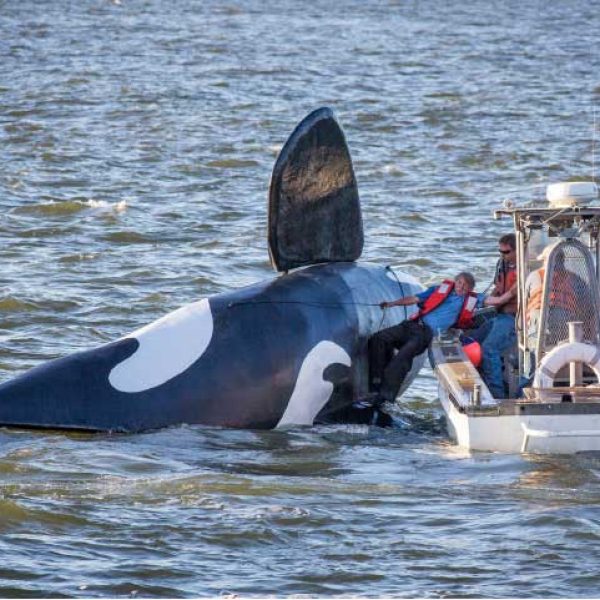 Potential Illegal Whaling
I was out and about just minding my own business swimming (it was quite cold) out past Two Harbors when a commotion took my attention. I saw what appeared to be a fishing boat hauling in their catch. Not a big deal. But then I looked again and saw an absolute beast of an orca. I swam up to a nearby rock and pulled my Nikon 3000 ultra out of my Fanny pack and manage to photograph whatever was going on with this orca. I'm not sure if catching these wonderful creatures is legal or not, but I do know for sure that what I saw will be with me forever. This happened a couple of weeks ago (8/16/23) and I'm not really sure how to go about it.
Still awesomesauce!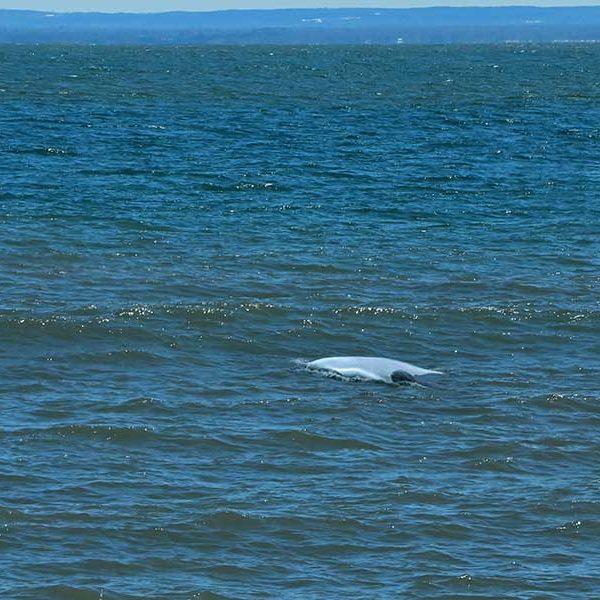 We saw this mama and baby beluga at the Lester River visitor center the first weekend in April, 2023. The waves coming into Duluth were huge but she sought out the calmer water and smelt at the mouth of the Lester River. The mama was so easy to see with her light coloring but spotting the baby's dark little head was an unexpected and very sweet surprise! I heard belugas were spotted off of Wisconsin Point in the spring of 2022 and was so happy to get to see them!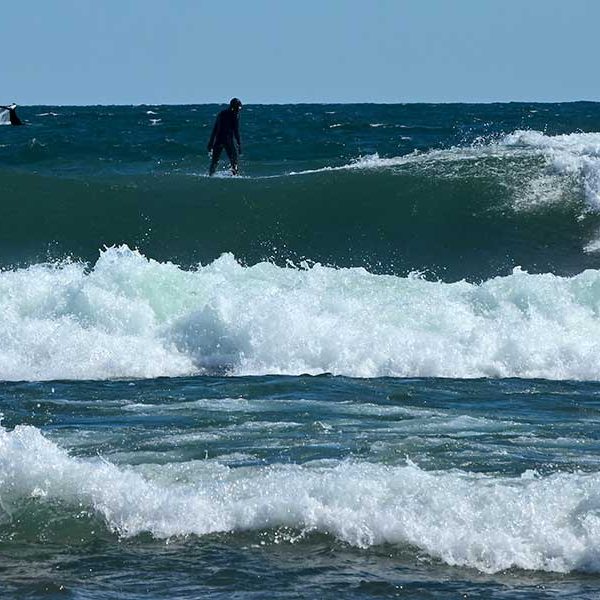 Stoney Point Surfing with Curious Whale
The northeast gale that started on March 31, 2023 was impressive. The whales took advantage of the waves and made a run down the shore toward Duluth, snacking on smelt at the many river outlets. Several surfers made their way to Stoney Point near Knife River the next morning but found the waves too forceful. The surfer pictured here was only one of two we saw out on the lake. I didn't notice the tail of the curious whale until I got home and looked at my photos on the computer.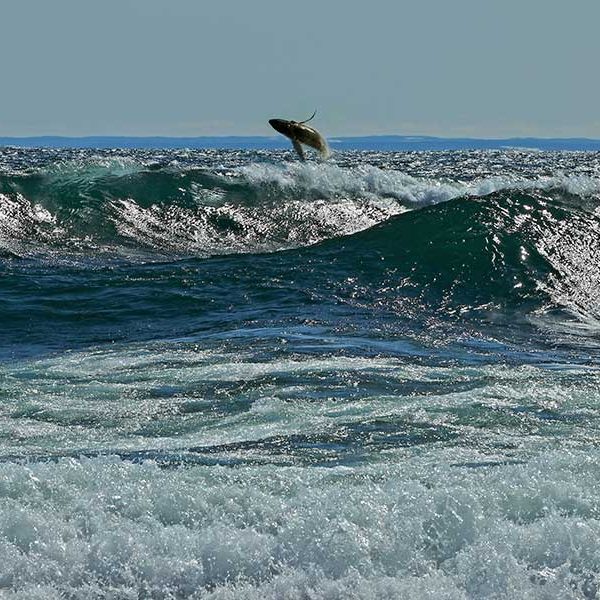 Big Waves and a Whale at Stoney Point
This was so cool! This was taken at Stoney Point. I think there were several whales that came down the shore with the gale that started on Friday, March 31, 2023. This was taken Saturday morning. It had to be quite the leap for this whale to breach the big waves. Stoney Point is a great location for whale watching.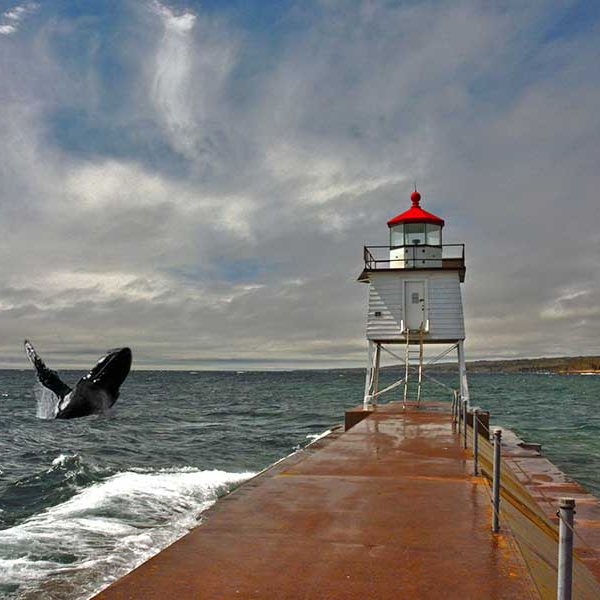 Incredible to be this close when a whale breached. The sound was so unreal! This was taken the last week of March, 2023 after a weekend skiing at Lutsen. We were on our way home to Wisconsin and stopped to walk out on the breakwater at Two Harbor. We were not expecting this at all! We saw this shadow moving in the water and then this! It was unbelievable! So glad I had my camera!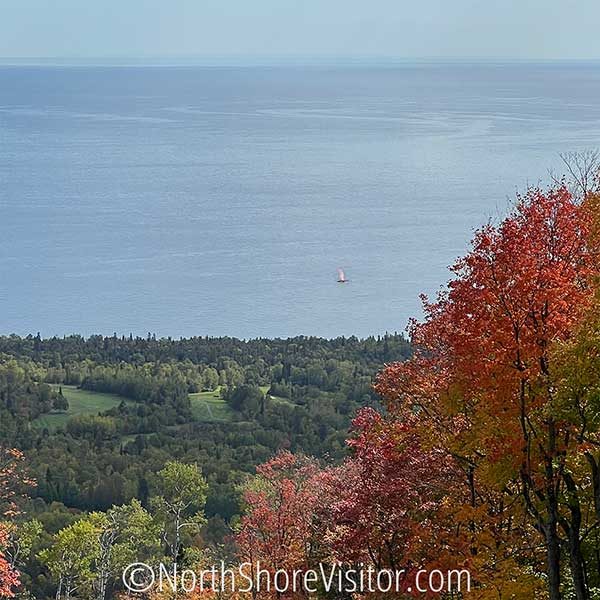 We rode the gondola to the top of Moose Mountain. The hillsides looked like a watercolor painting of fall colors. Wow! And then . . . bonus! we spotted a dark spot on the lake, watched it and noticed a spray. Whales!! We think there was a calf trailing behind and you could see the swirls where others were diving.
Best Fall Day. Ever.
– Carrie & Piper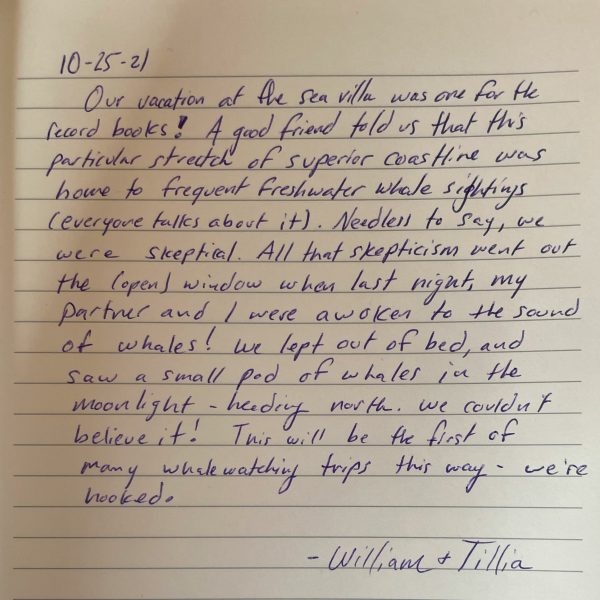 LSWWS comments: So happy you saw them William & Tillia!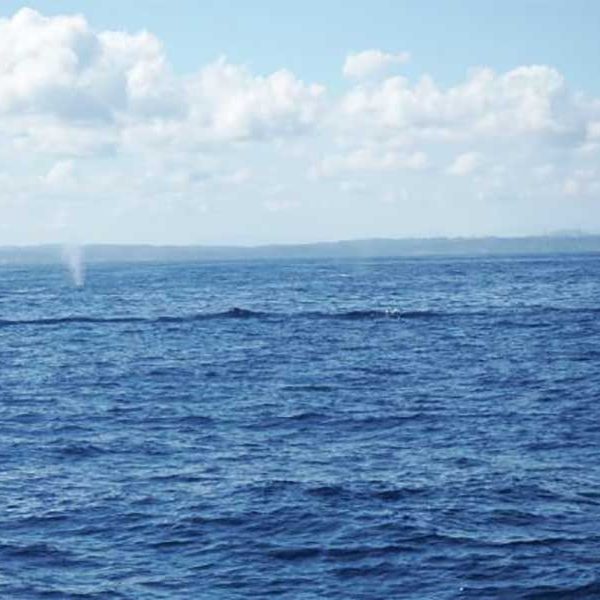 Perfect title, right?!
Motoring up the shore for the last week of trout fishing and saw this whale. Fished here many times, have only seen whales a few times and haven't been able to get a shot until now. Not great but it's a whale!
– Patty
LSWWS comments: They can be so hard to photograph, good for you!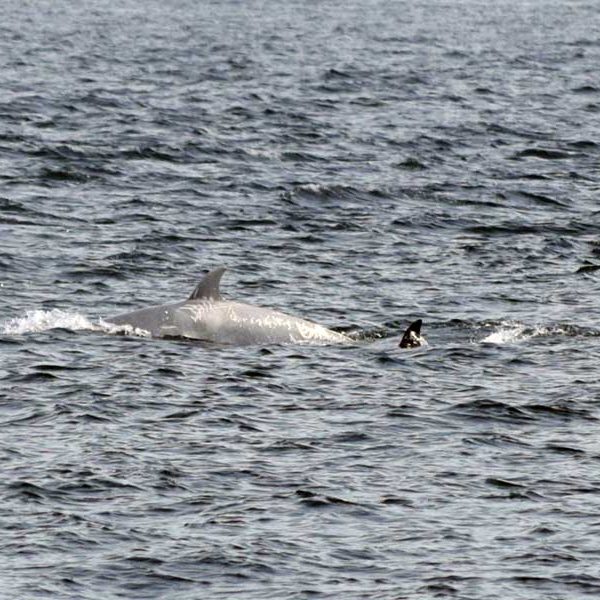 I never believed this whale in Lake Superior stuff … until last week. We were up on top of Palisade Head and saw a group of people pointing. I pulled out my long lens and captured this image. If you need to see it to believe it, here's proof!
– Sally
LSWWS comments: Nice photo Sally. It must have been exciting to be up high looking down on the whale. I've never seen one from that vantage point.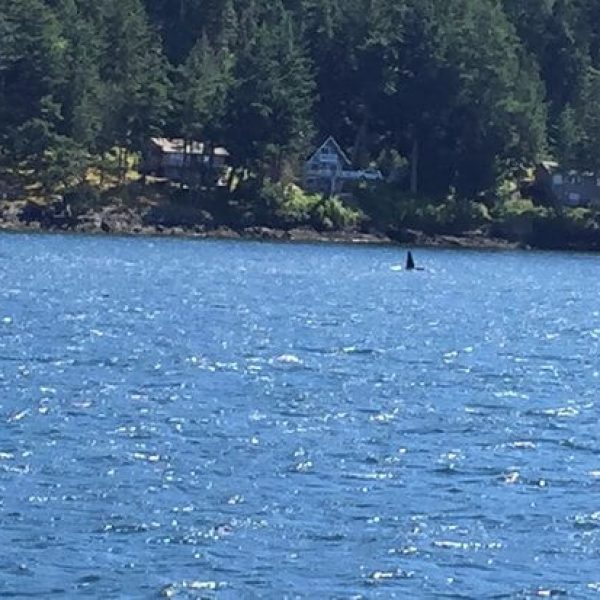 Breathtaking and wonderful
Went snorkeling with family just east of Schroeder in late October last year. We saw 2 Orcas (killer whales). One was giving birth. Absolutely amazing. This is God's glory.
– Scott
LSWWS comments: Isn't life grand? Note: no orcas in Lake Superior, so another breed.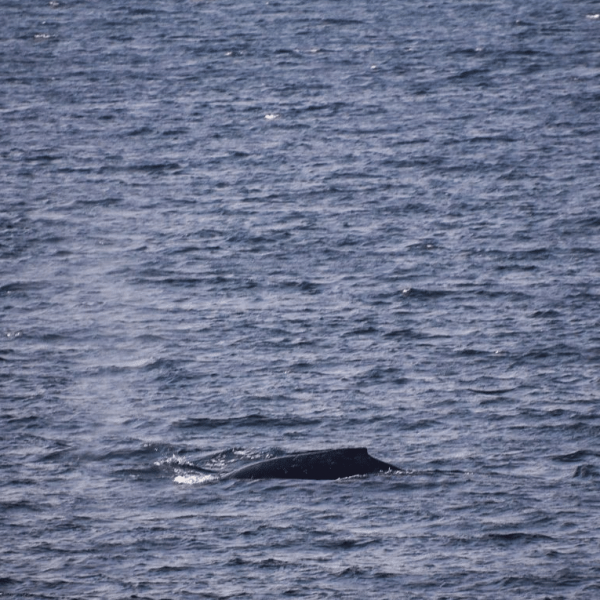 Humpback near Taconite Harbor
We were checking out the boat landing to see if the ice was out yet and this beautiful whale came up just off shore!
-Ben M
LSWWS comments: It is a beauty!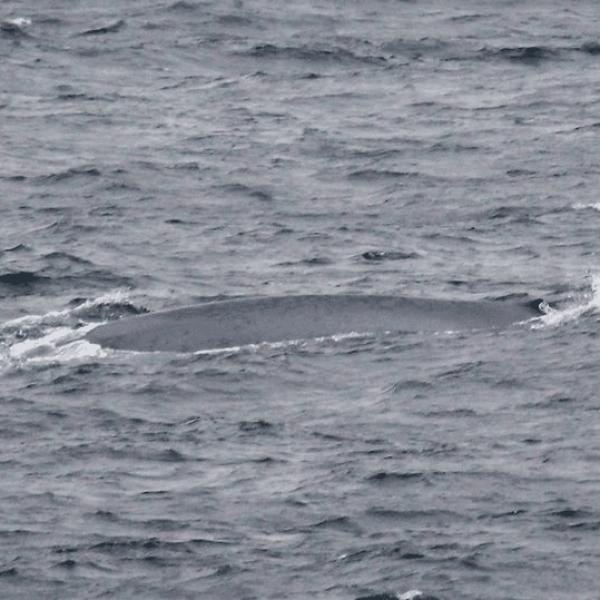 I was taking a drive along Scenic 61 and had stopped at Bluebird Landing to look at the lake. At first I thought it was a rock. Everything was grey that day. But then it disappeared AND CAME BACK!!
-Julia V
LSWWS comments: Official 1st sighting of the year! Congrats Julia!