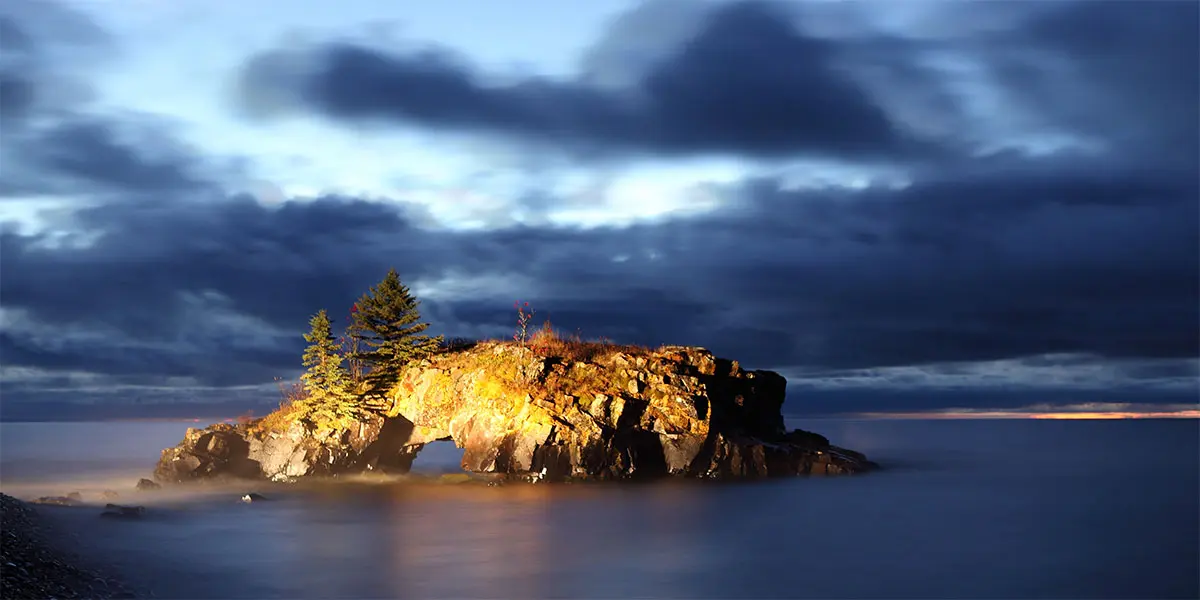 northeast to Grand Portage Area
Northeast of Grand Marais, the road widens, population decreases and the lake shows itself more frequently. It is worth the 41-mile drive just to experience the rugged landscape of this most northeastern tip of Minnesota. Highlands rise to the north, the Susie Islands hover off the coast and Lake Superior gives way to Isle Royale National Park.
The Treaty of 1854 established Grand Portage Reservation and the community continues today. In 1958, Grand Portage was designated a National Monument and in 2007 the Heritage Center was completed as a means to honor the Ojibwe tribe's history, people and culture' celebrate this at the Annual Rendezvous Days and PowWow the second full weekend of August.
Mileage starts at the Duluth Lift Bridge
Relax, skip stones, and picnic on the beach. The there-and-back hike follows the Kadunce River with spurs to overlooks and pools. During the warm months of summer, when the water runs low, many locals hike up the river, including climbing the waterfall.
The popular hike runs cliffside high above the Brule River. After a spur to the Lower Falls, make the final climb to where the splits. The eastern flow tumbles over the High Falls while the western arm drops into the Devil's Kettle, final destination unknown. The hike is within Judge C.R. Magney State Park.
Learn about the alliance between the Grand Portage Ojibwe and the North West Company during the fur trade boom in the late 1700s. at the Grand Portage National Monument. Explore the reconstructed stockade and great hall, the visitor center, garden and grounds, Mount Rose trail, and historic Grand Portage trail leading 8.5 miles inland to Fort Charlotte on the Pigeon River.
The Mount Josephine Wayside Rest has a spectacular overlook with views of the Susie Islands below in Lake Superior and Isle Royale in the distance. Isle Royale National Park is part of Michigan. The area is open April through October, has picnic tables and outhouses, and is located on the lake side of Highway 61.
It's all about hiking to the 120-foot High Falls, but leave time for the exhibits, gift shop and interpretive signs in and around the Visitor Center, where you can learn about the culture and traditions of the Grand Portage Ojibwe people. Bring your camera.
Access to Grand Portage State Park is Free!
State Park Vehicle Permits are NOT required at this park.
Cross the border and spend some time in Canada [passport/approved documentation required to cross the border]. Thunder Bay is 36 miles over the border; along the way are the Middle Falls Provincial Park, shops and farm stands, Old Fort William, and Kakabeka Falls. Canada is English-speaking, uses the same rules of the road, uses the metric system, has their own currency, and is in Eastern Time Zone, one hour ahead of Minnesota.