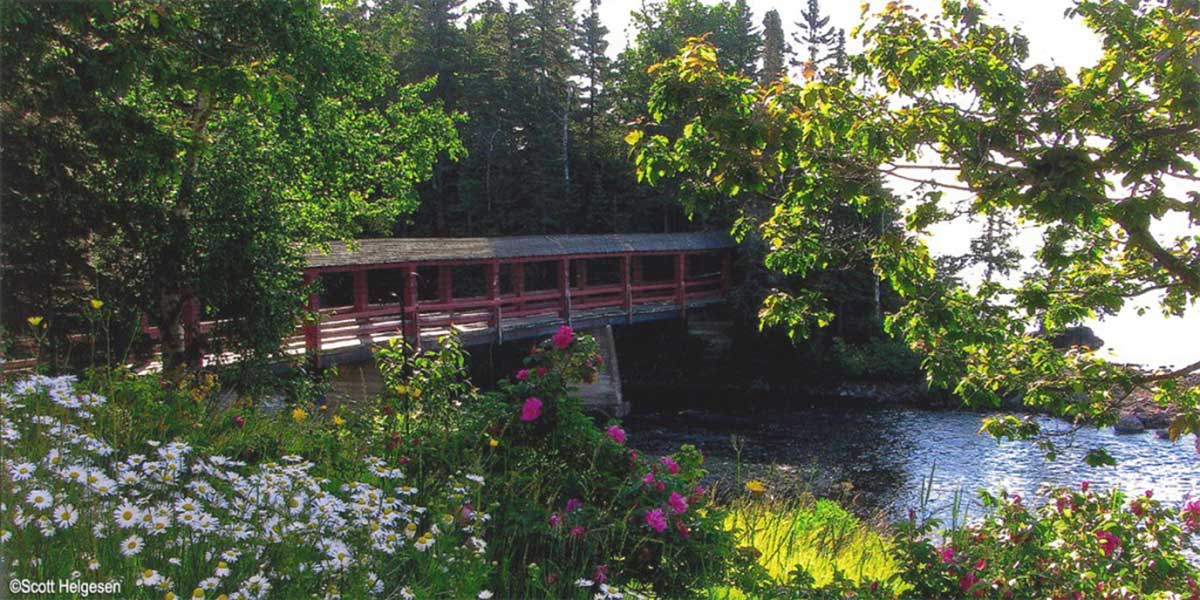 lutsen mn and lutsen mountains
Swedish immigrant Charles Nelson began homesteading at the mouth of the Poplar River in 1881. As new immigrants arrived, he provided lodging and meals. Voila, Minnesota's first resort! A post office, school, general store and town hall were built to serve the local loggers and fisherman. Nelson, his family and townspeople continued expanding their burg and today Lutsen is home to Lutsen Mountains, Superior National, resorts and a cluster of business along Highway 61 fondly referred to as 'downtown Lutsen.'
Mileage starts at the Duluth Lift Bridge
This perennial favorite, the Oberg Mountain Loop, starts off a short spur from the parking area and climbs at an angle up to western views down the shore, then panoramic Lake Superior views to the south, then northeast view up the shoreline, and finally northern views over Oberg Lake and the amazing maple-covered hillsides to the north. The trail meanders under maple and birch canopies, over bedrock slabs, and can be steep at times. The loop is 2.25 miles in total.
Pull into the Ray Berglund State Wayside on the north side of Highway 61 between Tofte and Lutsen. Climb the wooden steps and hike above the Onion River to view the stair-step waterfalls. You get a much clearer view of the waterfalls in the spring before the trees green-up, but this is a nice quiet, one-mile hike any time of the year. Lakeview picnic tables are on the bluff near the top of the stairs. Fisherman take note, the Onion River is a designated trout stream. Everyone take note of the swanky outhouse, [seasonal].
Share your sentiments under the canopy of the covered bridge over the Poplar River. While you're choosing the ideal photo spot, check to see if anyone is fishing the river mouth. The bridge is part of Lutsen Resort and is open to everyone.
Lutsen Mountains, the Midwest's largest and tallest ski area, offers alpine skiers and snowboarders 95 sweeping runs over four mountains. Non-skiers can enjoy slopeside views and amenities at two chalets. Spring, summer, and autumn visitors can hike, bike, ride the gondola and alpine slide, and dine at the chalets.
Browse gifts, books, treats, spirits, coffee, necessities and sundries plus a small café. Located on the north and south side of the highway in this quarter-mile stretch.
Grandview Park in Lutsen offers a pavilion with picnic tables, charcoal grills, a fire ring, a playground and room to run around. Family-friendly and open to all.
Cascade brings the river to you. A quick jaunt up well-maintained trails brings you to overlooks and a footbridge spanning the cascades. This is an ideal photo spot.
Picnic spots are a quarter mile farther along Highway 61. If you want to ski over the river and through the woods, Cascade has amazing cross-country skiing. Feel free to snowshoe anywhere, too.