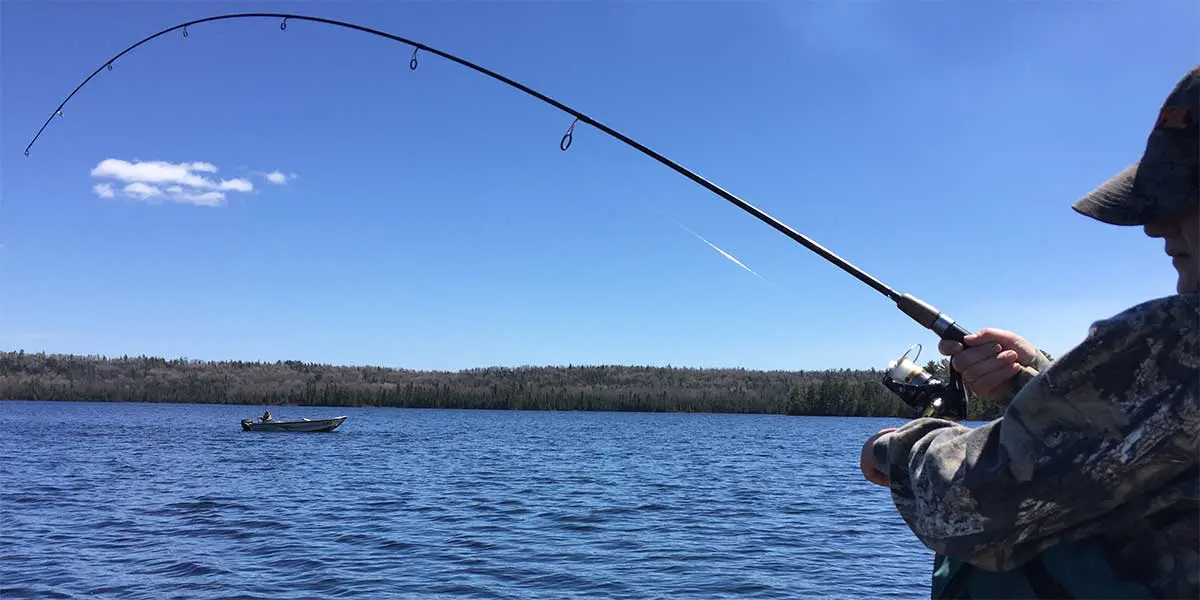 inland lake and lake superior fishing
So here you are on the biggest freshwater lake in the world. Have you thought about fishing?
You can fish Lake Superior, it's tributaries or inland lakes and streams. Catch lake trout and a variety of salmon on the big lake, trout and salmon in streams, and walleye, smallmouth bass, northern pike, perch and brook trout from inland lakes.  See fish descriptions and a few tips on catching below.
No boat? Don't worry. Shorecast form any public lands along Lake Superior, [think public access areas and state parks]. Inland, choose one of the fishing piers noted below, or hire a charter. You can find charter fishing boats in Duluth, Two Harbors, Silver Bay and Grand Marais. Inland fishing guides are centered along the Gunflint Trail with a few near Grand Marais.
Licenses, bait, tackle and gear can be found at most gas stations and outfitters along the shore and up the Gunflint Trail-see the list below. You will need a trout stamp if fishing for trout. What happens if you don't catch any? Well, you probably had a great day outdoors, but check local grocery stores and fish markets for fresh and smoked Lake Superior fish, too!
Check out details on the specific fish below and here are the details for the Spring Creel Report on Lake Superior Tributaries.
Prevent the spread of aquatic invasive species by cleaning boats and gear, draining water, and drying your watercraft. Did you know boating and fishing are threatened by the spread of aquatic invasive species? Aquatic invasive species (AIS) are organisms that are not native and cause significant harm to an ecosystem when introduced. Harmful impacts can include effects on local game fish populations and impaired swimming waters.
good luck fishing!
north shore charter fishing and guides
Captain Gary is a USCG licensed charter boat captain with over 30 years of experience fishing out of the Grand Marais marina on Lake Superior. During May and June, we will be downrigging in deeper water for lake trout and salmon. During the months of July, August, and September the salmon action picks up and the lake trout come closer to the surface. During these months we will be using a combination of downriggers, boards, and dipsy divers.
115 S 8th Ave | Grand Marais
218-370-5800
state record fish
Atlantic Salmon:

 12 pounds, 13 oz; Baptism River at Tettegouche State Park

Chinook Salmon:

 [shared record] 33 pounds 4 oz, Poplar River, Lutsen and Lake Superior, near Duluth

Coho Salmon:

 10 pounds 6.5 oz, Lake Superior, northeast of Two Harbors

Pink Salmon:

 4 pounds 8 oz, Cascade River, Lutsen

Steelhead Rainbow:

 16 pounds 6 oz, Devil Track River, Grand Marais

Lake Trout:

 43 pounds 8 oz, Lake Superior, Hovland

Brown Trout:

 16 pounds 12 oz, Lake Superior, northeast of Two Harbors

Walleye:

 17 pounds 8oz, Seagull River, end of the Gunflint Trail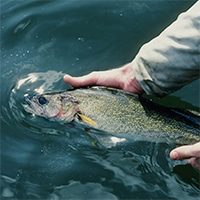 Average 1-2 pounds, but can exceed 10 pounds
Found in shallow waters (less than 15 feet) moving to deeper waters as temperatures increase, best bite is at dawn & dusk
A "walleye chop" (waves) on the water or overcast skies usually means more active fish
Try a spinner-bait, slip-bobber rig or jig head with bait (minnow, leech or nightcrawler)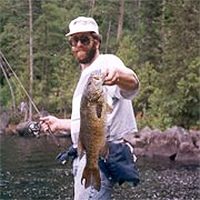 average weight 1 pound; great fighting fish
found in shallow water [less than 15 feet] moving to deeper waters as temperatures increase
try a spinner-bait combo or troll with a Rapala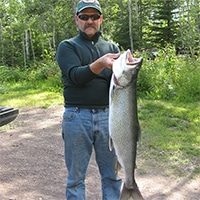 average 2-3 pounds, but can exceed 40 pounds
prefer cold water, so move deeper as temperatures rise
for shorecasting, try yarn flies, tiny spinners or spoons
from a boat, try dodger fly with downriggers or planer boards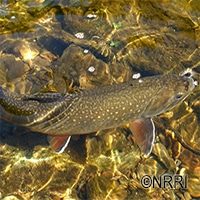 other trout: brook, brown, splake, rainbow
average .5 – 1 pound, elusive fish
found in pools on shaded small streams, and tributaries and small inland lakes
small spinners, nightcrawlers or flies
check regulations concerning live bait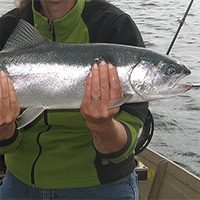 salmon: chinook, coho, pink, & atlantic
size varies with type of salmon
can be found on Lake Superior and it's tributaries
pinks run in odd-numbered years and are caught late summer
Coho prefer cooler water and are found in early July
Chinook run peaks in early July
Atlantics have a fall run around the first of October
where to fish from shore
The Minnesota Department of Natural Resources (DNR] and US Forest Service [USFS] provide accessible fishing piers in the North Shore area. These are great areas to fish if you don't have a boat.
Accessible fishing pier at rustic campground; fish for rainbow trout and splake
From Hwy 61 MM 60, drive north on the MN Hwy 1 for 22 miles, turn east / right on the Wanless Road for 11.9 miles
Fish for walleye, smallmouth bass and an occasional muskie from this pier. An accessible campsite is adjacent to the pier.
From Hwy 61 MM 83.2, drive north on the Sawbill Trail for 17 miles, turn west / right on the Wanless Road for 11.9 miles
Cast for walleyes and enjoy the view of the lake.
From Hwy 61 MM 83.2, drive north on the Sawbill Trail for 23 miles.
Try for walleye or northern at dawn or dusk.
From Hwy 61 MM 92.5, drive north on the Caribou Trail 6.7 miles, go west / left on the Honeymoon Trail for 2.6 miles, then right onto white Pine Access Road
Catch splake and rainbow trout off the pier.
From Hwy 61 MM 109.1, drive north on 5th Ave W for .7 miles, turn left onto the Gunflint Trail for 10 miles, thens east / right onto Trout Lake Road for 1.7 miles
Note the old railroad trestle crossing the lake; fish for rainbow and splake.
From Hwy 61 MM 90.1, drive north on 5th Ave W for .7 miles, turn left onto the Gunflint Trail for 3 miles, west / left on Devil Track Road for 5.7 miles, north / right on Ball Club Road 4.6 miles, then east / right on Trestle Pine Road for .9 miles