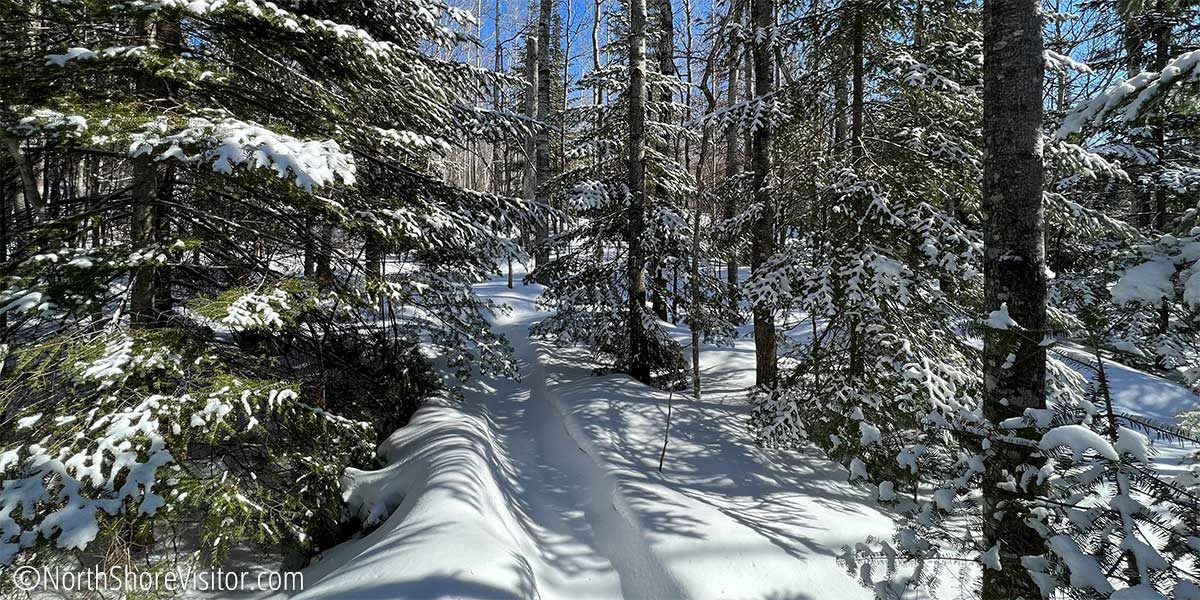 north shore snowshoe trails, maps & rentals
Snowshoeing is winter hiking. Lash on a pair of these woven frames and you've commandeered the great outdoors. Pick one or more of these snowshoe trails and venture out for an afternoon wildlife expedition. Use the mile-by-mile feature to find 'snowshoeing near me.'
Track hares, shrews, wolves, deer, and ermine. Step soundlessly through the north woods, stopping to guess the width of a virgin pine, to listen to the chickadees, or just to savor the moment.
Lots of folks like to snowshoe the Superior Hiking Trail, but you can snowshoe anywhere. If the trail is also a groomed ski trail, walk on the sides, not on the tracked trail. Many resorts, shops, and ski areas rent snowshoes. 
snowshoeing Duluth MN and along the north shore and gunflint trail
This popular 15-kilometer trail – including the easy 4K loop through the Lester River Golf Course – is groomed for skate and classic. Climb the access trail to an inner loop – bonus: In early morning and evening, 4 kilometers are lighted. Excellent system with good trail variety, amenities plus mature woods, the Lester River , and waterfalls.
Amenities can be found at the Lester/Amity Chalet, operated by the Duluth Cross-Country Ski Club, and open daily throughout the season.
Tentative hours once there is skiable snow:    Monday-Friday, 3-8pm; Saturdays & Sundays, 9am-4pm
Multi-Use Trail
Four all-season bike/hiking trails [3 groomed in the winter] traverse over 400 wooded acres and connect to a portion of the Superior Hiking Trail. and the North Shore State Trail [motorized]. Two of the trails incorporate part of the gravel Britton Pit Road. Good novice trail system.
Fat bike, snowshoe and/or cross-country ski
Length: 8 miles
Amenities: restrooms, a shelter and an information kiosk located near the parking area
Short, steep and so worth it, this trail ascends out of the parking lot. After a series of switchbacks, the trail parallels the ridge and rewards you with a Lake Superior view. Continue on to Wolf Rock for amazing wide-open vistas of the lake, then enjoy the descent!
Highlights: Wolf Rock, .5 mi from trailhead; great overlook of Lake Superior after a mildly steep climb; Crow Creek Valley, 1.3 mi from trailhead; Gooseberry River and Lake Superior, especially pretty during fall colors
Cross Country Skiing
The 3.3K easy Lakeshore Loop winds through the campground area giving pleasant views of Lake Superior (a great trail for taking kids). The remainder of trails depart at the Visitor Center heading north under Highway 61 and are more difficult with most difficult portions,. These trails parallel the Gooseberry River past frozen waterfalls, skirt white pine ridges and allow exploration of the Park's backcountry with a handful of interconnecting loops. ski .This is a superb system with trail diversity and scenic beauty.
Snowshoeing
The 2-mile Fifth Falls Trail climbs up through the woods twith excellent falls views. Explore the Gooseberry River and Lake Superior on the 2.5-mile Gitvh Gummi trail.
Length: 22K double tracked
Fees: MN Ski Pass required, self-pay at Visitor Center
Hours:  open daily 9am-4pm
Amenities: Visitor center has restrooms, lobby with a fireplace, a gift shop, theater and exhibits
Multi-Use Trail
The 8.7-miles of trail at Split Rock Lighthouse State Park are groomed for multi-use trail with a set of classic tracks on one side and a rolled side for ski-skating, fat bikes, snowshoeing, and hiking on the other side.Skiers and bikers/'shoers can now all share the same trail – woo hoo!
Fees: MN Ski Pass required and if you park in the State Park, a Park Permit is required; both sold at office
Hours: Daily 9am – 4pm, with the office manned Friday-Sunday; weekdays, the lone employee can be found in the office, plowing, shoveling, trimming trails, and so on.
Difficulty: more & most difficult
Amenities: trail center open daily with restrooms and a fireplace; Split Rock Lighthouse center open afternoons throughout the winter
Cross-Country Skiing
25K single tracked with skating lane on 7.5K
Trails have many ups and down, traveling through both birch, aspen and conifer forests. There are lakes and overlooks through out the trail. 7.5K Lower Loop which slowly climbs up from the lake to a great picnic spot at Nipisquit Lake and a downhill return; the Lakes & Hills Trail skirts Papasay Ridge past Nipisquit and Mic Mac Lakes to the 6K connector to Northwoods Trails or on out to the Lax Lake Rd (CR 4); it includes a 2.6K expert run to Mount Baldy
Snowshoeing
Anywhere in the park except groomed trails. If there is enough snow right next to the lake, head northeast toward Shovel Point on the hiking trail. Pakring near the campground and falling the inland wooded trail to Cascade Falls is scenic, fun and not too long.
Fees: MN Ski Pass required; and if you park within the State Park, a Park Permit is required; both sold at state park office
Hours: open 10am-4pm weekends and sporadically during week
Difficulty: more & most difficult
Amenities: visitor center has restrooms open 24 hours a day, winter camping and cabins are available
This is the quiet North Shore State Park, 14 miles from Highway 61 and the bustle of the lake shore. You will find deep woods and the Manitou River's craggy valley. Snowshoe along hiking trails or make your own path. This is are is perfect for introverts, privacy-lovers and nature-lovers.
Caribou Falls is one of the most picturesque waterfalls on the shore, in part because of the approach. If others have tracked in a trail, or you are feeling robust, it is worth it to snowshoe in along the hiking trail – note: you will need to take your snowshoes off for the stairs down to the overlook of the falls.
From the wayside rest follow the spur trail [at the first bench, continue to follow the spur]. The trail climbs about 100-feet in a half mile before making a 90-degree turn to multiple flights of stairs [~150 in all]. A right hand turn after the first few flights opens to a cedar- and pine-framed view of the falls. It becomes more and more impressive as you get closer, and the gray basalt outcroppings are a striking frame to this 35-foot falls.
An excellent 1-mile interpretive hiking trail with a self-guided brochure. Mosey through pine plantations, and alder thicket, and along the cobblestone beach. Learn about log rafting and tree planting, appreciate a small overlook; there are steps down to the beach. The last stop is the Visitor Center, an energy efficient lovely log building.
Amenities: visitor center, limited hours
Length: 1 mile
Difficulty: easy
Amazing river gorges that start a few feet inland from the highway, waterfalls, two footbridges , hiking, a cobblestone river mouth, camping, and hiking. Hike a short way upriver to the amazing gorges, then return south of the highway and walk across the footbridge.
During spring runoff or after rainy days, the river spray will mist you. Back in the day, this was the only river without a [sand] bar at the mouth, hence the name, Temperance.
Looking for a challenge? Snowshoe to the top of Carlton Peak! From the Britton Peak trailhead, it is just over 3 miles round trip. While it starts out level, the 350-foot gain in elevation can be felt, especially if you're breaking trail.  The views from the top make this ideal for a crisp blue sky day. Your reward is 360-degree panoramic views of the big lake and inland forest. Make it a big 2-car hike and continue on through Temperance River, ending up at the parking area on Highway 61. Pack a lunch for this almost 5-miler.
Britton Peak is the trailhead for cross-country ski and fat bike  trails and you can snowshoe anywhere except on those groomed trails. The short steep hike to the overlook at Britton Peak is a great warm-up [just follow the hiking trail signs]. You can continue east through maple forests along the Superior Hiking Trail or cross over the Sawbill Trail to Carlton Peak. Or make your own trails!
Length: 0.5 + miles
Difficulty: moderate due to steepness
This incredibly popular fall color hike trail showcases multiple overlooks, making it a worthy destination any time of year. It begins with a spur, which connects to a loop around Oberg Mountain's upper edge. Overlooks include views of adjacent LeVeaux Mountain, Lake Superior, maple hillsides, and Oberg Lake. Enter the maple woods and hike under the canopy of birch and maple before you begin the 2-mile loop.
Note: at the other end of the parking lot is the trail to LeVeaux Mountain which is a good place to snowshoe, however it is hard to keep on the trail in the winter as the signage assumes you can see the dirt path.
Length: 2.25 miles
Difficulty: moderate with steep climbs and open rock cliffs
Once there is adequate snow cover, the golf course is a great place to snowshoe – walk the rolling fairways and through the Poplar River valley woodlands.
cross country skiing
The trails wind through mature maple forests, mixed evergreens, and in the midst of wildlife.  A number of the trails have spectacular view of Lake Superior and connect up to the Cascade River State Park Trails. From the north trailhead [earlier and later season snow] ski Deeryard Loop to the old Cascade Fire Tower; you can connect to the Pioneer Loop and work your way all the way down to Highway 61 at the Cascade River making this an excellent 2-car ski. Trails then connect to Cascade River State Park Trails and continue west on a connector trrail to the Hall Massie Loops
Click above for the main trail map and here for the Hall-Massie/Connecter trail map
snowshoeing
Follow the there-and-back trail along the east side of the Jonvick Creek for a nice wooded walk with some elevations.
fat bike trails
Ride a trail paralleling Highway 61 then riding near the west side of Cascade River; return and continue another 3.6 miles to the 1.0 mile Whitesides and Deer Track Loops.
Length: 65.3K ski trails, about 6 miles Fat bike Trails and 1 mile snowshoe trrail
Fees: MN Ski Pass required
Difficulty: easy, more & most difficult
Cross-Country Skiing
Cascade State Park is criss-crossed with 27K of cross-country ski trails ranging from easy to difficult. I like skiing up the east side of the river and connecting to the inland loops. It offers terrain, gorgeous cedar stands and wildlife sightings.
A few options – make it a two-car ski and start at the Upper Cascade River, skiing riverside then through forest downhill to Highway 61. And, if the ice is thick and you know what you're doing, you can ski on the river from the Upper Cascade parking area to above the waterfalls.
Snowshoeing
Cascade State Park is criss-crossed with cross-country ski trails which are off limits to snowshoers. That leaves tons of acreage for you to roam. Follow the hiking trail [poles are helpful for inclines and slippery spots] for views of the cascades and falls, then meander away. My favorite – the Lookout Mountain trail; you climb through dense forest, see rivers, and make a final ascent though a sparse birch forest before reaching the top. There's even a little camp shelter to sit a spell and have a snack before a fun descent.
Length: varies
Fees: MN Ski Pass required
Difficulty: easy, more & most difficult
Amenities: restrooms in State Park; the main trail shelter in the park may be heated by wood stove as needed; unheated rustic shelters are located at backpack campsites along the trail; and, Cascade Lodge Restaurant & Pub is at the trailhead of the east side system
Park in the campground or at the base of the sliding hill and snowshoe along the shoreline before cutting inland and up the hill. A nice in-town spot to snowshoe.
See really old virgin white pine at George Washington Pines. You can drive right by along the Gunflint Trail, or take advantage of the flat trail through cedar stands, near the shores of the Elbow River, and under gorgeous pines. Ideal for anyone who wants Grand Marais snowshoeing in a safe comfortable way – the trail is easy to get to, well-marked, and pretty. It is an un-/sometimes-groomed cross-country ski, ski-joring and snowshoe trail in the winter, too. The trail is a short spur into a loop, you choose which direction.
Length: 2.25 miles
Difficulty: easy
cross country skiing
47K of intertwined series of loops provides plenty of skiing variety in a wonderful near wilderness setting. The easiest trails are near the lodges, which also offer short, lit loops; lots of easy to intermediate trails across the Gunflint Trail, through moose yards and the surrounding forested hills; more experienced skiers will like the South Rim trail and Highlands trail with Wipeout Hill, a big S-curve descending 120 feet to the Cross River.
snowshoeing
One of the best trail networks on the entire shore! The there-and-back 1-mile Lonely Lake trail is easy leading to the shores of the lake and offers an easy 0.7-mile spur to a loop overlook of Gunflint and Magnetic Lakes. The Hidden Trail is a moderate there-and-back [but a loop once everything freezes up] trail and for those looking for a challenge can follow the Lost Cliffs trail [yes, cliffs, think steep] which connects to the High Cliffs trail which climbs almost 400-feet in 0.75 miles ton overlook of Gunflint and Magnetic Lakes; ** note modern snowshoes with crampons/traction devices and poles are highly recommended.
fat bike trails
Ride trails, make your own and ride on the frozen lake. Gunflint Lodge even rents electric fat bikes, which makes for a fun ride. Try it out
Length: 47K
Fees: $15 per day adults & $8 per day ages to 12 yrs old, available at lodges
Difficulty: easy, more & most difficult
Amenities: lodges offer various amenities from restrooms to full restaurants and gift shops and rentals
Cross Country Skiing
Often the first and last skiable trails of the season! Trails are maintained very well; uncrowded wilderness skiing features longer loops (ideal for intermediate skiers) with rest shelters and trails that skirt the edge of the Boundary Waters Canoe Area Wilderness, lead over spruce-covered hills and across frozen lakes; beginners will want to ski the North side of Flour Lake (3.5K part of Logging Camp Trail), 5K Summer Home, the 5.2K Ox Cart Trail and both of the lit trails; experts will enjoy the 8K Bear Cub World Cup loop, and the 3.4K Red Pine Trail which climbs to 1940 feet (what you go up you have to come down)
25% Beginner, 50%  Intermediate and 25% Advanced
The majority of the trail system is tracked for both skating and classic skiing. Only two loops are tracked for classic only.
Snowshoeing
Golden Eagle Lodge maintains 2 snowshoe trails
Length: 70K with single or double track, and 58K of skating lanes
Fees: $8/day for 7-13 and $18/day 14+ daily, inquire about 1/2-day, 3-day & season passes available from either Golden Eagle Lodge or Bearskin Resort
Difficulty: easy, more & most difficult
Amenities: waxing room, ski rentals & 1.5K Wolf Point Loop lit 2 nights/week
Hiking, biking, skiing and snowshoeing making Pincushion Mountain trails the Grand Marais trail system.
cross country skiing
25K single-tracked with a skating lane; excellent trail design and variety with great grooming; two easy 1K and 1.3K loops at trailhead or ski 1K access to more difficult loops including the very popular 6.8K Pincushion Mountain Loop; the 7K expert trails include loops from 1K to 4K; the entire system is set in a birch forest featuring the Devil Track River Valley and Pincushion Mountain. The West Overlook trail and the Stadium area are lit, providing night skiing until 8:30 Sun – Thu and until 10 on Fri – Sat.
snowshoeing
On designated trail only; the trailhead is at the east end of the parking lot [opposite of entry], not by the mid-lot sign kiosk. Please be careful at intersections, yielding to skiers and bikers, and not stepping on set ski tracks.
fat bike trails
Portions of the single track mountain bike loops are groomed for fat bike riding once enough snow falls. Groomed trails vary. The trailhead is at the kiosk just north of the parking lot. Pincushion Fat Bike Trail Map
Length: 25K ski, varied for snowshoe and miles of fat bike trails
Fees: MN Ski Pass required
Difficulty: easy, more & most difficult
Amenities: public warming house [open ~ 7am-10pm] at overlook trailhead; 24/7 outhouse near parking lot
In the depth of winter when the ice has set, snowshoe up the river through deep canyons to the iced up waterfalls. You might be lucky enough to see some ice climbers making their up the 25-foot Barrier Falls. This easy-to-access river showcases twists and turns that enhance your sense of discovery with the river bed and gorge narrowing as you head inland. Poles are helpful and there may be times when you have to go ashore. This river is also skiable at the same time.
As always, do not walk/ski/snowshoe/hike on ice without knowing it is thick enough to support your weight.
This is such a great snowshoe hike! You can walk up the frozen river which gives you the opportunity to be in the river gorge looking up the canyon walls, and come right up to the waterfalls and cascades. The Superior Hiking Trail runs to the east of the river if that's your preference. Or you can step off the river about a third-mile in and return on the hiking trail. Be sure to look for tracks in the snow – hares, voles and even an otter slide, pictured here.
The super popular Devil's Kettle Trail runs atop cliffs running riverside above the Brule River and ends with a loooong staircase down to the base of the Lower Falls before a short climb to view the split in the river. The eastern flow tumbles over the High Falls while the western arm drops into the Devil's Kettle, final destination unknown.
From the parking area, the easy flat Timberdoodle Trail meanders through the woods for a mile while the 2+-mile Gauthier Creek rises over hills and takes you into this picturesque waterway. Perfect if you're looking for somewhere to snowshoe that is infrequented.
Length: 2.25 miles Devil's Kettle; 1-mile Timberdoodle; 2+ miles Gauthier Creek
Difficulty: easy to moderate; Devil's Kettle includes about 200 stairs
It's all about hiking to the 120-foot High Falls, but leave time for the exhibits, gift shop, and interpretive signs in and around the Visitor Center, where you can learn about the culture and traditions of the Grand Portage Ojibwe people. Bring your camera.
Access to grand portage state park is free!
State Park Vehicle Permits are NOT required at this park.
Length: 1 mile High Falls, 3.5 miles Middle Falls
Amenities:  restrooms, water, exhibits and gift shop at Visitor Center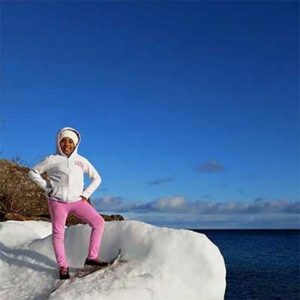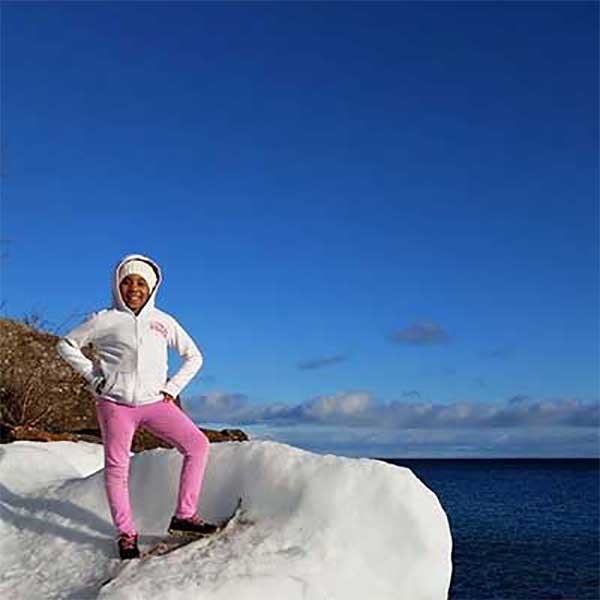 An increasing number of businesses offer snowshoe rental, primarily in adult sizes. Several resorts offer snowshoes free for use by guests, so check with your lodging, too.
The Events page for has Snowshoe workshops and guided walks.
3755 Split Rock Lighthouse Road | Two Harbors
866-857-2757
gunflint mile 43.7 + 1.2 miles from Gunflint Trail
217 South Gunflint Lake | Grand Marais
218-388-4454
gunflint mile 43.7 + 0.6 miles from Gunflint Trail
143 South Gunflint Lake | Grand Marais
800-328-3325
gunflint mile 27.4 + 3.2 miles from the Gunflint Trail
468 Clearwater Rd | Grand Marais
(218) 388-2203