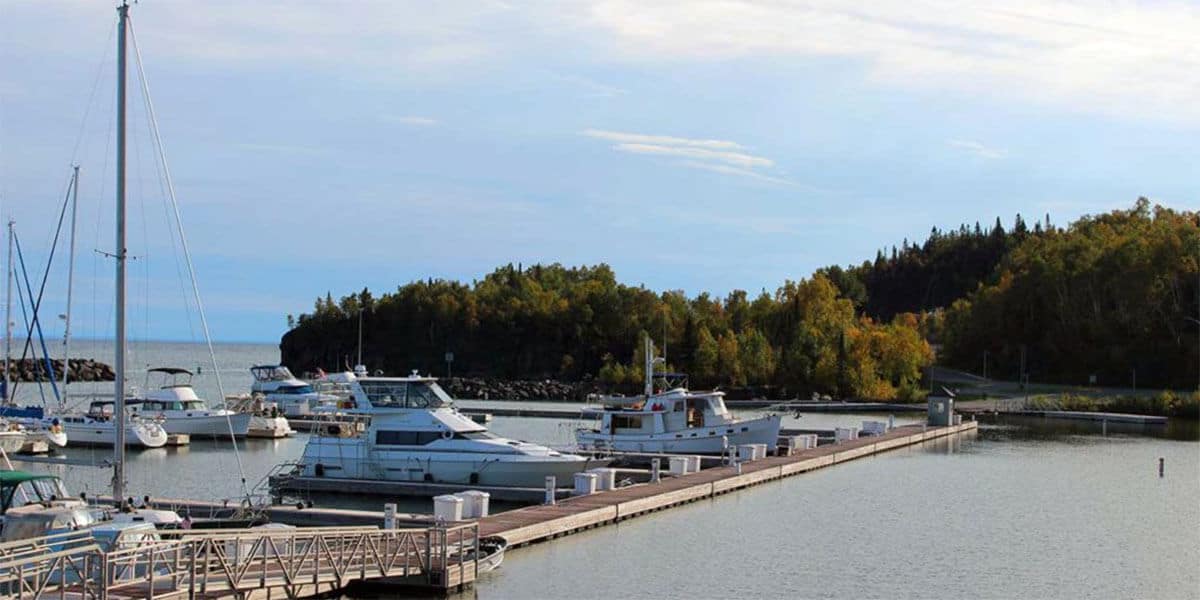 little marais, silver bay & finland MN
The perfect spot to tour the valleys and ridges that lie inland from Lake Superior's coast. From Silver Bay you can climb up away from the big lake through the forests to Finland. Then choose side trips to one or two state parks and return down the ridge, with glorious panoramas of Lake Superior, to Highway 61.
Mileage starts at the Duluth Lift Bridge
Spacious slips for daily or seasonal rental, a picnic area, amenities in the marina shop, a short hiking path and a top-notch view of ships being loaded with taconite at Cliffs Natural Resources dock. The Silver Bay Marina plays host to the annual Salmon Classic fishing contest, too.
A short drive from Highway 61 and two short paths lead to three wide-open views at the Silver Bay Scenic Overlook. Follow the blue signs into Silver Bay and up the hill. The first parking area has a short path to an aerial view of of the Cliffs Mining Plant. A loop from the large parking area brings you to an overlook with panoramic shore and lake views. A few steps later you are treated to a bird's-eye perspective of Silver Bay from the big Lake to the ridge lines.
The Bay Area Historical Society has a small collection of local artifacts and exhibits about the town and mining and is the Silver Bay Visitor Center, too. Open Memorial Day to Labor Day.
The Silver Bay Library, part of the Arrowhead Regional Library system, is open to the public for browsing and reading. The Friends of the Library hosts a monthly book club, an ongoing book sale at the library [handy for visitor!] and an annual sale.
This calm slice of shoreline gets its name from the taconite tailings [crushed rock] that make up the beach. Offering picnic tables, outhouses and both the Black Beach and an agate beach. New in 2020 is the adjacent campground.
Palisade Head is a lakeside cliff with a stellar sweeping outlook over Lake Superior and up and down its shoreline. In the summer, drive to the top along a curvy tree-shadowed barely-two-lane road with limited parking and an occasional blueberry bush at the top. In winter, you can hike up the unplowed road. Stop at the Tettegouche State Park office for a permit if you wish to climb [gasp!] Palisade.
Spread over 9300 acres, Tettegouche is a handful of overlapping parks including Lake Superior coastline, Baptism River and falls, inland lakes, hardwood forests, rugged topography PLUS 24/7 restrooms, a café and gifts, and charming fireside indoor and outdoor seating. Something for everyone!
Lift your glass to this mythical Finnish saint who is cherished for leading the grasshoppers away from vineyards' grapes. This is the perfect stop for people looking for something out-of-the-way, and a little less known. It is in Finland Minnesota. While the wooden carving of St. Urho is many feet high, keep an eye out, a leafy tree semi-obscures the statue from the road. When you're done taking selfies, have a bite to eat in town.
St. Urho's Day is celebrated the Saturday closest to March 16th. Finland offers up a hilarious beauty pageant, a parade, music, food and fun.
Wolf Ridge, which sits on a spectacular 2000-acre site above Lake Superior, is internationally know for its top-notch outdoor learning and adventure programs. They offer multi-day family camps, summer camps, wilderness adventures, and grandparent/grandchild Road Scholars in addition to hosting school groups year-round. For a shorter experience, reserve a naturalist-guided half-day Split Rock Kayak Tour or drop by to explore the trails, overlooks, and educational displays.
Illgen City is a blink-and-you'll-miss-it, two-business town at the crossroads of Hwy 61 and MN Hwy 1. By comparison, Little Marais bustles over its three miles with shops and lodging choices and the other entry/return point from Finland. Very friendly shopkeepers!
Set on the 1890 John 'Pine' homestead, area residents have restored, furnished, and replicated several buildings on this 40-acre homestead – home of the Finland Minnesota Historical Society – to preserve the history of white settlers to eastern Lake County. An old log structure from an adjacent homestead now serves as a sauna museum. The restrooms are housed in an old cabin from a nearby resort. The Park Hill School is back home after being moved to Finland in 1930 where it served as a town hall, and later as a teen center, and a gift shop. Lots to see and learn.
At the crossroads of MN Hwy 1, the Little Marais Rd and the Cramer Rd, set in the picturesque valley behind the Sawtooth range is Finland Minnesota. A couple of restaurants, a couple of state parks, a couple of backroads, a couple of attractions. This is what a number of the small shoreline villages were like 25 years ago.