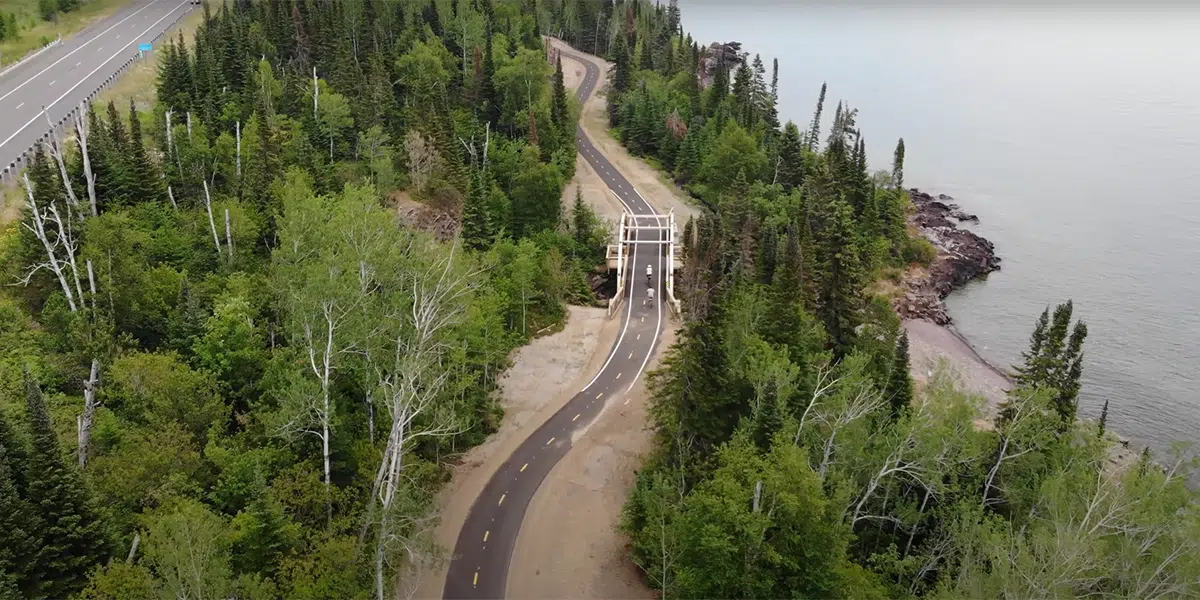 Biking is fantastic on the very different types of North Shore bike trails; the paved Gitchi-Gami State Trail [GGST], backwoods dirt roads, woodland single track mountain bike trails and winter fat bike trails. 
The paved Gitchi Gami Trail currently has a handful of sections complete, the longest section being Gooseberry Falls State Park to Beaver Bay. Find some gravel Forest Road rides below. One of the best things you can do is purchase a Superior National Forest map [buy AHEAD of time] and plan your own customized route and ride.
On that note, although bike riding on Highway 61 is legal, it is NOT recommended as it is dangerous due to narrow shoulders, increased seasonal traffic and road work. The same holds true for the Gunflint Trail. Instead, choose one of the safer routes below.
Trails cross private, county, state and federal lands – please respect this. Take note – most trails are in isolated areas that offer no immediate services.
New trails
The Split Rock Wild 
Trail spans from Split Rock State Park to Beaver Bay and takes riders through some of the most scenic and remote areas of Northern Minnesota. Rocky outcroppings bring riders to breathtaking views of Lake Superior; expect descents and climbs in and out of river valleys. Access at Split Rock Lighthouse State Park via the new campground.
Gitchi Gami Bike Trail 
video below is west side of Grand Marais where trail crosses the Fall River
Lester Park offers playgrounds, green space, waterfalls, hiking, biking, plus fat bike trails and cross country-ski trails. Playground and the trailhead are located near the parking area of the Lester River Road. See the Amity Falls under hiking and waterfalls for another trailhead.
Start your waterfall tour with a look-see over the Superior Street bridge at the Lester River Falls or park in the lot on the east side of the river, half a block north, and walk the creek-side trail. The northeast trail is a woodland walk with a series of small falls. Best seen during spring run-off.
Walks and hikes range from 0.2 to 9+ miles. Bike Trails include the easy/beginner-friendly 3.7 mile Lester River Trail and the moderate 3.9 mile East & West Amity Trail. Note the Lester River Trail connects to the 43+ mile Duluth Traverse Trail which runs east-to-west across Duluth.
Amenities: restrooms, water, picnic tables, grills and playground at trailhead
Length: 9+ miles
Difficulty: easy
Watch for traffic on these routes! A one-mile-plus paved road runs through Brighton Beach, the first park northeast of Duluth, just past the Lester River.
A bike ride along Scenic 61 showcases Lake Superior and allows you to explore along the way. Stop for lunch, and pick up some delicious smoked fish.
Length: up to 19.5 miles one-way
Difficulty: easy to moderate
Trailhead: Brighton Beach, MM 5.2
Surface: paved
Multi-Use Trail
Four all-season bike/hiking trails [3 groomed in the winter] traverse over 400 wooded acres and connect to a portion of the Superior Hiking Trail. and the North Shore State Trail [motorized]. Two of the trails incorporate part of the gravel Britton Pit Road. Good novice trail system.
Bike or hike
Length: 8 miles
Amenities: restrooms, a shelter and an information kiosk located near the parking area
An easy paved path from the Lake Superior beach at Burlington Bay through Lakeview Park – playground across the street! – past the Two Harbors lighthouse/museum along Agate Bay beach where you can see the ore docks, ships, the Edna G tugboat, a huge steam locomotive, the Yellowstone, and the smaller 3 Spot engine with freight car and caboose. The path ends up at Waterfront Drive near shops, a brewery and restaurants. You can also park by trains and museum and use the west end as a trailhead.
Amenities: shops, a brewery, historical sites, restaurants along the way
Length: 1 mile one-way, add 0.4 mile to walk out to lighthouse and back
Difficulty: easy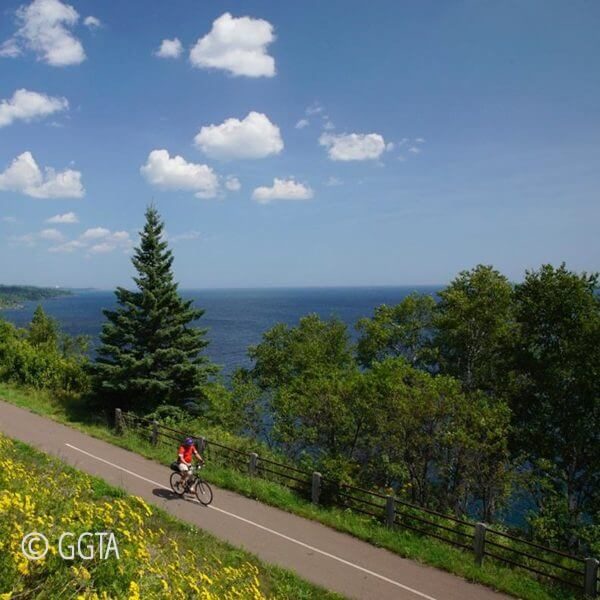 Difficulty: easy to moderate [length], by section below
Surface: paved
Silver Creek
follows the old Highway 61 road bed where it wrapped around Silver Cliff; excellent views
Length: 0.5 mile one-way
Trailhead: Silver Creek Tunnel, NE end
Map
Gooseberry Falls to Beaver Bay
The Visitors Center trailheads offer parking, restroom facilities and drinking water. Restaurants, restroom facilities and other amenities are available in Beaver Bay.
Length: 14.6 miles one-way
Trailheads: Gooseberry Falls State Park, Twin Points Wayside, Split Rock Lighthouse, Beaver River Trailhead
Map
Beaver Bay to Silver Bay
trail runs parallel to the lakeshore inland along the side of the hill; starts east of Beaver Bay on West Road and ends at the Silver Bay Hockey Arena; does not connect to remainder of trail
Length: 2.3 miles one-way
Trailhead: Silver Bay Hockey Arena at 129 Outer Drive, Silver Bay
Map
Schroeder to Lutsen – 1 mile trail gap requires crossing Hwy 61
ride the 3-mile trail through Temperance River State Park, over the river and back to Highway 61, where the trail ends, but you can carefully cross the highway, ride your bike down Tofte Park Road, along the Lakewalk and then pick up the 7.4 mile roadside trail that ends in Lutsen at the bottom of the Ski Hill Road
Length: 10.4 miles one-way
Trailheads: Schroeder Wayside, Tofte Park & Ski Hill Road
Schroeder to Tofte Map
Tofte to Lutsen Map
now open – new 3.7 mile corridor trail from Cut Face Wayside Rest east to existing trail into Grand Marais
Cut Face Creek Wayside Rest to Grand Marais
Highlights include the Fall River waterfall and river mouth views from a new bridge at the midpoint of the trail, Lake Superior views, small rock cuts and the big hill into Grand Marais. see the video of the trail above
For the full there-and-back ride, choose to ride the big hill first [depart from Grand Marais] or ride the hill the second half [depart from Cut Face]. For an easier 5.2-mile total ride, take off from Cut Face and ride to the Fall River bridge, then return the same route.
Length: 5.2 miles one-way
Trailhead: Cut Face Creek Wayside Rest or downtown Grand Marais
Map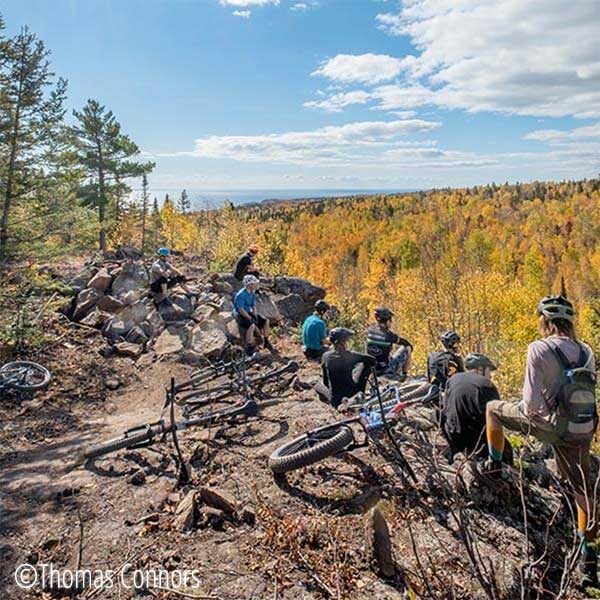 A 22-mile trail system connecting Split Rock Lighthouse State Park and Beaver Bay featuring an 850-foot rock garden at the base of a cliff. Designed for riders, this is a challenging system offering 4 double black diamond, 7 black diamond, 7 intermediate and 7 easy trails. The easy trails are clustered at each end of the trail. One end of the trail is north of Hwy 61 on the west side of Beaver Bay and the other end is at the Shipwreck Creek Campground area at Split Rock Lighthouse State Park.
Trail designers recommend a full suspension trail bike.
maps and trail details coming later this spring
one of the best trails in the state
Jackpot/High Climber mountain bike trails connecting Britton Peak trails to Lutsen Mountains.  This sixteen-mile wilderness trail through the Sawtooth Mountains offers big climbs with rewarding fast and flowy descents, jumps, rollers, massive berms, incredible rock features, and scenic vistas all located in the maple forest of the North Shore.
To access Jackpot, leave the parking lot on Shortstacker, climbing gently for the first half mile, before turning onto Cross Cut to where it intersects with Jackpot. Jackpot connects to High Climber o the Onion River Road and ultimately leads to Lutsen Mountains. When leaving Jackpot and returning to the parking lot, the last 3/4 mile of Cross Cut is a ripping fast, one way, blast to the trailhead.
Single-track mountain bike trails under old growth maples with varying changes in elevation. An easy [1.2-mile Short Stacker] Loop intersects with an intermediate [2.5-mile total Cross Cut] and advanced [3.8-mile total Skookum] trail from which you can add on the intermediate 1.5-mile Flume crescent.
Length: 1.2-miles and up
Difficulty: easy to advanced
Trailhead: Britton Peak Trailhead, Sawbill Trail
Surface: hard pack
Ideal bike trail for mountain bikers looking for quiet roads through the woods. This loop has the bulk of the 278′ elevation gain in the first half of the ride with a final climb on the south side of Pike Lake. Ride features boreal forests, rough road at the west end of Mark Lake, a beaver dam right next to the Mark lake Road and a nice break spot at the Pike Lake Public Access on the south side of the road.
Note: pay attention to the junctions; for the suggested clockwise route you head north on the Caribou Trail, east on 161/Mark Lake Rd, south on 157/Cascade River Road which become the PIke Lake Rd, a small jog north then west  on the Summer Home Lane then north and west on the Murmur Creek Road, returning south on the Caribou Trail to the parking area.
Length: 20 mile loop
Difficulty: intermediate to advanced
Trailhead: CJ Ramstad parking are on Caribou Trail in Lutsen [if you are coming from Grand Marais, consider parking at boat access area as a secondary trailhead]
Surface: gravel [with mud after rains] to low maintenance road
Ideal for casual bikers, this trail follows the Honeymoon Trail gravel road from east to west from the Caribou Trail to the Sawbill Trail through maple forests [great autumn ride!]. After a short ride down the snowmobile trail, you continue past Christine Lake, cross the Poplar River and begin the hilly part of the ride. When you finish, cool your feet off in the Temperance River.
For this point-to-point ride, you will need to get picked up/leaver another vehicle at the Temperance River Campground, 11.2 miles north of Hwy 61 on the Sawbill Trail.
Length: 10 miles
Difficulty: moderate
Trailhead: snowmobile trail parking, Caribou Trail
Surface: snowmobile trail, then gravel road
Eagle Mountain to Lake Superior in Grand Marais
Follow US Forest Service and county gravel roads, paved roads and a bit of the Gitchi Gami Trail through the woods, past sloughs, under pines with a few Lake Superior Vistas. Some rolling hills with a rise of 354 feet but an overall descent of 1499 feet over 16.6 miles.
Park at the Eagle Mountain Trailhead, then ride up over the ridge then all the way down to Grand Marais, picking up the Gitchi Gami State Trail for the last 1.5 miles. Lovely ride on low-traffic road [watch for logging operations].
Length: 17 miles
Difficulty: easy to moderate / difficult if you ride it up hill
Trailhead: Eagle Mountain Parking [The Grade and Bally Creek Rd]
Surface: hard pack gravel road
Danger: do NOT ride on the Gunflint Trail!
A great ride through the woods, little to no traffic. Lots of hills and a chance to see some wildlife!
Length: 16.7 miles
Difficulty: easy to moderate
Trailhead: Gunflint trail near Brule river
Surface: hard pack gravel road
Danger: do NOT ride on the Gunflint Trail!
The quintessential ride through the forest; great for varying abilities. The Lima Mountain Grade is a forest service road through woodlands, open areas, over creeks and river, to lakes highlighted by berries, wildlife and a spur to Lima Mountain.
Park at Twin Lakes then ride north along the Lima Grade, east on South Brule and loop back south and end with a picnic or camping (rustic facilities) at the Twin Lakes camp area.
Length: 10 miles
Difficulty: easy to moderate [length]
Trailhead: Lima Grade to Twin Lakes Loop
Surface: hard pack gravel road
Danger: do NOT ride on the Gunflint Trail!
This bike trail is a hilly road that was part of the original Gunflint Trail; wooded, clearings and the Iron Lake Campground 2 miles from the north end of the road makes this a nice picnic ride
Length: 4.6 miles one-way
Difficulty: moderate
Trailhead: Old Gunflint Trail
Surface: hard pack gravel road
At Continental Ski and Bike we have an assortment of bikes, skis, and youth equipment to rent. All of our bike rentals include a helmet, bike lock and local knowledge of our trail systems in Duluth and northeastern Minnesota. We also have all of the gear that you may need for a fantastic outing, including clothing, nutrition and hydration solutions available for purchase. 
1305 E. 1st St. | Duluth
218-728-4466
Your resource for all things outdoor adventure. With an expertly curated selection of bikes and gear we're here to support your wildest cycling dreams and more. Bike rentals, service and custom, durable bikepacking and bike touring Cedaero bags right here in our shop!
1130 11th Street | Two Harbors
218-834-2117
Our motel is up and running- check us out on Airbnb! Offering 8 rooms in the lodge.
Bike Shop: Currently closed (due to staffing shortage). Rentals are available with proper notice to arrange your needs!
Cafe: Currently under construction- hoping by fall/winter 2023 to be serving up specialty coffee/beverages and food in Beaver Bay!
1017 Main Street | Beaver Bay
218-830-0955
Our North Shore shop is located in Schroeder adjacent to the Gitchi Gami, Minnesota's premier paved bike trail which runs along Lake Superior. Book a tour or rent by the 1/2 day, full day and multi-day. Take the bikes and pave your own path. Chargers & 1UP Racks available to haul your bikes.
We also have eBike compatibility maps to help you find the best routes possible!
7902 MN-61 | Schroeder
218-387-2516
See more of the Shore
​EBikes allow you to reconnect to that joy and excitement of being a kid again; the ease, the fun and the joy of 2 wheels and the wind in your face.
From our location you can see take in the expansive shore of Lake Superior, see the uniquely rugged waterfalls of the Temperance River, cruise into the North Shore Winery, ride inland to discover the natural beauty that exists just over the hill...and ride up that hill while giggling instead of wheezing!
Half day $75 or full day $125. Must be 15 to rent.
7759 Minnesota 61 | Schroeder
218-370-9595
With great rates, excellent service, a convenient location and quality equipment, Sawtooth Outfitters should be your first choice for BWCA canoe outfitting, kayak rentals and tours, as well as bicycle rentals and service. Stop in to check out our outdoor gear store where you will find a wide variety of products to fit the needs of any outdoor enthusiast. Whether you are visiting the North Shore looking for fun and adventure or planning a wilderness canoe trip, we are here to help.
7213 Minnesota 61 | Tofte
218-663-7643
gunflint mile 43.7 + 0.6 miles from Gunflint Trail
Get fat bikes and electric fat bikes at Gunflint Lodge Rentals! These all terrain, all season bikes allow you to ride on trails and on snow or sand that you wouldn't be able to get through even on a mountain bike. They are perfect for exploring the Northwoods. The electric fat bikes have a powerful battery and electric motor to help with powering up the hills and through the snow. They are really fun to ride.
Two- and four-hour rentals (helmets included); make sure you call ahead to reserve because they are very popular.
143 South Gunflint Lake | Grand Marais
800-328-3325