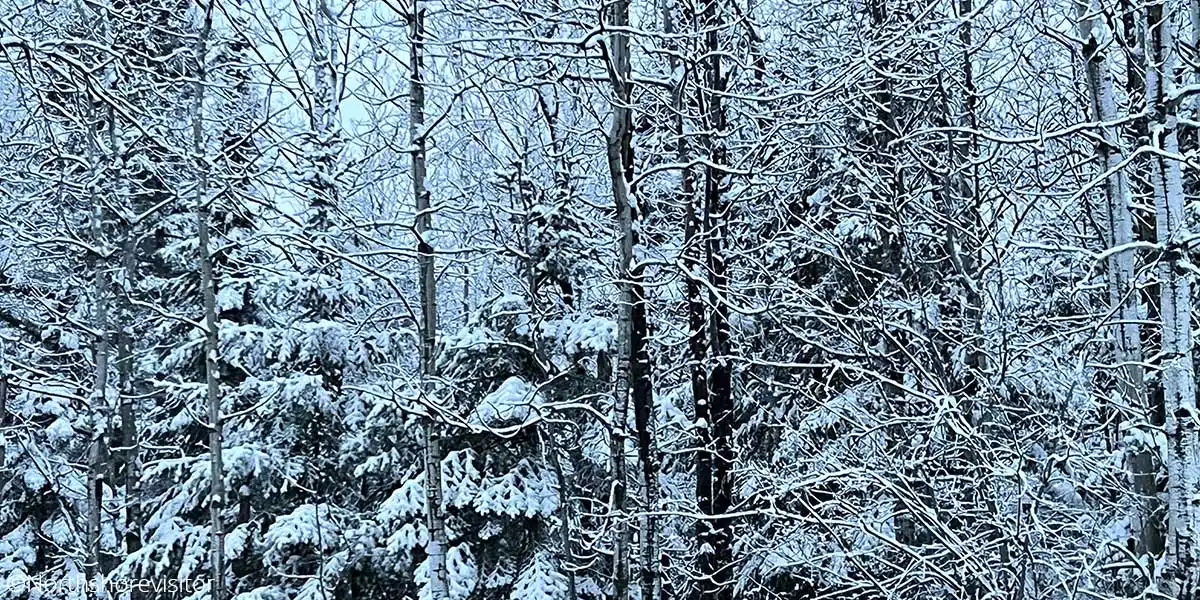 trail reports and trail conditions for the shore
From Thanksgiving until Easter [or later] you can find weekly trail conditions and trail reports. Find out about recent snowfall, trail conditions and suggestions for where to ski, snowshoe, snowmobile plus links to the weather and forecasts. Snow varies from less near Lake Superior, where the big lake keeps temps slightly milder to more as climb the ridgeline to most when you go over the ridge.
How Long is Winter?
Snowfall begins in October, coming and going and usually beginning to stick late in November. Lutsen Mountains typically is open Thanksgiving weekend with a few runs and cross country skiers get their first runs in on the Onion River Road in Lutsen and along the Central Trail system up the Gunflint.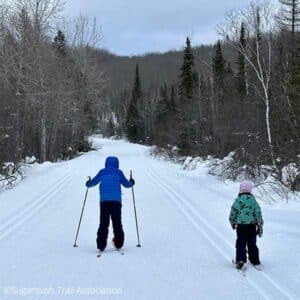 Nice Weather and Good Conditions
Thursday, January 19
The weather has been warm, but we have snow, and most trails are in fair to good shape. Further south the shore had rain instead of snow and trails are a little icy.
Good progress has been made clearing trails after the December storms, and most are in good condition. We still recommend to stay safe and watch for downed trees or branches.
Photo is from January 18th, at Sugarbush.
8-12″ Trail Base, 16-31″ Snow Depth
The entire trail was groomed last Saturday night and four other sections were groomed on Sunday night. Four sections will be groomed Thursday night and the entire trail is scheduled to be groomed Friday and Saturday nights. All of the local GIA Club trails are now groomed. This last weekend with warmer temps. and rain, the trail is soft in some areas and Icy in other. Ride with Caution and Stay on the Trail! For more North Shore State Trail info call 218-834-1430.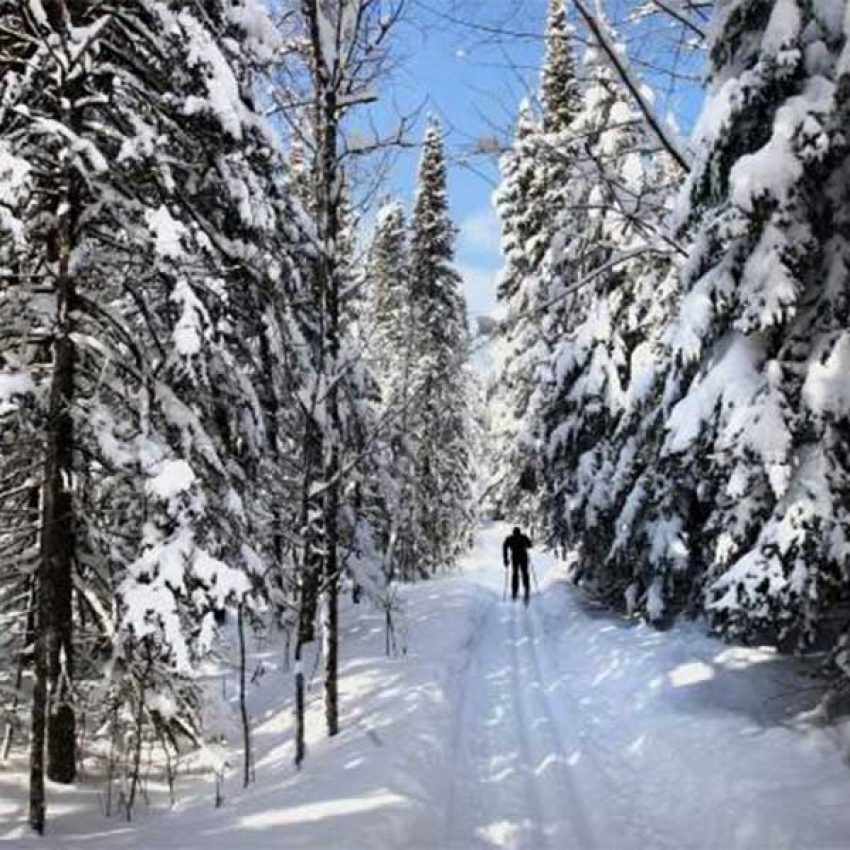 No one sang a song about the attributes of January rain. Sadly, Korkki trails are closed until we get more snow. Everything on the track is solid ice.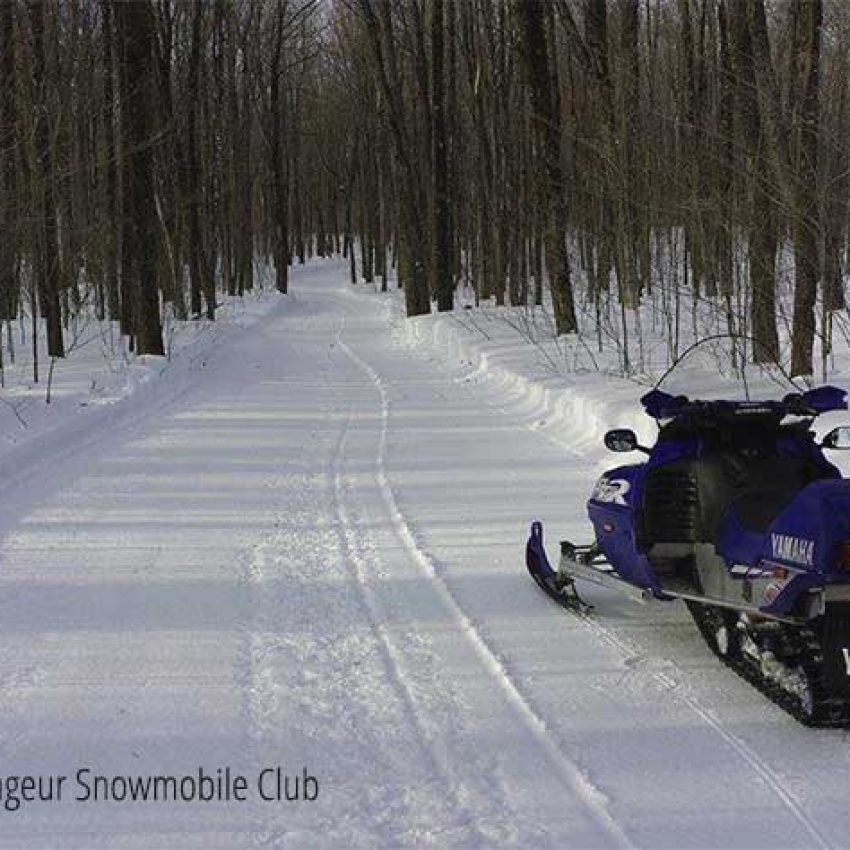 Two Harbors Voyageur Snowmobile Trails
We are happy to announce after a couple of rough weeks our trails are opened up and groomed end to end! Thank you to everyone who has helped make this possible. We have a great group of volunteers!
Hugo's Vintage Snowmobile Run! Saturday, February 4th at Noon! Hosted by Hugo's Bar in Brimson
The ski trail at Gooseberry Fall are 100% open and groomed as of 01/04/2023. Overall the trails are in very good shape. There is debris on the trails. Some sections are better than others. There is a firm base with great coverage. The snowmobile trail is in rough shape, it has not been groomed. There are small branches and debris on the trail with leaning branches along the edges.
Very good conditions.
We have a solid packed base on the trails now, and we are grooming them as often as possible. Trails have been well cleared from recent storms. Trails have been regroomed on 1/07/23. The trails here at Split Rock are multi-use and accommodate skiing, biking, hiking, snowshoeing, and skijoring are allowed on the trail. Stop by the office to rent a pair of snowshoes for $6 a day. We hope to see you on the trails!
Fair conditions
We received another few inches of snow today and Swede Larson was out doing the Tettegouche Park trails and the Beaver Bay spur. Should be a good weekend for riding.
Due to the large amounts of snow and high winds causing trees to fall across trails, we have not fully opened our trails yet. The Cart-in campground and the loop up to Nipisiquit Lake from the trailhead has been groomed but no track set. The Tettegouche Camp road is also groomed, without a track. Crews will be out this week clearing and packing the trails as time allows.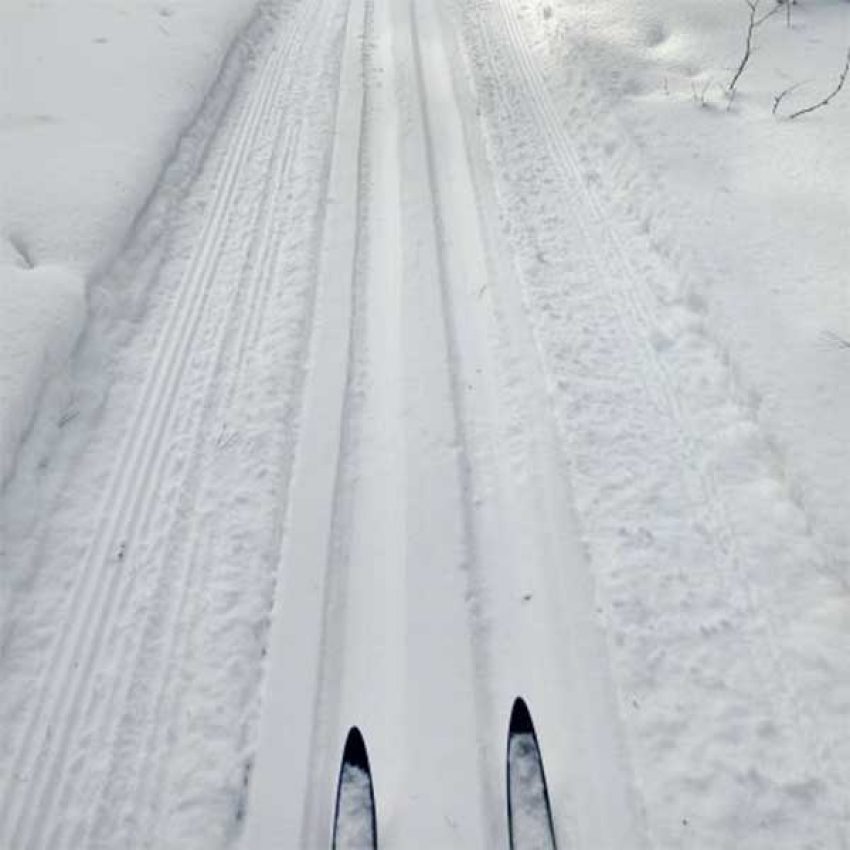 Flathorn Gegoka Ski & Fat Bike Trails
All trails groomed/trackset today except for the following western segments: 18-19-20 (packed); 19-24 and 19-23 (unpacked); 19-20-16 (packed). We are getting there!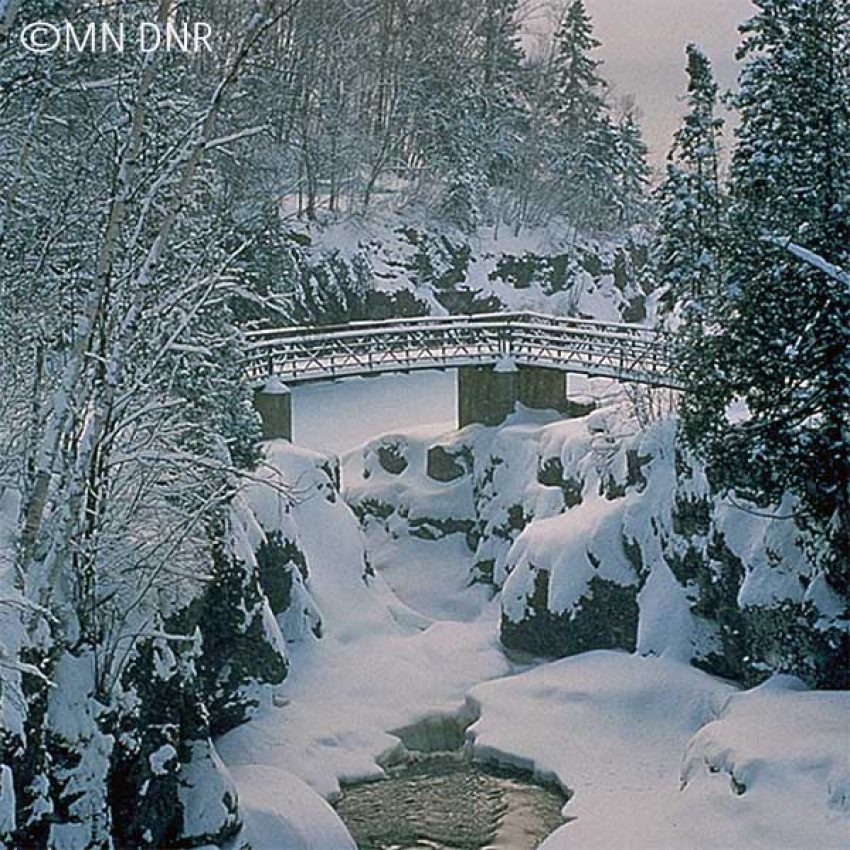 Temperance River State Park Trails
No groomed trails. The trails are not groomed but provide opportunities for back country skiing and snowshoeing.
12+" Trail Base, 24″ Snow Depth
Snowfall Last 24 Hours: 4″
Snowfall Last 7 Days: 5″
Total Snowfall for the season: 85″
We received 4″ of heavy, wet snow yesterday and it was too warm to groom last night. Darren groomed Onion River Road to X and West Oberg Loop this morning and will groom more trails today. Our plan is to take the Pisten Bully out Thursday evening to groom the entire system. High winds tonight may cause some drifting on the trails.
Open daily
Snow past 48 hours: 0″
Snow past 7 days:  5″
Snow for season: 98″
4 Mountains open with 48 Trails, and 16 Sidecountry Trails.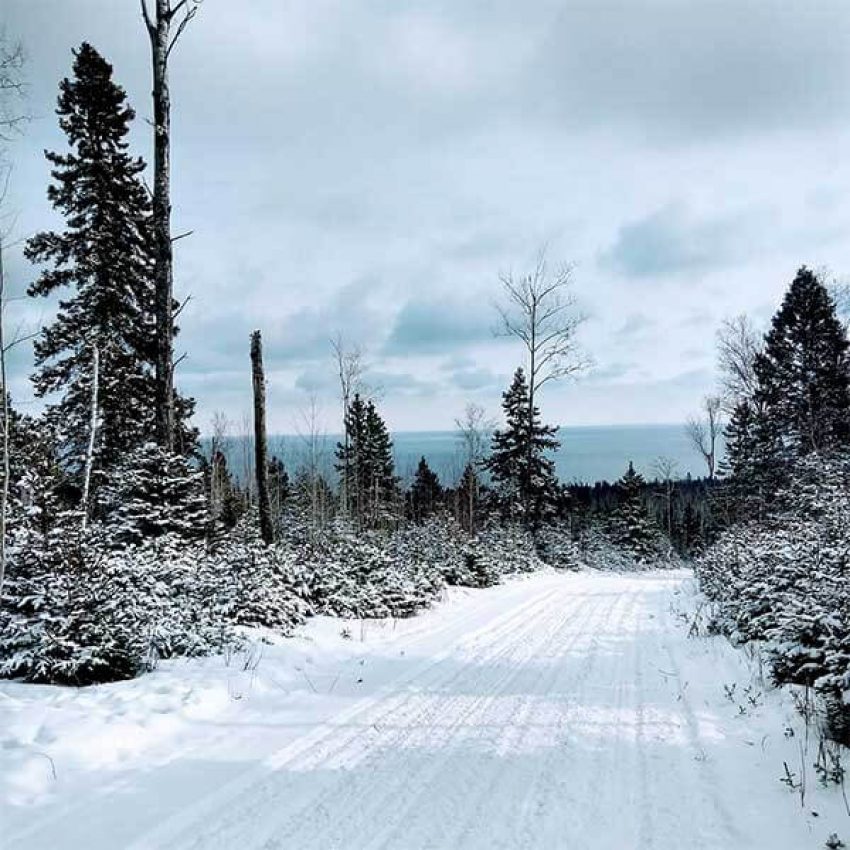 Lutsen / Tofte Snowmobile Trails
We are beginning regular grooming this week. The trails are in good condition with lots of base in the higher terrain. Please use caution as there are still hanging branches occasionally on trails. Also use caution for area's where water has taken out the trail leaving a 1-2 foot trench, specifically on the Lower Fox Trail shortly after leaving the bike trail section. Riders please ride with care and be respectful of other riders and property owners and tread lightly. And please join and support your local Snowmobile Club.
6-18″ Trail Base, 6-48″ Snow Depth
West End Trails groomed 1/13. Most favorable skate conditions will be found on Cascade Connector between Ski Hill Road and Cascade Lodge.
East End trails groomed 1/12. This includes: Lookout Mt, Lower half of Pioneer, Ridge Run, Deeryard Main Loop and Firetower. Two sets of classic tracks groomed around Deeryard Main Loop and Firetower. Northeastern portion of Pioneer (betw J and I on Norpine map) hasn't been cleared of trees since Christmas storm. Trail is ungroomed and considered impassable. This applies to Short Loop as well.
Fat Bike trails have been rolled and are in good condition
13″ Trail Base, 27″ Snow Depth
We received a total of 4 inches of wet snow on the 17th. Freezing and thawing temperatures have left the ski trails icy, but skiable. The lake loop does not have enough snow to lay a track set, but the base has been packed. Hiking Trails are icy. Traction devices are highly recommended. Don't forget to purchase your great Minnesota ski pass.
Fair conditions.
All trails at Pincushion were groomed overnight for classic and skate skiing. Skate deck is groomed to maximum width throughout. Conditions are excellent.
Snowfall last 24 Hours: 2-3"
Snowfall last 7 Days: 3-4"
Average Depth off the Trail: >24"
The team has been spending a great deal of time out clearing and packing the trail systems. Lots of extra clearing needed this year.
Lower Section:
Mondays: GS to G north to Lullaby, return on G trail to Meridian Rd, to State Trail, and return to GS.
Tuesdays: GS to Devil's Track to X to State Trail, return X to Lullaby, return X to Devil's Track T to GS.
Thursdays: GS to G to Blueberry Rd. to Arrowhead Rd and return to GS.
Fridays: GS to G north to Swamper through Swamper one way, then back out on G past Lullaby, return on G trail to GS.
Friday Night State Trails: GS to G to State Trail. In & out of Grand Marais, then to Caribou Trail and return to GS.
Saturdays: GS to Devil Track to X to State Trail, return X to Lullaby, return X to Devil's Track to GS.
Mid Trail Area
Tuesdays: Trail Center to G, south to Lullaby, in and out of Lullaby to G, to Clearwater Spur, back to G to Trail Center.
Wednesdays: Trail Center to G to X, down to X to Lullby turnaround, on to Hungry Jack spur, in & out, back on G, then in & out of Poplar Haus, Nor'Wester, and in and out to Trail Center.
Thursdays: Trail Center up to G, to Gunflint Lake, in and out and continue to Sag, then return.
Saturday: Trail Center to G, south to Lullaby, in and out of Lullaby to G, to Clearwater Spur and back to G to Trail Center.
Sunday: Trail Center to G to X, down X to Lullaby turnaround, on G to Hungry Jack spur, in & out, back to Trail Center.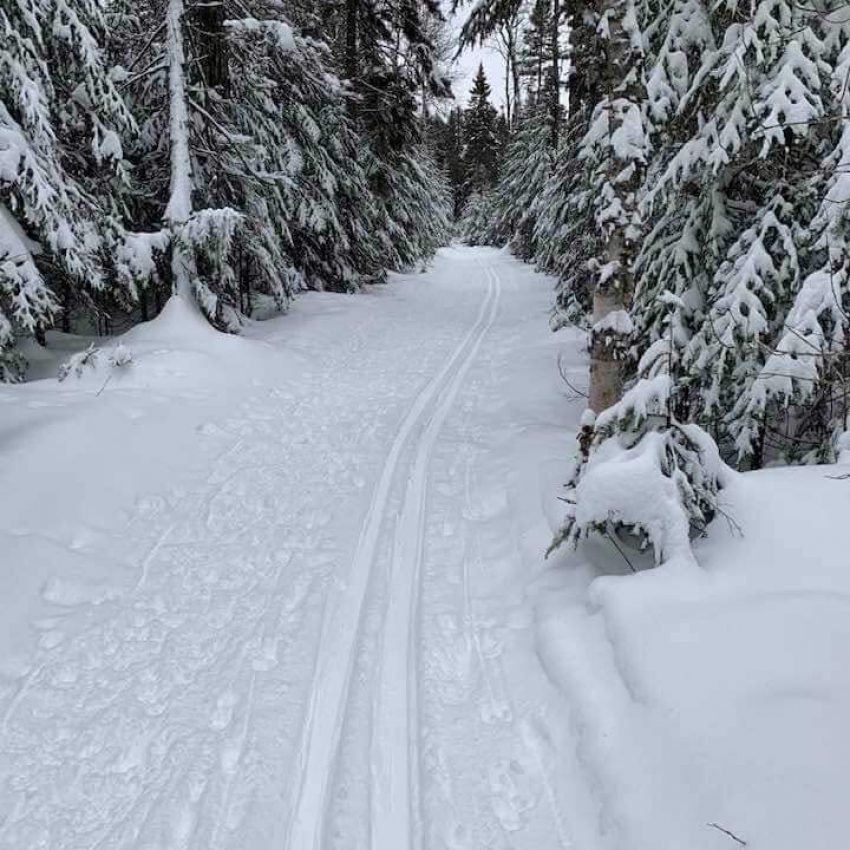 George Washington Pines Ski & Snowshoe Trail
Regular grooming occurs on Fridays.
New Snow Last 24 hours:  0.0"
New Snow Last 7 days:  3.75"
Trail Base, Staked:  Average 12"
Groomed with classic track:  60 km
Groomed with skate lane:   57 km
Surface Conditions:  Fresh snow
Total season snowfall:  59.00"
The snow is great! The trails are great! Near perfect skiing conditions right now! With temps holding in the upper teens and 20's through the week, expect fast conditions and great glide. The skate deck is excellent, holding firm while still allowing for a good ski bite. The classic track is deep and solidly set. The debris from last week is also gone, buried under the 4 inches of newly groomed in snow that had since fallen.
While Poplar Creek Trail remains temporarily closed, Oxcart Trail and the BWCA section of Logging Camp Trail are both open. If you haven't been out skiing in a while, this is the perfect time to get back in! We can't say enough great things about how happy we are with the skiing right now!
Grooming frequently occurs between the release of new trail reports. For the most up to date grooming information, as well specific trail conditions, please contact Bearskin Lodge (218-388-2292) or Golden Eagle Lodge (218-388-2203). Central Gunflint Ski Pass Required.
"The East End Trails were groomed Wednesday evening (12/28/2022) but will not be able to be done again due to the death of Curry Thompson and the loss of our equipment.
Most of the Entire Trail System is Open and was cleared and packed before the last huge snow/cold just before Christmas. There will be a lot of snow covering the trail and NO Grooming, but please get out and have fun. Be Safe; conditions are really not well known, snow drifts could be deep.
We encourage use of any sort (non motorized) on the public trail; currently best for snowshoeing, back-country skiing, skijoring or dog sledding.
Please think of our friend Curry Thompson when you're out there. His energy is still with the Trail.
Make a snowman for him!! The Trail is there for the public to use "as is".
Thanks
Banadad Trail Association"
Yearly Snow Total: 32″
Recent Snowfall: 2″
Off Trail Total: 25″
Fresh snow has our trails looking excellent!  Our groomer has been out the last few days resetting the entire system and ski reports are coming in with lots of praise.  Tracks have set up well over night and have a nice firm base.  Trails on the western part of the system are beautiful, especially Ham Lake Trail.  Temperatures over the next week will provide great ski conditions, so come up and explore the system!  Next expected snowfall may happen next week, which would let us get out and groom again.
Trail grooming is planned to happen every Wednesday and Thursday with the trail report updated and sent out every Thursday morning.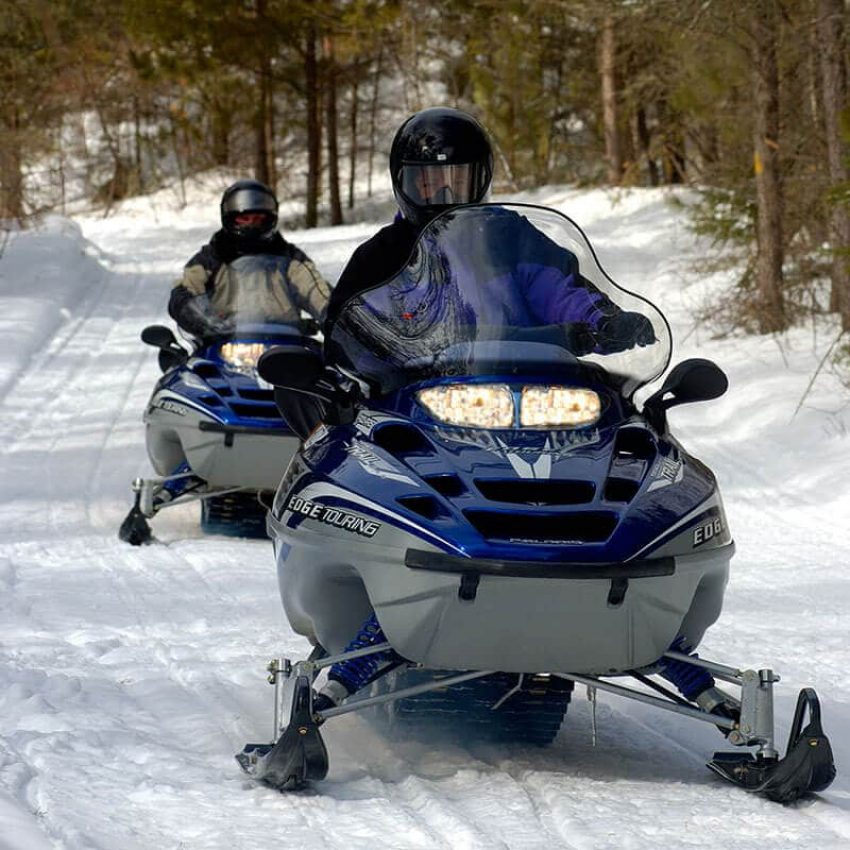 Grand Portage Snowmobile Trails
All of the Grand Portage trails have been groomed from January 12-14 and are in good conditions, except the Cowboy Loop which was last groomed December 21.
We have approximately 16 to 20 inches of snow depth in the park as of 1/18/2023.
You can snowshoe anywhere in Minnesota's state parks and recreation areas, except on trails that are specifically groomed for another activity, such as skiing or snowmobiling.