trail reports and trail conditions for the shore
From Thanksgiving until Easter [or later] you can find weekly trail conditions and trail reports. Find out about recent snowfall, trail conditions and suggestions for where to ski, snowshoe, snowmobile plus links to the weather and forecasts. Snow varies from less near Lake Superior, where the big lake keeps temps slightly milder to more as climb the ridgeline to most when you go over the ridge.
How Long is Winter?
Snowfall begins in October, coming and going and usually beginning to stick late in November. Lutsen Mountains typically is open Thanksgiving weekend with a few runs and cross country skiers get their first runs in on the Onion River Road in Lutsen and along the Central Trail system up the Gunflint.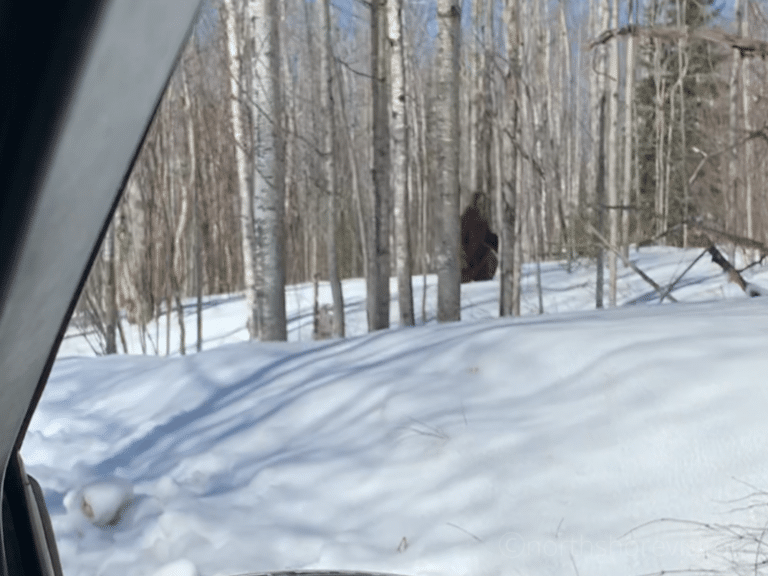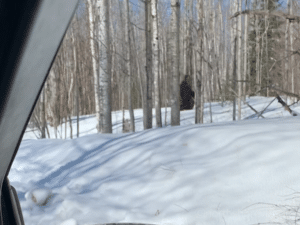 Winter Just Won't Quit
Thursday, April 15
Another inch or two of snow today, wet and heavy! Most trails have stopped grooming for the season, but there are still spring conditions and many trails are open.
Expect spring conditions – hard & icy in the morning softening throughout the day.
Photo is from April 1st – snow is still deep; video here.
The trail will NOT be groomed anymore this season but is still open. Expect spring conditions in areas. Please be aware of icy areas and dirt on corners. Use caution when riding
Snow depth: 6-32″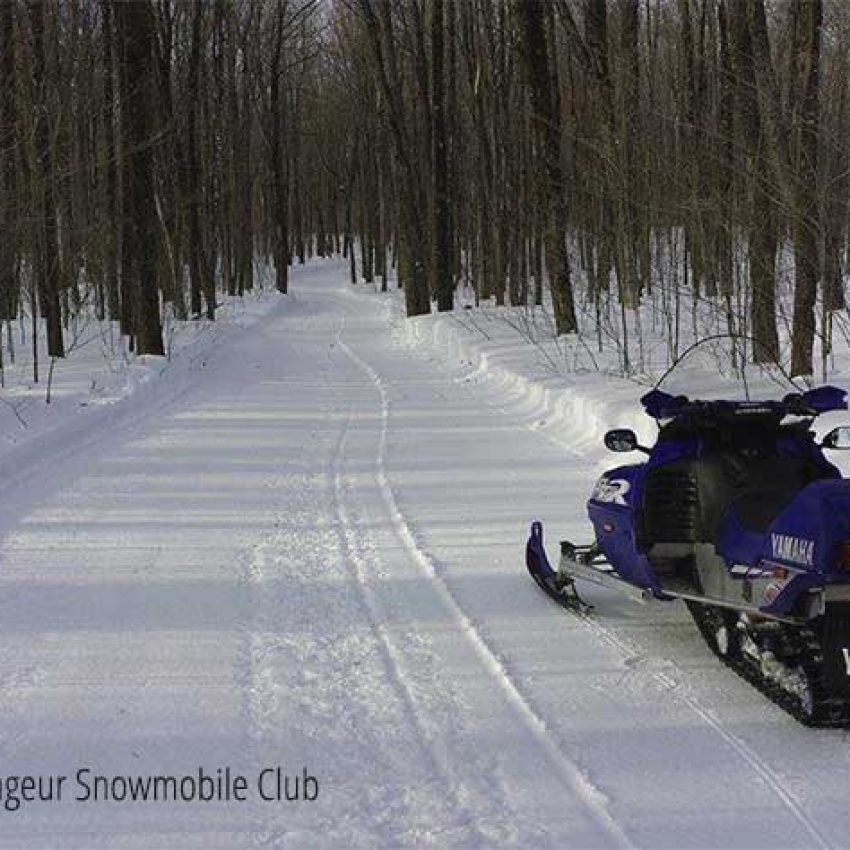 Two Harbors Voyageur Snowmobile Trails
The Corridor Trails from Two Harbors to the State Trail has stopped its grooming schedule.  Due to warm weather the past week and the forecast ahead conditions have become poor to very poor.  Caution!!  If riding in these poor conditions, there is a logging operation on the Yukon Spur where it turns onto the Bear Pit Road – Well signed – Be Safe!! All of the trails we are responsible for including the Yukon has had its grooming schedule stopped.
Spring has sprung! There is still plenty of snow on and off the trails. Great for hiking and snowshoeing. Snowshoes are recommended on less traveled trails such as the Merrill Logging Trail or the Superior Hiking Trail (Split Rock River Loop). Trails will not be groomed the rest of the season but do have a groomed base. We offer snowshoe rentals for $6/day. Ice cleats and traction devices are recommended.
Current conditions range from poor to excellent depending on trail.
Notice: Be aware that the east side of the Lax Lake trail that connects to the Hawk Hollow trail is in very poor condition and is not part of our trail system.
Our club would like to thank all the volunteer groomer operators, club members and businesses that support of grooming activities. State trail grooming is done as requested by the DNR, usually on Saturday nights.
With spring conditions trails will become soft or icy depending on the time of day. Snowmobile trails are starting to show bare patches around corners and can be expected to close soon. Due to warm temperatures and intermittent rain/snow this week we will not be grooming ski trails but there is plenty of snow in the woods for those who are up for the conditions.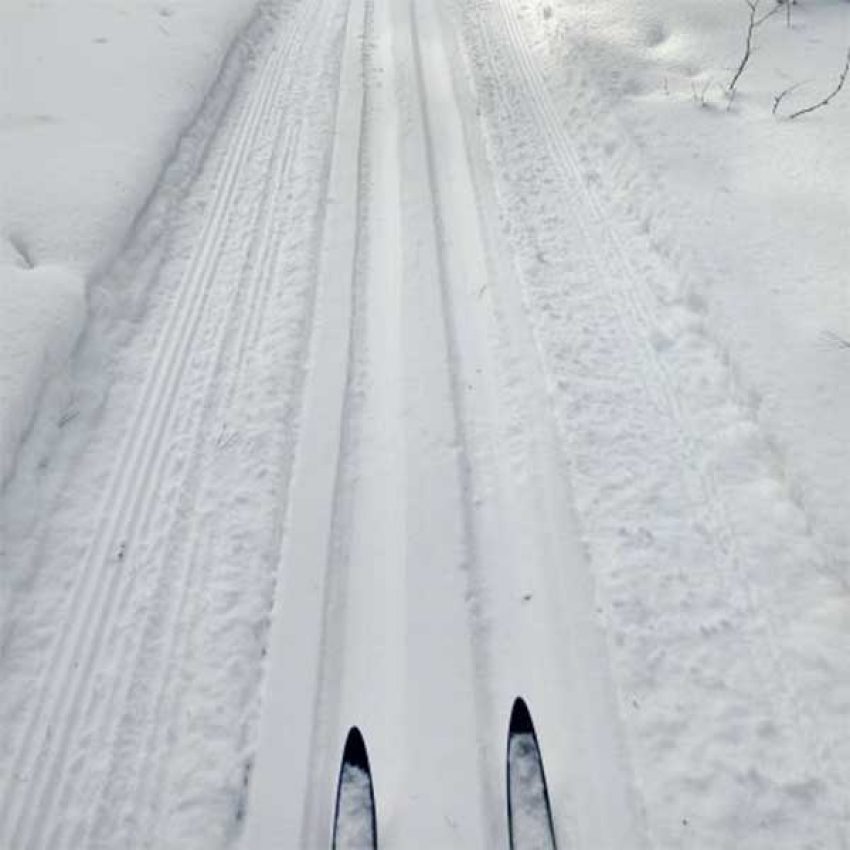 Flathorn Gegoka Ski & Fat Bike Trails
I decided to overcome my instinct to stay indoors even though today's winter storm was raging in all its fury. I strapped on my skis that were waxed with red that was that was ironed on nice and evenly (from last week when I thought I was on my last ski of the season), and ventured into the mighty wind and blowing snow. While it was a cross between snowshoeing and skiing, it was worth every glide/trudge I put forth. The forest was a magical place, there were no animal tracks, snow art was hanging from and clinging to the trees, and 26 degrees temps made the quality of snow nearly as good as mid-winter this year.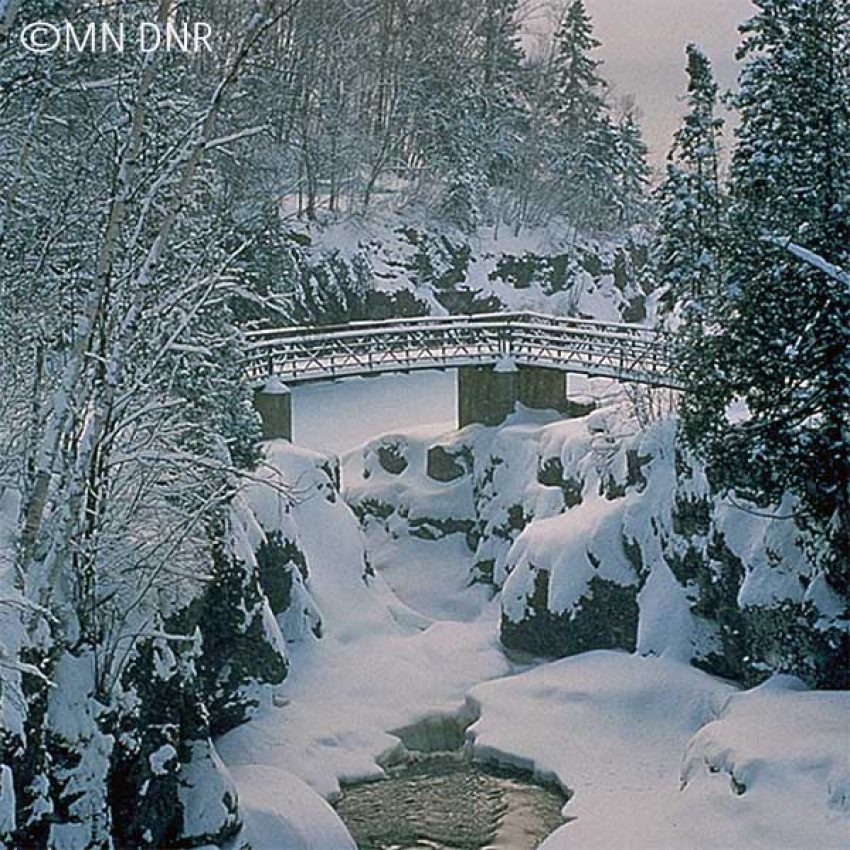 Temperance River State Park Trails
Temperance has 20 inches of snow with spring expect trails to be icy in cold conditions and slushy on warmer days. The trails at Temperance are not groomed in the winter but offer snow shoe opportunities, and back country skiing.
Snowfall Last 24 Hours: 2″
Snowfall Last 7 Days: 10″
Total Snowfall for the season: 129″
Average Snow depth (off trail in the woods): 24″
We received back to back snowfalls, 6″ on Wednesday and 2 " on Thursday of this week. The snow was quite wet and heavy, but letting it sit and drain, in addition to having temperatures in the 20s last night, allowed us to groom most of Onion River Road early this morning for skate and classic. The last 1/4 mile from the top has downed trees.
If you skate ski, please do so in the morning when the temps are cooler. Thanks
Make sure that you purchase a MN Ski Pass, which is required to ski on the Sugarbush trails. The pass is available for purchase at Sawtooth Outfitters and Holiday Station Store in Tofte. You can also purchase the pass online
Open weekends – 3 mountains, 5 of 8 lifts, 55 of 62 primary, 3 of 32 sidecountry trails
Since we plan to ski into May, our base is fortified to withstand 2 weeks of 60+ degrees.
Snow past 48 hours: 2″
Snow past 7 days:  4″
Snow for season: 146″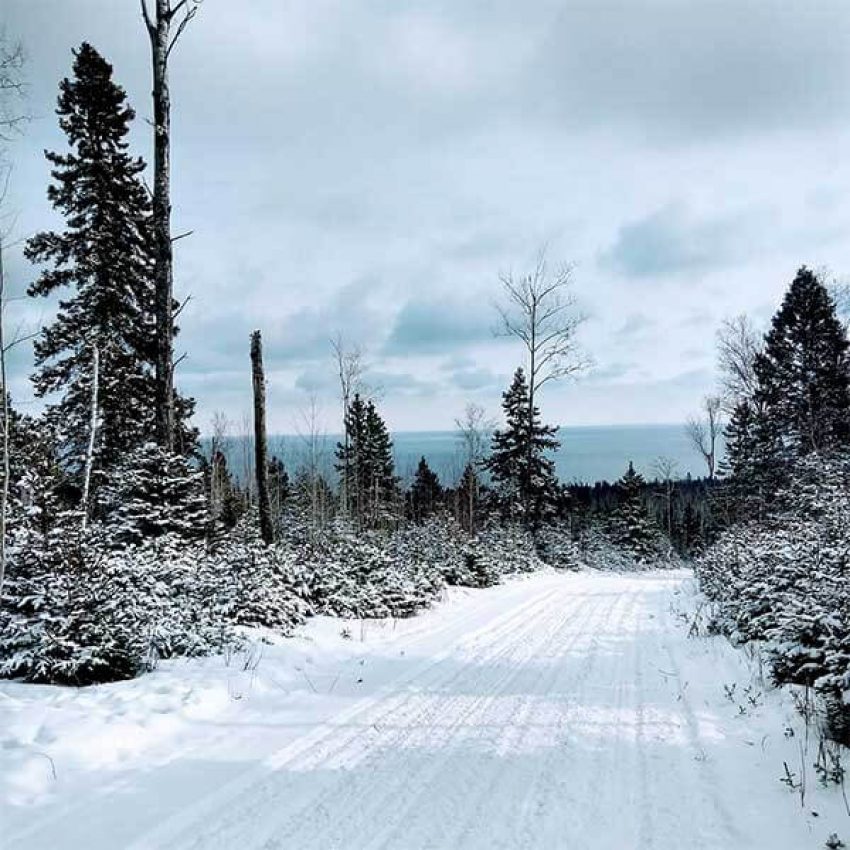 Lutsen / Tofte Snowmobile Trails
Average snow depth in the woods: 45"
Parts of the Lutsen trail system were groomed Friday night, grooming had to be suspended due to falling trees. For those die hards out there! Our trails remain in very good to excellent condition. More snow is in the forecast this week! Get out and take advantage of the amazing late season conditions before the official closing of the Grant In Aid trails which is April 1st. Please ride with care and Tread lightly! Hope you had a great winter season!! See you next winter!
Downhill and cross-country skiing are still happening in Lutsen over this coming weekend. The park received additional precipitation last week, but melting is rapidly occurring. The waterfalls have begun to open up and steelhead anglers have been seen scouting the river. Ski trail grooming has concluded for the season, but there remains over 20 inches of slushy, 'corn-like' snow along the trails – 'tame-backcountry' conditions along the trails still offer fun opportunities to get out and enjoy the spring. The Lakeshore trail loop is a great way to experience Lake Superior in the spring. The waterfall trails along the Cascade River are snow and ice packed – ice cleats or other foot-traction devices recommended. Park permits are required at this park and are available at the contact station at the entrance to the park or online.
New Snow: 0″
Packed base: ~15-20″
All Green trails (Upper & Lower Snowman, East & West Overlook, Lynne's Loop) plus Pincushion Loop re-groomed. Skate deck widened and new tracks set. North Advanced and Canyon Curves scheduled to be groomed this evening.
Last night we had a groomer run the southern G and also one that did the midtrail G, lullaby, part of X and the spurs…
Ride with caution as there may be trees down in places still.
Thanks for a great year!
This will probably be the last of our grooming for the season.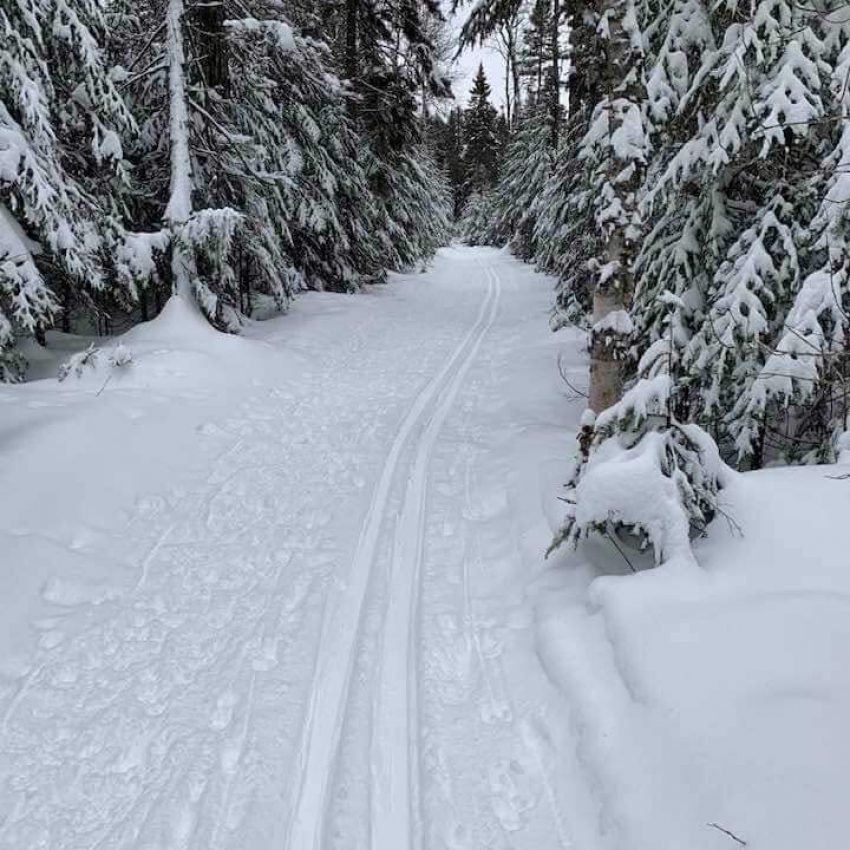 George Washington Pines Ski & Snowshoe Trail
Trails have had their final roll and pack; skiers and snowshoers welcome!
New Snow Last 24 hours:  0.50"
New Snow Last 7 days:  6.00"
Trail Base, Staked:  Average 8"
Snow in Woods, Staked:  Average 18-28"
Groomed with classic track:  65 km
Groomed with skate lane:   60 km
Surface Conditions:  New snow mixed with old
Last grooming day:  3-26-22
Total season snowfall:  96.25"
We groomed trails yesterday and again today. Skiing is still really good, especially for the time of year. Trail base is very deep and there is well over 2 feet of snow in most places in the woods. The trail base has firmed up nicely and is not icy after being groomed. Temps will be below freezing for the next several days so everything should hold up well for some time. Snow is forecasted Tuesday and Wednesday. We will keep an eye on the storm and may groom one more time before the end of the month. We will be done grooming for the season April 1st.
Grooming frequently occurs between the release of new trail reports. Expect trail grooming after every significant snowfall. For the most up to date grooming information, as well specific trail conditions, please contact Bearskin Lodge (218-388-2292) or Golden Eagle Lodge (218-388-2203). Central Gunflint Ski Pass Required.
As the season is nearing the end, we will be updating our trail report when our groomer is able to go out.  We're hopeful we will be able to extend the season as long as we can, but are also excited to be welcoming the transition to spring!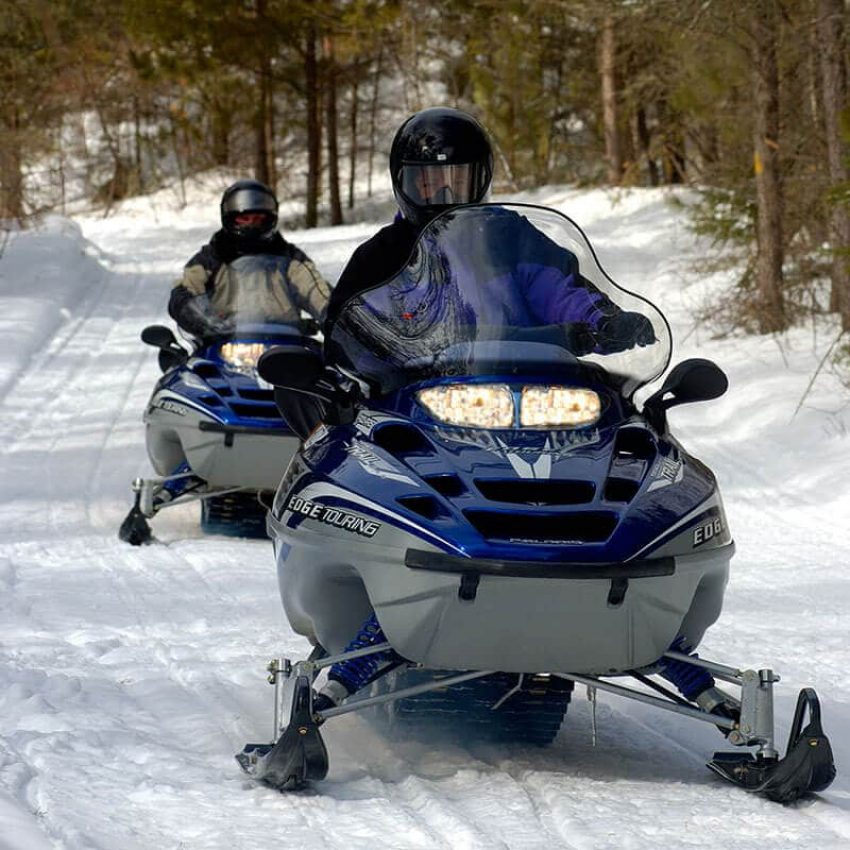 Grand Portage Snowmobile Trails
Grooming is done for the season; see you next winter!
We still have a lot of snow, with an average of about 24 inches of snow depth in the park. Warm days and cold nights are making the park trails icy and slushy. The use of traction devices for footwear is highly recommended. Grand Portage State Park does not have any snowmobile or ski trails. Visitors are welcome to snowshoe anywhere in the park. The paved portion of the High Falls Trail is maintained as a winter walking trail. As such, snow is cleared from the paved portion of the trail typically within 24 hours of a snow event. The Picnic Trail is a wide, flat and easy trail with multiple views of the Pigeon River. The Middle Falls Trail has steep, rugged terrain and should only be attempted by advanced snowshoers.