Nirmala Rajasekar – Carnatic Music: The Classical Music of South India
Date: September 23, 2023
Time: 7:00 pm
Location: Arrowhead Center for the Arts
Event Description
Nirmala Rajasekar is one of the premier Saraswathi veena players in the world today. A dynamic and vibrant musician, she has performed in many leading venues around the world, including Carnegie Hall and the United Nations. An established vocalist and well-known composer, Nirmala is seen internationally as a "Carnatic Ambassador" and leader in forging new paths on the Saraswathi veena.
Nirmala's Grand Marais performance will be accompanied by her daughter, Carnatic vocalist Shruthi Rajasekar. Named by The Guardian as a composer "who will enrich your life," Shruthi Rajasekar is an Indian-American musician exploring identity, community, and joy. A 2023 Jerome Hill Artist Fellow, Shruthi draws from her unique dual background in the Carnatic (South Indian classical) and Western classical traditions to create intersectional music. Percussionist Marcus Wise will also accompany on the tabla drum (North India).
General admission, $20 adults, $10 youth 18 and under. For sale in advance at northshoremusicassociation.com and at the door starting at 6:00 pm.
Additional Info
Categories: No Categories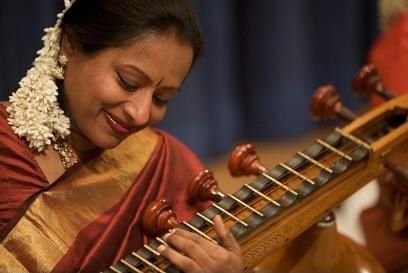 Location