Plein Air Grand Marais
Date: September 21, 2023 - September 22, 2023
Time: 3:30 pm
Location: Johnson Heritage Post
Event Description
Plein Air Grand Marais is a 20 year tradition bringing outdoor painters to the North Shore of Lake Superior for a week of painting, learning, competition, and camaraderie. We are delighted to invite the public to the following events:
First is the popular Birney Quick Paint event. Artists have just 90 minutes to create a masterpiece from start to finish. Painting begins today, Thursday September 21st, at 3:30pm at Artist's Point in Grand Marais, with painting display and jurying beginning at 5:00pm.
Then, join us tomorrow, Friday September 22nd, as we celebrate the opening reception for Plein Air Grand Marais, a gallery exhibition featuring 60 artists competing for a variety of awards. From oils to watercolor to pastels and more, come view over 200 paintings of our incredible county.

Opening Reception is Friday, September 22, 5-7pm. Award Ceremony begins at 6pm. Complimentary refreshments happily offered.
Additional Info
Categories: No Categories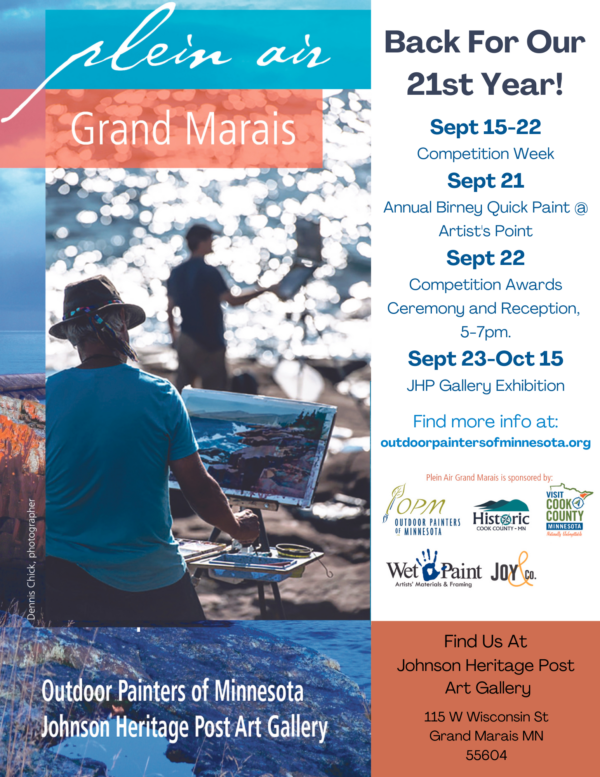 Location