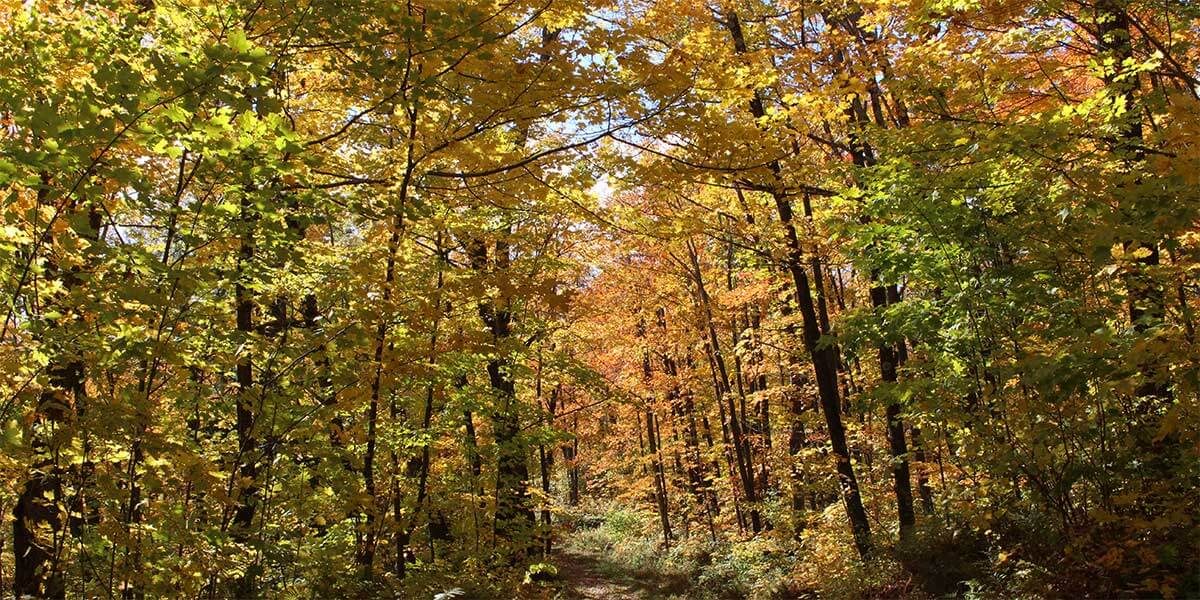 north shore mn fall colors
Autumn on the North Shore is glorious. Nights cool down making for crisp mornings and warm days. As days shorten, leaves quit producing chlorophyll and the latent colors – red, orange, burgundy, yellow, gold – emerge. Fall colors in Minnesota are finest along Lake Superior's North Shore. The dense forests blanketing the hillsides are covered with both hardwoods – maples – and softwoods – birch, aspen, poplar. This makes for two fall color seasons.
the best time to see fall colors
Typically maples begin to turn along the ridge lines a few miles inland after Labor Day. By the third week/end of September maple colors are at their peak. About this time the birch and poplar closer to Lake Superior start to run yellow and the second season starts.
Any weather works for viewing fall colors. On grey, misty days, the colors vibrate while the contrast of bright blue on a sunny day can be glorious. Plan on layering clothes to offset cool morning [in the 40s]. 
Weather has a major impact on the colors of the season – if the trees have been stressed due to lack of rain or a cold summer, colors can be subdued and the season short. 
north shore mn fall color map
Venture out by foot, by car, by bike, or by boat. The choice is yours and the rewards are spectacular. Maple fall colors cannot typically be seen from the lakeshore; they require the warmer inland temperatures of the valleys and south-facing secondary hillsides.
Fore better viewing, travel with the sun at your back – to the west in the morning and to the east in the afternoon. 
Our recommendations for the best fall color routes on Minnesota's North Shore of Lake Superior.
This route explores the backcountry including northern hardwood forests of oak, maple and basswood and boreal forests of pine, spruce, cedar, aspen and birch.
This route explores the backcountry including northern hardwood forests of oak, maple, and basswood, and boreal forests of pine, spruce, cedar, aspen and birch.
One of my favorite medium hikes! The Tettegouche Lake loop is part of a trail system accessed on the back side of Tettegouche State Park.
This hike is fantastic during fall colors, and great in the spring before the leaves pop. You will hike inland a mile, climbing in elevation.
Hike through boreal forests before climbing maple ridges that showcase magnificent fall colors and impressive rock cliffs with view to the Baptism River valley.
Make this fall color tour drive number one your list. It is breathtaking. The short drive leads you down one of the prettiest maple canopied drives along Minnesota's North Shore.
The views from the top make this ideal for a crisp blue sky day.
Britton Peak is the trailhead for cross-country ski and fat bike  trails and you can snowshoe anywhere except on those groomed trails.
While this is the trail to hike during autumn's early season of maple colors, it is fantastic spring, summer, and winter, too.
Waterfalls, woods, wide-open vistas and an optional tram ride make this hike rather spectacular.
A 230-foot climb in under a quarter mile brings views of Caribou Lake, and the thick maple forests surrounding it.
Choose your own hike length. For a shorter jaunt with river views from above, head north 1 mile to the North Cascade River Camp.
Historical, picturesque church and cemetery that is especially pretty during fall colors.
Hiking, biking, skiing and snowshoeing making Pincushion Mountain trails the Grand Marais trail system. Close to town, lots of spur options and expansive views make this an ideal hiking location.
The Trout Lake Road / County Rd 60 loop is a lovely drive, with beautiful sugar maple-lined sections of the road, often with their canopies meeting overhead.
The site overlooks sugar maples, quaking aspens and conifers, making it a good drive and hike all fall color season long. This is a good wildlife viewing spot.