Lolos Ghost – Silver Bay Music In The Park Concert
Date: July 29, 2022
Time: 7:30 pm - 9:00 pm
Location: Silver Bay Shopping Center
Event Description
Join us at City Center Park in downtown Silver Bay for a FREE outdoor concert featuring Lolos Ghost. You don't want to miss this show!
A description of the amazing band members follows:
James Loney has been writing songs for 30 years. His songs are stark, beautiful, emotional and very real. He has had his work featured in two major motion pictures (Jeremy Piven's "Just Write" and Kirsten Dunst's "Luckytown"). He has always surrounded himself with the best musicians that the twin cities has to offer whether with his previous bands House Of Mirrors, The Midnight Troubadours or his current project Lolos Ghost.
Minneapolis musician and recording engineer, Paul McFarland, has played bass guitar with a dozen Minneapolis bands since 2003. Paul currently plays with Lolos Ghost, Stephanie Winter, The Lanes, and 1990s post-punk Twin Cities legends, Run Westy Run.
2004 Minnesota Rock Hall Of Fame Inductee Joe Scanlan started playing drums at the age of 13. Working 20 years as a full-time musician Joe has worked with three Grammy award winners. For six years he was the drummer for the notorious band, The Litter, and has had numerous recordings in his career, including a recent recording featuring members from the legendary English bands Yardbirds, Bad Finger and LA's Jonny Lang Band.
Colleen O. is classically-trained with experience performing a variety of musical styles. She also sings in her band, The Wreck as well as an acoustic duo, Oake & Paine.
G.R. Svenddal is a Twin Cities journeyman player for over thirty years in rock, blues, jazz and country bands, such as The Space Heaters, Lowertown, Big Walter Smith, High Noon, Midas Touch, Big and Tall Men and the Kung Fu Hippies. His piano heros are Nat King Cole, Theolonius Monk, John Einweck and Gonzalo Rubalcaba. Son of bluegrass country and gospel pioneers Rick and Bebe Svenddal, he started playing professionally at age 14 and will never stop until someone pays him to shut up.
Terry Scanlon is the best utility guitarist in the Twin Cities playing with several well known bands including The Flamin Oh's and Curtiss A. Known regionally as one of the most innovative and versatile players in the region.
JJ (Jon James) Benson is a multi-instrumentalist and shadowy teddybear who's been actively performing since he was 7. In addition to guitar work with Lolos Ghost, he plays and records with Courtney Yasmineh, Tim Houlihan, Tina Schlieske, Patrik Tanner & The Faraway Men and Ali Gray. JJ hails from Illinois, where he was reared on Brit Invasion, glam rock, power pop and esoteric poetry. Sideman to many, he's also a skilled songwriter in his own right.
Jim Steinworth found a piano in the after-hours bar he lived above at age four. He found his dad's chromatic harmonica at age eight. He earned twenty five dollars after years of playing church organ. Classically trained, Jim found rock-n-roll to be more lucrative and has no plans to stop. He even plays accordion and performs with River Rats Dueling Pianos.
Minneapolis native Clay Williams was bit by the rock and roll bug in junior high and hasn't stopped picking since. A succession of bands followed. Notably, Sneakers, a hard rock band that opened for Pat Benatar on her first American tour, and The 'Sota Band a regional country act. Followed by Lazy Ike and the Daredevils and his own trio The Dieselfitters, Roy Hubbs, and The Blackberry Brandy Boys. More recent endeavors: Katy Vernon Band, Saddle Sores, and The Alleged Blues Band. When not out and about, he's squirreled away in his underground audio bunker cooking up new tracks.
Rocky Wall Productions is a Silver Bay nonprofit organization focused on producing and promoting live music events in Silver Bay and on Lake Superior's North Shore.
Additional Info
Categories: No Categories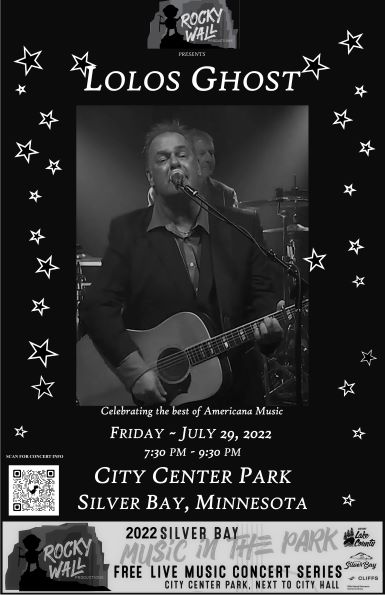 Location