PickUp Truck Opera: The Magic Flute
Date: August 13, 2022
Time: 7:00 pm
Location: North House Folk School
Event Description
An outdoor extravaganza that is fun for all ages!
Mozart's 1791 opera,  Die Zauberflöte (The Magic Flute), is thrust into the not-so-distant future. Our young heroes are early-career professionals entering essential professions with a high risk of burnout. Young Tamino is a first-year teacher at the underfunded Strange Land Middle School. Pamina is an up-and-coming education specialist highjacked by an online learning biotech startup. This fun retelling of the opera uses a cast of singers, puppeteers, and instrumentalists, featuring Mozart's fiery arias and epic choruses paired with groovy beats from the 90s discotheque, including music by Deee-lite, Pizzicato Five, Stereo MCs, Icelandic star Björk, and more!
An outdoor extravaganza that is fun for all ages!
3 North Shore Performances
Fri, Aug 12, 7pm Hovland Town Hall
Sat, Aug 13, 7pm North House Folk School, Grand Marais
Sun, Aug 14, 1pm Finland Heritage Site
All performances are offered for a suggested donation of $10-$25 per person.
Additional Info
Categories: No Categories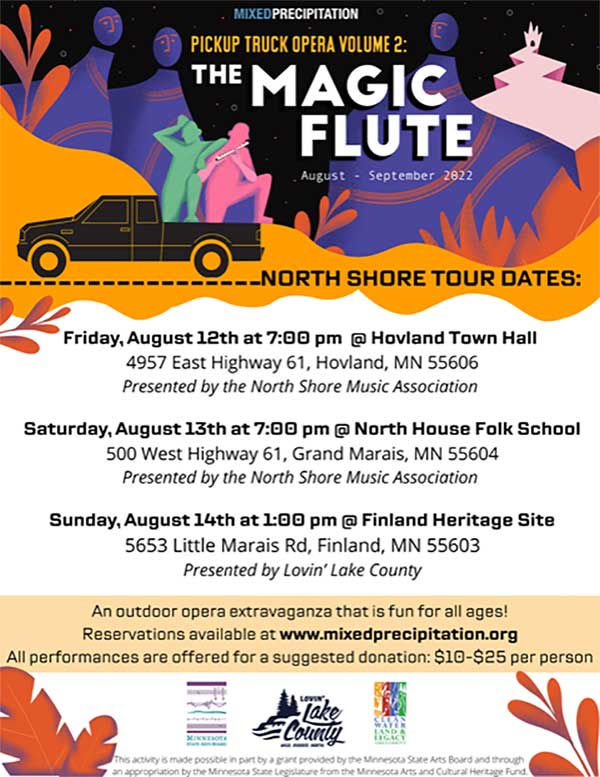 Location