The Green Door Smelt Fry
Date: May 20, 2023
Time: 11:00 am - 3:00 pm
Location: The Green Door Municipal Bar
Event Description
Hear ye, Hear ye! The historic Green Door Smelt Fry returns to Beaver Bay on Saturday, May 20th, 2023. Featuring all-you-can-eat fried smelt using the original Green Door recipe dating back to the first smelt fry hosted by the Beaver Bay Fire Department in 1958 along with a basket of tartar sauce, coleslaw, potato chips, and that classic carton of orange drink. Fried smelt will be served from 11:00am-3:00pm followed by barbecue from Baptism River Barbecue Co. through dinner. This family friendly event will include live music all day on the outdoor stage, inflatable bouncy castle and obstacle course for kids, raffles, drawings, prizes, a silent auction, and beverage samples from Knob Creek.
Tickets for the Green Door Smelt Fry are $10 and available for presale from the Green Door in Beaver Bay, Timber Coffee in Silver Bay, or the Finland Co-op. Tickets are not required to attend the event, but are required for the all-you-can-eat smelt. We expect to sell out of tickets before the date of the event so plan to get yours sooner rather than later!
There will be designated parking throughout Beaver Bay with rides provided by Silver Bay Shuttle Service and a drop-off zone for accessible access. Special thanks to the City of Beaver Bay, Lovin' Lake County, Baptism River Barbecue Co., Knob Creek, Bernick's, Third Street Brewing, Castle Danger Brewery for supporting the Green Door Smelt Fry.
Additional Info
Categories: No Categories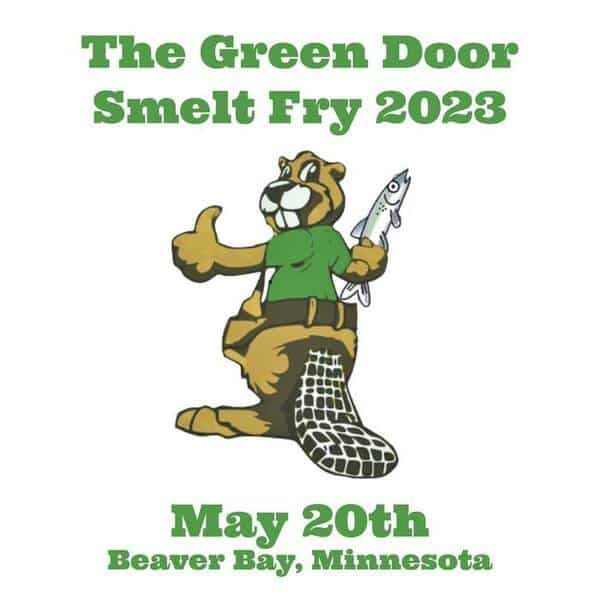 Location