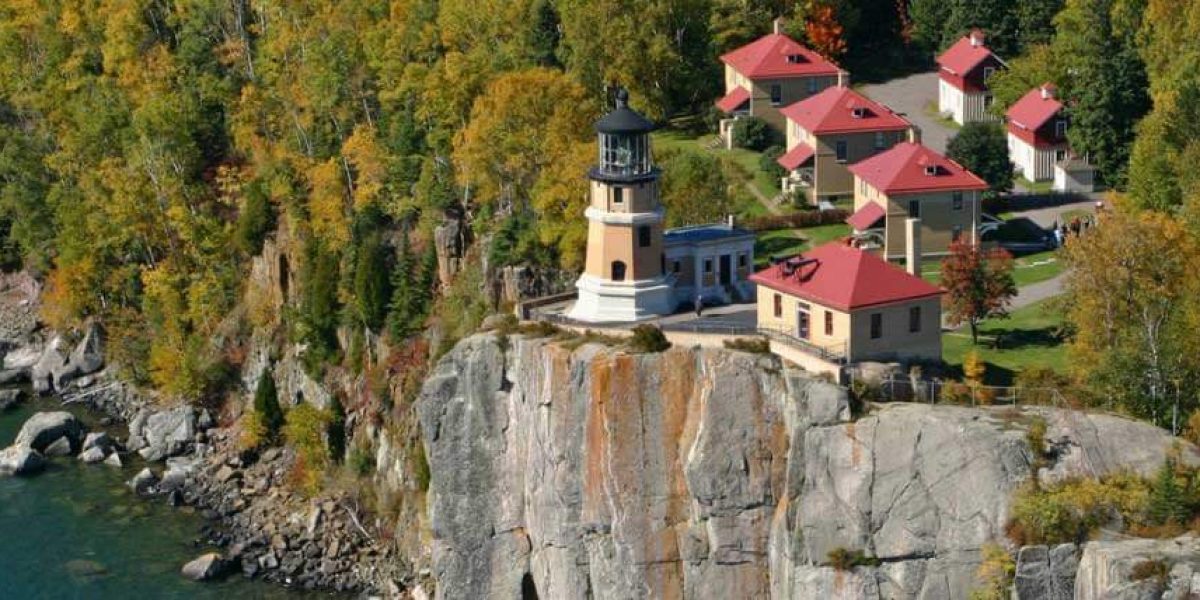 Split Rock Lighthouse State Park
The horrific shipwrecks of 1905 fueled the demand for a lighthouse along Superior's North Shore. The amazing construction process was completed in 1910, and the light at Split Rock shone until 1969. The history center's superb displays, exhibits, and video presentations showcase the evolution of the lighthouse. For a glimpse of this remote lifestyle, include a visit to the lighthouse keeper's home and outbuildings. The 20-minute tour is excellent! (Did they really sleep in those little beds?) The path leading southwest down to Lake Superior presents a distinctive view of the lighthouse and remnants of the lift that was used to haul supplies up from the lake. Climb the short, steep circular stairs to the top of the lighthouse. Spend some time at this historic treasure!
admission to split rock lighthouse
Grounds Pass $8 – This self-guided experience gives you access to the visitor center, historic grounds, and fog signal building. 
General Admission $8-$12 – Includes grounds + access to lighthouse and keeper's buildings
Keeper's Tour $25 – Private 60-minute guided tour, limited to 10 people per tour
Lighthouse & Keeper's buildings are open April 30 – October 24; also open March 1 – April 24 via Keeper's Tour only; exceptions are holidays.
Split Rock Lighthouse State Park, a separate entity from the Lighthouse, encompasses the land surrounding the historic site. The park offers wonderful trails, cart-in campsites, cobblestone beaches, fishing and cross-country skiing.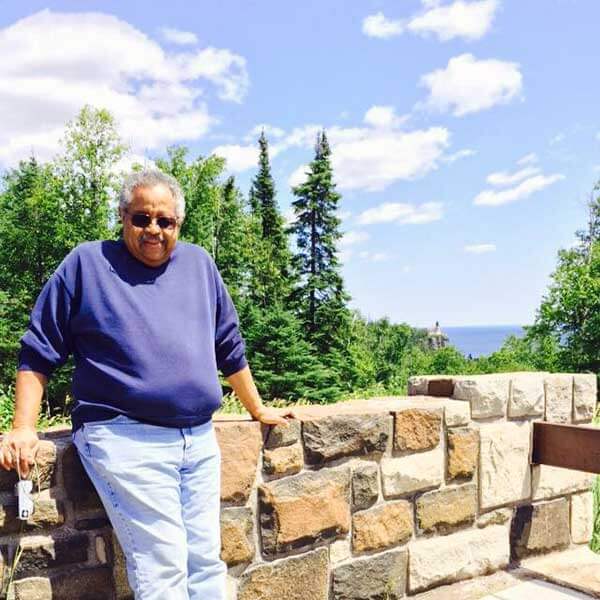 looking for the perfect spot to take a photo of the lighthouse?
Take advantage of the Split Rock Lighthouse overlook, located south of the park entrance, directly off Highway 61.
edmund fitzgerald memorial beacon lighting
Thursday, November 10th   10am-6pm
This annual event commemorates the sinking of the freighter Edmund Fitzgerald and the loss of her 29 crew members on November 10, 1975. It is also a time to reflect on the memory of all lives lost in Great Lakes shipwrecks. The lighthouse, fog signal building and visitor center will be open. Costumed guides will greet visitors and provide historic site and shipwreck information. Throughout the afternoon, visitors can view a film about the Edmund Fitzgerald in the visitor center.
At 4:30 pm, the lighthouse will close temporarily while the names of the crew members are read to the tolling of a ship's bell and the Naval Hymn is played. Following the ceremony, the beacon will be lit, and the tower will be open again to tour. This is the only opportunity each year when visitors can climb the tower after dark and see the lit beacon.
Open 9am-4pm year round with extended hours in the summer; features a small gift shop, ice, wood and vending machines. Visitor Center at Lighthouse open year round [limited winter hours] with gift shop and restrooms, too.
An enclosed shelter with patio, restrooms, indoor room with wood-burning stove [warming house in the winter] and picnic tables is at the trail center. Outdoor picnic areas on Lake Superior are nearby.
3755 Split Rock Lighthouse Road | Two Harbors
866-857-2757
New! Shipwreck Creek Campground opened June 1st. This state park campground features:
46 seasonal electric sites at new Shipwreck Creek Campground, most with 70-foot long parking pads
20 year round beautiful walk-in/cart-in sites, secluded and within 2000' of parking; wheeled carts provided seasonally, bring a sled or packs in the winter.
2 accessible sites in cart-in campground and 3 sites in Shipwreck Creek campground.
4 backpack sites 0.5 to 2 miles from campground parking, 2 are accessible from Lake Superior Water Trail
Seasonal accessible showers and flush toilets, and year round vault toilets.
NO dump or fill station.
Firewood for sale year round at office; ice for sale seasonally at office.
2023 payment update for camping and firewood
Reservations
3755 Split Rock Lighthouse Road | Two Harbors
866-857-2757
Spring, Summer, Fall Activities
The Split Rock River waterfalls feels like you're really out in the woods, but you can be there and back in a half hour. The hike starts on the west side of the river climbing a half-mile through birch forests to the falls tumbling 20 feet over grey rock into a rock-edged pool. You can turn around here [1+ mile total] or hike another three-quarter mile to an impressive red rock [rhyolite] gorge with 50-foot cliffs and twin red pillars. This is another point where you can turn around [2.6 mile total]. If you choose to continue you will see a few more waterfalls over the next 3/4 of a mile. At that point you have to cross the river [in the water] and pick up the high east trail which showcases wide open Lake Superior views.
Highlights: now two hikes, one up each side of the river, with the option of crossing during low water [most of the summer – but can flow after rains] to make it a loop; the west side trail runs above the river past rock cliffs, and on the east side you get river valley views and Lake Superior overlooks
Amenities: at state park 1 mile away
Length: 5 miles round-trip
Difficulty: moderate to more difficult [some steep grades]
Surface: hard pack with roots and rocks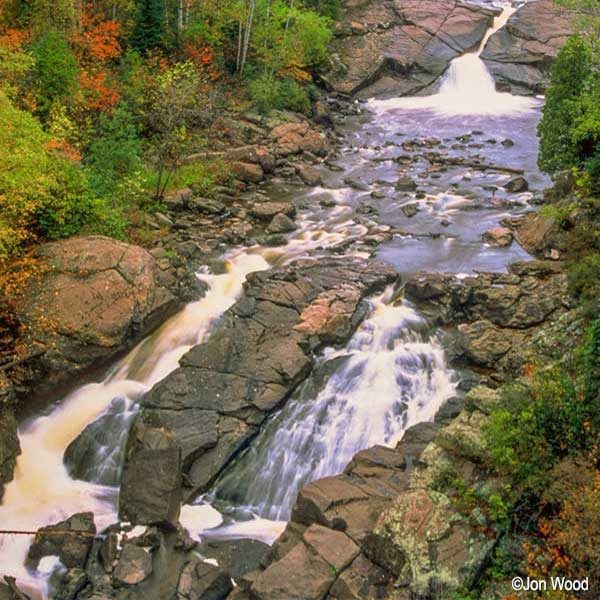 The river drops 300 feet in a series of cascades and falls above the Highway 61 bridge, then enters the sedate Beaver Bay. A wayside rest is located on the northwest corner of the bridge. It is a few steps to front-and-center views from the pedestrian walkway on the north side of Highway 61. Don't want to stop? At least look out the window. This is one of to drive-by waterfalls on the North Shore.
Amenities: restrooms, picnic tables, shops nearby
Take the easy accessible trail to the Visitor Center stairs to the Lighthouse. Then descend cliffside steps to Lake Superior and the Pump House. Trails traverse cobblestones beaches and adjacent forests; giving way to vantage points for viewing lighthouse. The Merrill Logging Trails crosses Highway 61 and meanders through the northern park forests. In winter 8.7 miles of multi-use trail with tracks for classic cross-country skiing on one side and the remainder of the trail for fat bikes, snowshoes, hiking, and skate-skiing are available. This provides a unique opportunity for people with different interests to all share the same trail.
Amenities: outhouses, some paved trails, picnic areas, visitor center
Length: 12 miles total with 3 along the lakeshore
Difficulty: easy to moderate
This route explores the backcountry including northern hardwood forests of oak, maple, and basswood, and boreal forests of pine, spruce, cedar, aspen and birch. You will ascend to the top of the hills, then drop down for a woodland drive. Watch for deer – and maybe a rare moose – on this winding, low-traffic road. I suggest starting in Beaver Bay and working counterclockwise so you can enjoy the views descending MN Highway 1 towards Lake Superior and Highway 61.
This drive is lovely anytime during the season, showcasing ridge line maples early and poplar and birch later.
Option:  at MN Hwy 1, turn left and go to Finland for a visit and lunch; return on MN Hwy 1, or on Co Rd 6, where the final few miles of descent are also impressive. All roads are paved. Click on the map for a larger
The horrific shipwrecks of November 1905 fuel the demand for a lighthouse along Superior's not sure. The amazing construction process was completed in 1910 and the light at split rock shown until 1968. The history centers superb displays, exhibit, and video presentation showcase the evolution of the lighthouse.
The visitor center includes a museum store with mementos, Split Rock memorabilia and hand-picked gift items.
Note - the Lighthouse is owned and operated by the MN Historical Society which offers three tour options:
Grounds Pass :: self-guided tour to visitor center and historic grounds
General Admission :: self-guided tour of Visitor center, historic grounds and all buildings [lighthouse, fog-signal building, oil house and light-keeper's home
Keeper's Tour :: Guided tour of historic grounds and lighthouse; 9am daily in the summer and 5pm as available
Attend the annual Edmund Fitzgerald Commemorative Beacon Lighting every November 10th
3713 Split Rock Lighthouse Road | Two Harbors
218-595-7625
Multi-Use Trail
The 8.7-miles of trail at Split Rock Lighthouse State Park are groomed for multi-use trail with a set of classic tracks on one side and a rolled side for ski-skating, fat bikes, snowshoeing, and hiking on the other side.Skiers and bikers/'shoers can now all share the same trail – woo hoo!
Fees: MN Ski Pass required and if you park in the State Park, a Park Permit is required; both sold at office
Hours: Daily 9am – 4pm, with the office manned Friday-Sunday; weekdays, the lone employee can be found in the office, plowing, shoveling, trimming trails, and so on.
Difficulty: more & most difficult
Amenities: trail center open daily with restrooms and a fireplace; Split Rock Lighthouse center open afternoons throughout the winter