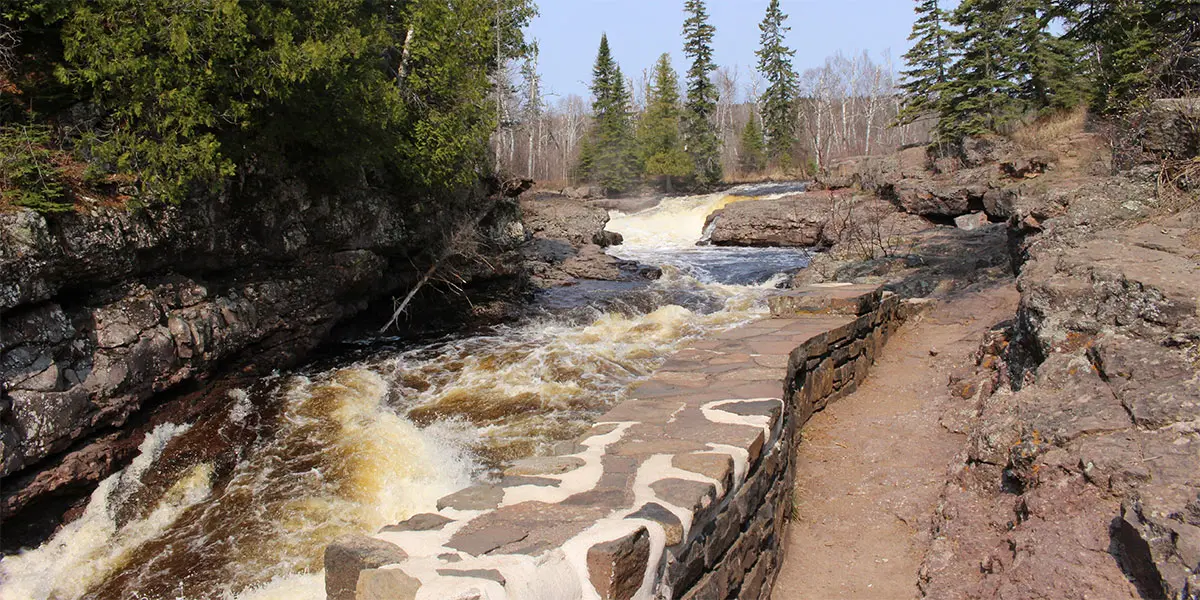 Temperance River State Park
Said to be the only river along the North Shore without a sand "bar" at its mouth; hence the name. However, it is hardly a moderate river. A few hundred feet upstream, a thunderous water force continues to carve out a deeper path in the amazing gorge. Waterfalls run all year at Temperance River State Park, but are at their peak in the spring and after rain accumulations. An easy access view to one falls is just below the highway and includes picture perfect settings from a foot bridge. Another footbridge is a little more than half-mile up the river and includes gorge and waterfalls views and a trail that traverse the old waterfall bed. Hike the popular riverside trails by parking along Highway 61 and following trail signs. Note – this trail has high drop-offs, rushing rivers, and at times slippery pathways. It may not be suitable for children or pets.
Access Lake Superior at the public beach and picnic grounds. Camping takes place in two campgrounds, the lower offering primitive sites, some with lake views. The upper campground has electricity, shower houses and flush toilets. To access Carlton Peak, popular with rock climbers, hikers and snowshoers, follow trails from the river mouth or drive 2 miles up the Sawbill Trail to Superior Hiking Trail Parking and head west. This is especially nice in the spring and autumn when the foliage doesn't hinder the wide open views.
***Please note – there have been 8 deaths in the Temperance River in the past 20 years. The Temperance has an amazing current, especially after it rains. This is also true for the river mouth. Use caution and do not swim if you are unsure of conditions.
Open year round 11am-3pm in the summer hours; in the winter, call 218-353-8800; includes a Nature Store, firewood and ice.
The park has a picnic area with tables and fire rings near Lake Superior's shore.
7620 Minnesota 61 | Schroeder
218-663-3100
Want to stay at the Temperance River State Park Campground? It is open almost year-round [closes in the dead of winter] and features
52 [almost year round] drive-in sites; the upper campground offers 18 electric sites, 2 are pull-through sites; 60' RV length limit. The lower campground [non-electric] has 34 sites, and a few have excellent Lake Superior views.
6 cart-in sites a short distance from parking, 3 sites each in upper and lower campground; carts and bear-proof storage lockers provided.
Seasonal accessible showers and flush toilets in upper campground, and year round vault toilets.
Firewood and ice for sale at seasonally at office.
2023 payment update for camping and firewood
Reservations
7620 West Highway 61 | Schroeder
218-663-3100
Spring, Summer, Fall Activities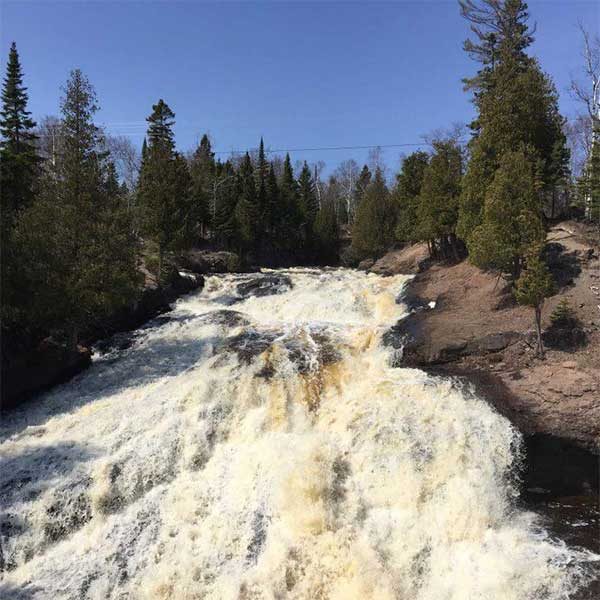 You can't miss this classic falls, Highway 61 rolls right by! Take advantage of handy pedestrian bridges for excellent vantage points of the 100′ falls as they roll down and under the roadway before making the final drop on the south side of the bridge.
Amenities: restrooms, picnic tables, shops nearby
Temperance River has carved out some stunning gorges over which flow the Upper Falls, Hidden Falls, and Lower Cascades. To watch the Lower Cascades tumble into Lake Superior, follow the short easy loop on the lakeside of the highway [.25 mile total].
Tucked deep into the narrow gap, the river dives into a pool just above the roadside parking. Get a peek there before ascending stone steps to the cliffside overlook [not necessarily family-friendly]. The trail continues riverside over smooth rock outcroppings and through cedar stands to the High Falls. Less than 2 miles for all three waterfalls.
Make this fall color tour drive number one your list. It is breathtaking. The short drive leads you down one of the prettiest maple canopied drives along Minnesota's North Shore. A roadside plaque explains how Heartbreak Ridge was named. The final descent into Tofte offers a glimpse of the Tofte cemetery and views of Lake Superior. The Sawbill and Hwy 61 are paved; the other roads are gravel. 18 miles total
If you're willing to hike up a hill, you'll be rewarded with views of the maple and pine covered hills rolling down to Lake Superior, which stretches for miles to the south. Hike under maple and birch canopy before stepping out on a large basalt overlook.
The trailhead is the hub for many hiking options: east to LeVeaux Mountain, west across the Sawbill Trail to the top of Carlton Peak, adjacent mountain cross-country ski trails, and/or bring your bike for the single track trails.
Length: 0.5 miles
Difficulty: moderate due to steepness
Massive blocks of gray anorthosite form Carlton Peak. This heady summit gives bird's-eye views of the maple forest you crossed to reach the peak. Carlton Peak is 924 feet high with the trail elevation of about 550 feet. A nearby overlook has panoramas of Lake Superior, Tofte, and the Temperance River Valley, which makes this a great late season hike, too.
Length: 3-3.4 miles depending if you take the spur trails
Difficulty: moderate due to steepness
The building, with its distinguishing Tudor-style architecture, was originally built in 1929. Over time it has become a landmark, known by both tourists and local residents alike, as the heart of Schroeder. Now home of the Schroeder Area Historical Society, the Center houses a collection of oral histories, photographs and memorabilia. Displays of fine art and craftwork by several local and regional artists can be enjoyed and purchased at the Cross River Heritage Center.
7932 West Highway 61 | Schroeder
218-663-7706
The North Shore Commercial Fishing Museum welcomes tour groups, the culturally curious traveler, families and children of all ages and even the virtual visitor from across the globe. If you're on Lake Superior's North Shore, you don't want to miss out on the experience of the unique maritime heritage engrained in the landscape and people who call this country home. Summer Hours (mid-May to mid-October) Closed Sunday and Monday Tuesday - Thursday :: 9am - 3pm Friday & Saturday :: 9am - 5pm Winter Hours (mid-October to mid-May) Friday & Saturday :: 10am - 5pm $3.00 Adult and $1.00 Children 6-16, under 6 free
7136 Highway 61 | Tofte
218-663-7050
An excellent 1-mile interpretive hiking trail with a self-guided brochure. Mosey through pine plantations, and alder thicket, and along the cobblestone beach. Learn about log rafting and tree planting, appreciate a small overlook; there are steps down to the beach. The last stop is the Visitor Center, an energy efficient lovely log building.
Amenities: visitor center, limited hours
Length: 1 mile
Difficulty: easy
Amazing river gorges that start a few feet inland from the highway, waterfalls, two footbridges , hiking, a cobblestone river mouth, camping, and hiking. Hike a short way upriver to the amazing gorges, then return south of the highway and walk across the footbridge.
During spring runoff or after rainy days, the river spray will mist you. Back in the day, this was the only river without a [sand] bar at the mouth, hence the name, Temperance.
Looking for a challenge? Snowshoe to the top of Carlton Peak! From the Britton Peak trailhead, it is just over 3 miles round trip. While it starts out level, the 350-foot gain in elevation can be felt, especially if you're breaking trail.  The views from the top make this ideal for a crisp blue sky day. Your reward is 360-degree panoramic views of the big lake and inland forest. Make it a big 2-car hike and continue on through Temperance River, ending up at the parking area on Highway 61. Pack a lunch for this almost 5-miler.
The Sugarbush Trail Association maintains 65 kilometers of cross country ski trails through beautiful and remote Forest Service land in the Lutsen-Tofte area. Features 2.9K easy Inner Loops (great for kids), and intermediate loops through rolling maple covered hills and hogback ridges; the intermediate 3.1K Hogback Trail is a slow climb up and long descent back; 1.7K Bridge Run is a less challenging intermediate that leads to the 7.3K Homestead Loop (actually a 12K total ski from Sawbill trailhead)
Includes
the 25K Picnic Loop for the advanced skier
4K connector trail to Leveaux / Onion River Road trail system to the east
intermediate 2.2K trail to the summit of Carlton Peak which intersects with the intermediate 3K downhill run to Bluefin Bay
skijoring is allowed on the Carlton Peak and Upland Loops trails
Length: 65K total
Fees: MN Ski Pass required
Difficulty: easy, more & most difficult
Amenities: shelters along trail
Schroeder and Tofte offer access trails to the state trail or you can drive north of Tofte on the Sawbill Trail for direct state trail access.
Length: access trails are about 4 miles
Britton Peak is the trailhead for cross-country ski and fat bike  trails and you can snowshoe anywhere except on those groomed trails. The short steep hike to the overlook at Britton Peak is a great warm-up [just follow the hiking trail signs]. You can continue east through maple forests along the Superior Hiking Trail or cross over the Sawbill Trail to Carlton Peak. Or make your own trails!
Length: 0.5 + miles
Difficulty: moderate due to steepness