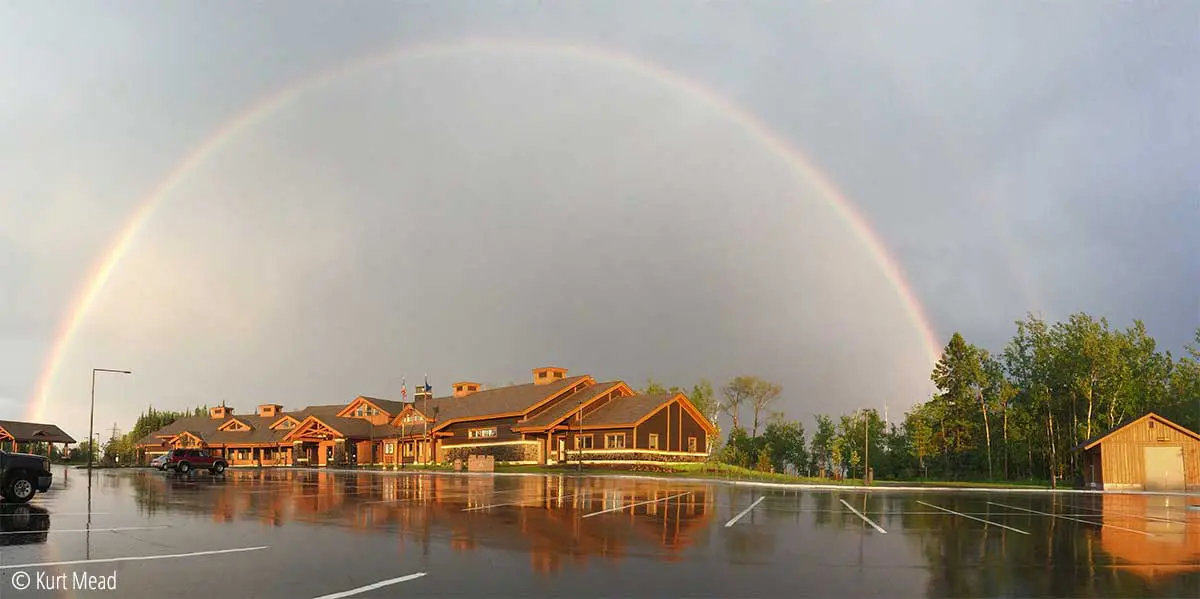 Spread over 9,300 acres, Tettegouche State Park is a handful of overlapping parks, which earned it the distinction of being classified as a North Shore Bicultural Region. The park features a mile of Lake Superior coast, including the Baptism River mouth; the river's cascades and falls; four inland lakes; rugged semi mountainous reliefs; and an undisturbed northern hardwood forest.
Open 9am-4pm daily with extended hours in the summer; is also a Minnesota Rest Area with restrooms open 24/7. The center features an outdoor fireplace plaza, sunlit lobby with an interpretive area, a gift shop, restrooms, and acts the winter warming house, as does the Lodge at Tettegouche Camp. The park has two free electric vehicle charging stations in the visitor center parking lot. Picnic areas with shelters are located at the visitor center, and Tettegouche Camp, plus open-air picnic areas at the trailhead and and Nipisquit Lake.
Rent canoes mid-May to mid-October.
Rent snowshoes in the winter.
Day-use rentals at the visitor center include the fireplace plaza and multi-purpose room.
5702 Minnesota 61 | Silver Bay
218-353-8800
28 year round, secluded drive-in sites on the Baptism River, about 1.5 miles from Lake Superior; 22 are electric sites; NO pull-through sites; 60' RV length limit.
6 walk-in sites with bear-proof storage lockers in Baptism River campground.
13 cart-in sites near Lake Superior's shores with bear-proof storage lockers, up to 0.6 miles from parking.
5 backpack sites along the Superior Hiking Trail, first-come first-served, 1-night stays only.
2 cart-in [tent-only] group sites about 100 yards from parking; nearest potable water is at park office 1.5 miles away; vault toilets, picnic tables, fire ring.
Cabin Rentals: year round housekeeping, 2-bedroom, full kitchen, accessible Illgen Falls Cabin. 4 rustic year round walk-in cabins at Tettegouche Camp. Note - it is a 3.5 mile or steep 1.7 mile one-way walk into the cabins [no carts]. Cabins are 1- to 3-rooms, sleeping 2-6 people, with screened in porch, kitchenettes, wood stove and firewood, and use of a canoe; share a modern restroom with showers.
Year round accessible showers, flush toilets, and vault toilets in campground.
No dump station.
Firewood for sale year round at office; ice for sale seasonally at office.
Reservations
5702 Highway 61 | Silver Bay
866-857-2757
Spring, Summer, Fall Activities
The Baptism River has three waterfalls — including the highest entirely within Minnesota at about 70 feet — and three different trails. All three rush and roar during spring snowmelt and make for scenic hikes throughout the summer and autumn. The main trail is semi-strenuous uphill climb with lots of stairs. Just as you wondering if you are there yet, a tenth-mile spur trail brings a little relief and scenery at the attractive Two Step Falls. Carry on the final leg to king daddy High Falls which can be viewed from below [shown here], up top and via a swing bridge over the river. This 3-mile hike is all downhill on the way back.
Options to the High Falls:
from the Superior Hiking Trail on MN Hwy 1; this trail is much flatter and half the distance. Very limited parking however.
drive through park to Trailhead parking; 1.5 mile round trip, hike northto intersection with Superior Hiking Trail, follow it east/right
A great leg stretcher is the 2-mile there-and-back trail from the Visitor Center to Cascade Falls (smallest of the 3 waterfalls).
One of the shortest walks to a North Shore waterfall. This 40-foot beauty tumbles over a huge pine-topped rock ledge. During snow melt in the spring, and after rains, the falls spread wide across the entire ledge while the rest of the year it flows nonstop down the center. Limited [3-4 car] parking at pull-off on MN Hwy 1 [other parking is exclusively for cabin rental].
Caribou Falls is one of the most picturesque waterfalls on the shore, in part because of the approach. From the wayside rest follow the spur trail [at the first bench, continue to follow the spur]. The trail climbs about 100-feet in a half mile before making a 90-degree turn to multiple flights of stairs [~150 in all]. A right hand turn after the first few flights opens to a cedar- and pine-framed view of the falls. It becomes more and more impressive as you get closer, and the gray basalt outcroppings are a striking frame to this 35-foot falls.
Great variety of trails; meander easier trails near the visitor center, or drive in to the park and spend a day [or more] exploring; follow the Superior Hiking Trail west from the campground for overlooks, then head north and traverse around Mic Mac and Nipisquit lakes before returning. See below for details on hiking to the waterfalls and from the Lax Lake Road trailhead.
**note the trail from the visitor center area to the falls has a lot of steps, so not the best for those with knee issues; instead, consider parking at the Superior Hiking Trail trailhead on Hwy 1 and hiking in [still some steps]
Amenities: picnic areas, visitor center
Length: 23 miles
Difficulty: some easy, more moderate to most difficult due to steps and rise in elevation
Trailheads: at Visitor Center, at Campground & on Lax Lake Road
One of my favorite medium hikes! The Tettegouche Lake loop is part of a trail system accessed on the back side of Tettegouche State Park. It begins with an old road bed climbing 285-feet over three-quarters of a mile, includes four overlooks and a dip down to the historic Tettegouche Camp [where cabins are available for rent]. I like to go counter clockwise from the junction and see the overlooks, then take a little break at the Camp where I decide if I am going to add on more loops or head back. In the autumn, consider the 'circling the lakes' as the valleys are filled with colorful maples!
Length: 3.5 miles
Difficulty: moderate to difficult due to hills
Driving directions can be funky: from Highway 61, drive north on MN 1 for 4.3 miles, turn left on Lax Lake Rd for 3.1 miles, parking will be on left.
This hike is fantastic during fall colors, and great in the spring before the leaves pop. You will hike inland a mile, climbing in elevation. About the time you want to take a breather, there's an overlook of Lake Superior – nice, but nothing compared to the view from the spur trail you take to the north. This narrow, windy trail can be slippery when wet, especially on the bare rock portions of the trail. The first overlook is outstanding, with 270-degree views all along the shore and inland.
Continue on around the exposed knoll to the north. After a short jaunt through pretty woods, you come to a northern overlook which overlooks distant maples hillsides while at your feet, the cliff drops away to a slough; breathtaking.
Length: 3 miles
Difficulty: moderate, steep and in inclement weather difficult due to exposed slippery rock
Hike through boreal forests before climbing maple ridges that showcase magnificent fall colors and impressive rock cliffs with view to the Baptism River valley. The trail is 4.5-mile round trip.
From Highway 61, drive north on Lake County Road 6 for for 2 miles to the Superior Hiking Trail sign and parking.
*Bonus: on the drive back down Co. Rd 6, stop on the southbound gravel pull off just before the guard rail starts, for an excellent view of the big lake.
Open seasonally; a small collection of local artifacts and exhibits; acts as the Silver Bay Visitor Center, too.
Hours Memorial Day to early October :: Tuesday-Saturday, 10am-4pm
80 Outer Drive | Silver Bay
218-226-6443
Orchard, gardens, hiking trail, picnic tables, museum, one-room schoolhouse, sauna, original homestead, and Visitor Center with gifts. events include guided tours mid-May through September and the Annual Finnish Tori Marketplace and Music, the second weekend in August.
5653 Little Marais Road | Finland
218- 353-7380
Interconnecting loops provide several route options, most include a good amount of terrain. The scenic single track trails are groomed for classic only and include wooded trails and the popular Birch-Poplar-Spruce Loop and Bean Lake Spur for the views of these lakes.
Length: 28K of groomed trails
Fees: MN Ski Pass required
Difficulty: more & most difficult
These trail systems traverse some great topography! From Beaver Bay, Silver Bay and Tettegouche State Park the trails climb hillsides, skirt gorges and rivers and criss cross the backwoods. Finland provides quick access to the state trail and trails leading north to Isabella and Ely. Note the state park trails quickly connect to / are part of the area trail system.
Length: varies; from Highway 61 to the state rail is about 9 miles with lots of loops and systems to ride in between
Cross-Country Skiing
25K single tracked with skating lane on 7.5K
Trails have many ups and down, traveling through both birch, aspen and conifer forests. There are lakes and overlooks through out the trail. 7.5K Lower Loop which slowly climbs up from the lake to a great picnic spot at Nipisquit Lake and a downhill return; the Lakes & Hills Trail skirts Papasay Ridge past Nipisquit and Mic Mac Lakes to the 6K connector to Northwoods Trails or on out to the Lax Lake Rd (CR 4); it includes a 2.6K expert run to Mount Baldy
Snowshoeing
Anywhere in the park except groomed trails. If there is enough snow right next to the lake, head northeast toward Shovel Point on the hiking trail. Pakring near the campground and falling the inland wooded trail to Cascade Falls is scenic, fun and not too long.
Fees: MN Ski Pass required; and if you park within the State Park, a Park Permit is required; both sold at state park office
Hours: open 10am-4pm weekends and sporadically during week
Difficulty: more & most difficult
Amenities: visitor center has restrooms open 24 hours a day, winter camping and cabins are available
Cross-Country Skiing
Enjoy remote, quiet cross country ski trails winding through 2,000 acres of Superior National Forest. The trails are groomed for classical skiing and offer an "off the beaten path" alternative to many of the trail systems found in other areas. Moderate elevation changes allow skiers of all ages and skill levels to enjoy the big pines of the "Isabella Pine Belt". Ski over the Little Isabella River on picturesque wooden footbridges. The area is off limits to snowmobiles so skiers can truly experience the quiet beauty of this remote area.
Fat Bike Riding
An 8k trail; nice open trails with wide packed area through the pines. Great for a relaxing winter bike ride.
Driving directions – turn north at the Knotted Pine Inn & Tavern on to the Mitawan Lake Rd for 0.8 miles to the access road [limited parking]; note – the Mitawan Lake Rd also connects with MN Hwy 1  0.75 miles to the east, so be careful.
Length: 30K of groomed single-tracked trails
Fees: MN Ski Pass required
Difficulty: easy, more & most difficult trails
Amenities: outhouse & trail shelter
This is the quiet North Shore State Park, 14 miles from Highway 61 and the bustle of the lake shore. You will find deep woods and the Manitou River's craggy valley. Snowshoe along hiking trails or make your own path. This is are is perfect for introverts, privacy-lovers and nature-lovers.
Caribou Falls is one of the most picturesque waterfalls on the shore, in part because of the approach. If others have tracked in a trail, or you are feeling robust, it is worth it to snowshoe in along the hiking trail – note: you will need to take your snowshoes off for the stairs down to the overlook of the falls.
From the wayside rest follow the spur trail [at the first bench, continue to follow the spur]. The trail climbs about 100-feet in a half mile before making a 90-degree turn to multiple flights of stairs [~150 in all]. A right hand turn after the first few flights opens to a cedar- and pine-framed view of the falls. It becomes more and more impressive as you get closer, and the gray basalt outcroppings are a striking frame to this 35-foot falls.
we include this trail because it is the link to riding to Ely MN from the North Shore. Taking its leave at the Lake and Cook County border, the Tomhawk aims four miles north to Crooked Lake. An option to leave from Finland on the Finland Trail which intersects with the Tomahawk, south of Isabella.  Enroute to Ely, you'll travel the secluded territory of the Superior National Forest. The Tomahawk connects with are trails.